I created an online course called Steem Markdown.
Steem Markdown is written simply enough so that new Steem users can understand the basics of Markdown and in-depth enough so that experienced Steem users can learn new Markdown tips and tricks.
Each markdown lesson will include:
An easy to understand Getting Started section of each Markdown category
Code comparisons between What You Type versus What You See.
A Practice Makes Perfect segment so that you can turn knowledge into real-life experience.
A Test Your Knowledge quiz to see if you are remembering the material.
The following contains information from the lesson about HEADINGS. If you would like to view the entire course, click here.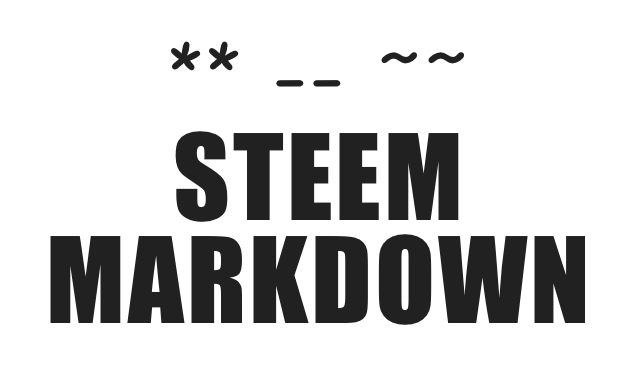 Using Markdown to Emphasize Text
Italics, also known as emphasis in Markdown, uses a single set of asterisks or underscores.
Bold, also known as strong emphasis in Markdown, uses a double set of asterisks or underscores.
You can both italicize and bold text within your post by using a triple set of asterisks or underscores.
Strikethrough uses two tildes.
Underline is NOT available in Markdown.
Important things to remember:
Make sure that there are NO spaces between asterisks, underscores, and/or tildes and the word or phrase that you want to bold, italicize, or strikethrough.
You can use a combination of asterisks and underscores to create the formatting you need to emphasize your post.
Using HTML to Emphasize Text
Italics/Emphasis - <i>italics</i>
Bold/Strong Emphasis - <b>bold</b>
Steemit.com, Busy.org, and other Steem condensers do not recognize the HTML underline tag (<u> and </u>).
Your Turn
Copy and paste the following into your favorite Steem interface or Steem tribe user interface.
There are *two ways* to _italicize text_.
There are __two ways__ to **bold text**.
You can use ***bold and italics*** at the same time, _or in **combination**_.
You can also ~~strike out~~ words!
This is what happens when you have ** an extra space**
Thanks for stopping by!
Check out
Steem Markdown
if you want to complete more lessons!.