Saturday for me is usually Farmers Market day as that's the time when in the morning I go to the local market to buy groceries, mostly fruits and vegetables. It's a great place to buy fresh and local products. I'm a huge fan of km 0 products to support local farmers. Today however I'm going to show you a different farmers market.
This market is held once a month and it is for farmers from this region. I've seen it many times but have never taken the time to go through it actually till now. It was just about time to visit the market. It's not a big market, there were I guess between 20 and 25 vendors but that's the beauty of it. The market was not flooded with the same products from different producers, there was one table of each type of products, or maximum two tables.
Art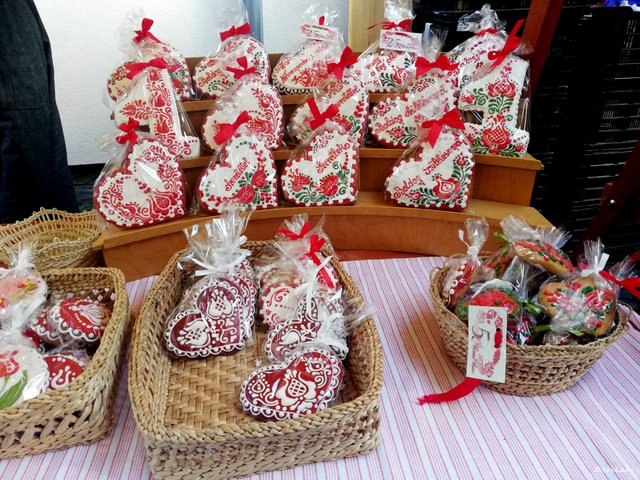 Let's start with a little eye candy. These gingerbread hearts are traditional products. In the past you could find them at every fair and people were buying them as souvenir. Back in the old days there were no shops like today, there were fairs instead but not every day. People were busy working the land or at their animal farms and fairs were organized maybe once a week or once a month. People were living in remote areas, so only a few got to go to the market, usually men with carriages, while women stayed home with the kids, doing house chores, others working the land. They bought these gingerbread hearts to take home to their kids and wives. It's a tradition that is not really alive today but the gingerbread still is.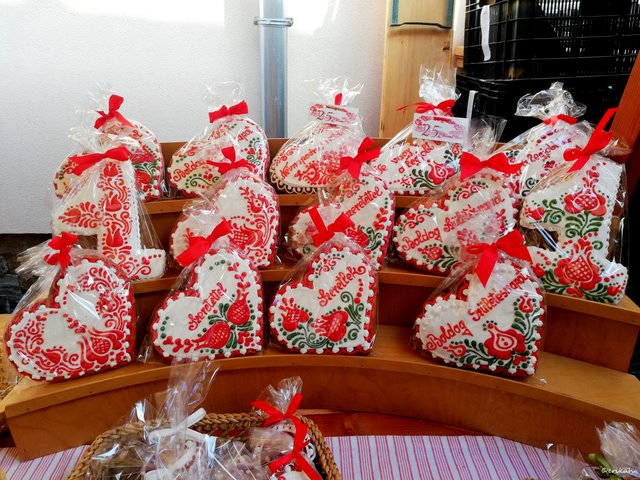 Today these products have a different goal. As you can see, the these are still heart shaped as it symbolize love but most of the hears have a message on them, like I love you, *Happy Birthday, Happy Name Day, You're The Best.
I'm always admiring these products as to decorate one you have to have some specific artistic skills and to be very good. This is truly art if you ask me.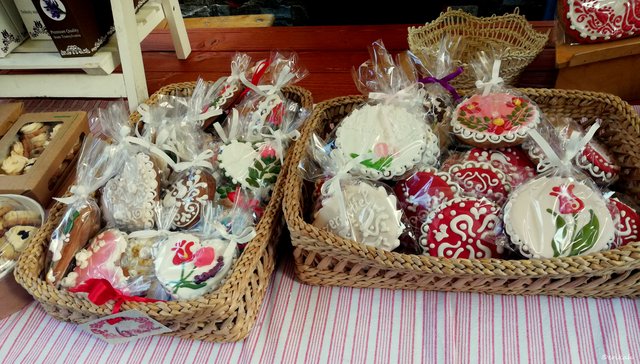 Back in the day the hears were sold with a small mirror in the middle. These are round and decorated a little bit differently but still with good taste. The tulip is a traditional decorative element used in traditional art. I believe these are still a nice present to our loved ones.
Sweets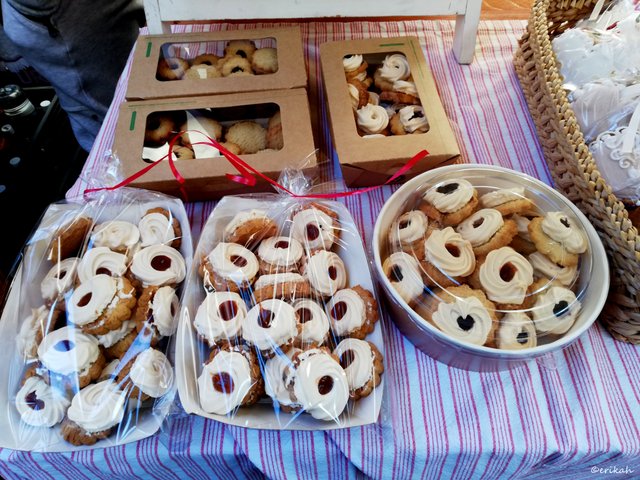 Sweets are always present, no mater where you go. These cookies looked so inviting but to be honest, I can bake them at home, so why buy them :)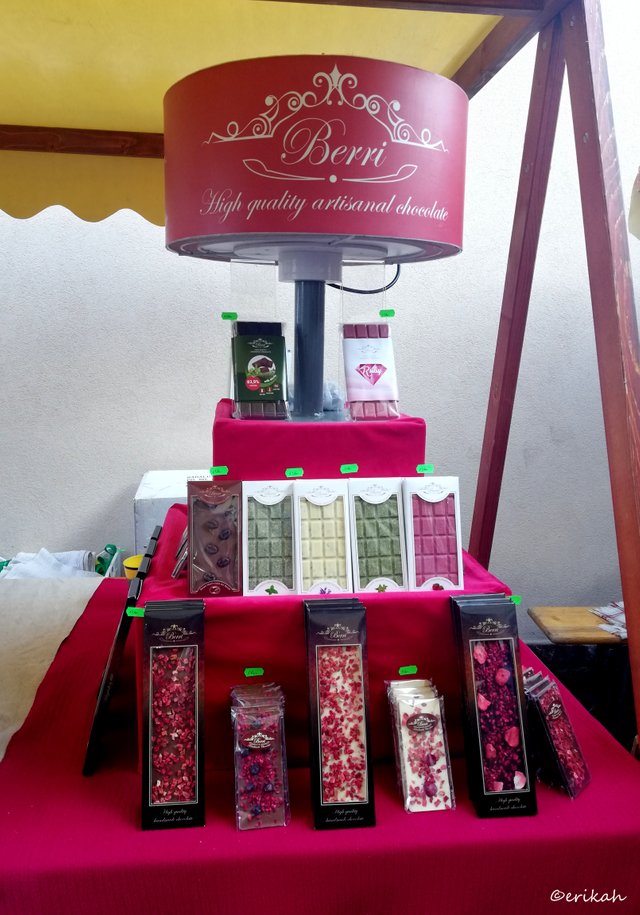 As the banner says, high quality artisanal chocolate. Milk chocolate, black and white chocolate with strawberries, raspberries, currants, lemongrass, mint, and chili and only God knows how many varieties. This was the highlight of the market. I knew these products as you can find them everywhere, have tasted the chili one but as I don't like chili, obviously wasn't thrilled. The rest is heavenly good though. The price is not exactly cheap but we know handmade is never cheap.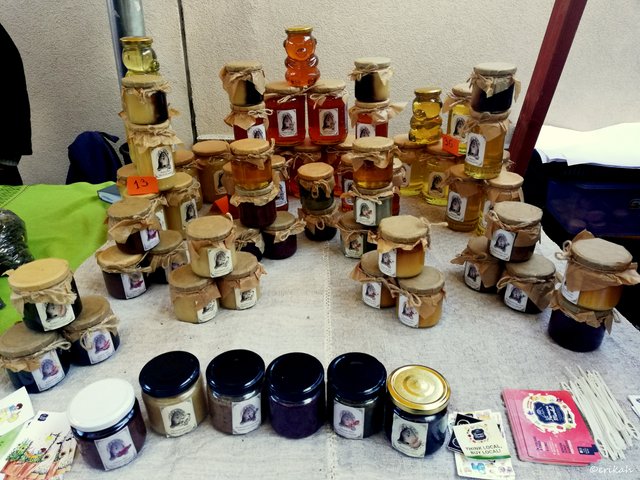 Honey is another product that can never be missing from any fair. Some of these products are flavored, that's the new trend. There's always a great variety you can choose from and there's always something new that makes you buy some. Last October while visiting a similar fair I had a chat with some of the vendors about their products and found out that colza honey, or rapeseed honey is the only one that doesn't cause acidity and stomach burn. This is great news as honey is full of natural vitamins that can help you get through the cold season without getting sick, can strengthen your immune system. Since then I always have a jar of rapeseed honey at home. Better consume it raw without heating it as when it's heated, loses all the good qualities.
The little bear shaped bottle is the eye candy for the kids. I remember when we were kids, there were these bear shaped plastic bottles (those were tough times) and how happy we were when we got a bottle. That tradition goes on today and I often see parents buy these for their kids. It's more fun to have a bear shaped jar, believe me.
Jams and Juices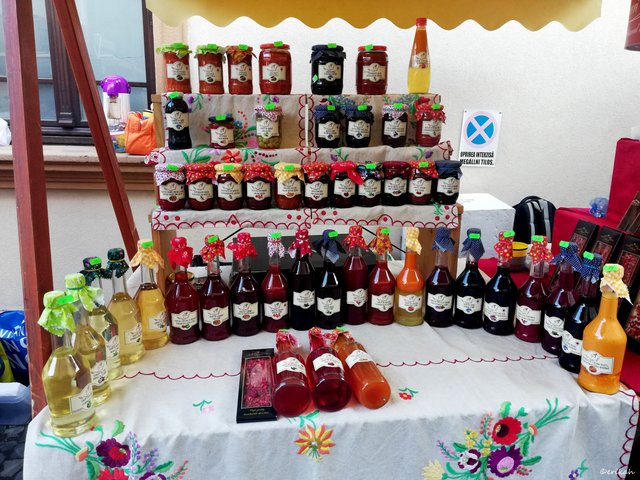 These are also a must, these products can never miss from any fair. The packaging is so beautiful and tasteful that you're trapped before you know it. Cornelian cherry, rose hips, raspberries, apricots, blueberries, rose, blackberries, wild fruits, strawberries, black currants, these were all on display today and for sale. Lucky me, I have plenty of homemade jams in my storage room, so I didn't buy any.
The variety of juices is also amazing, you could buy lemongrass, elderberry, mint, dandelion, acacia, lemongrass strawberry, cornelian cherry, currant, raspberry, blackcurrant, blackberry, rose hip, cranberry, buck thorn, berry etc.
Biscuits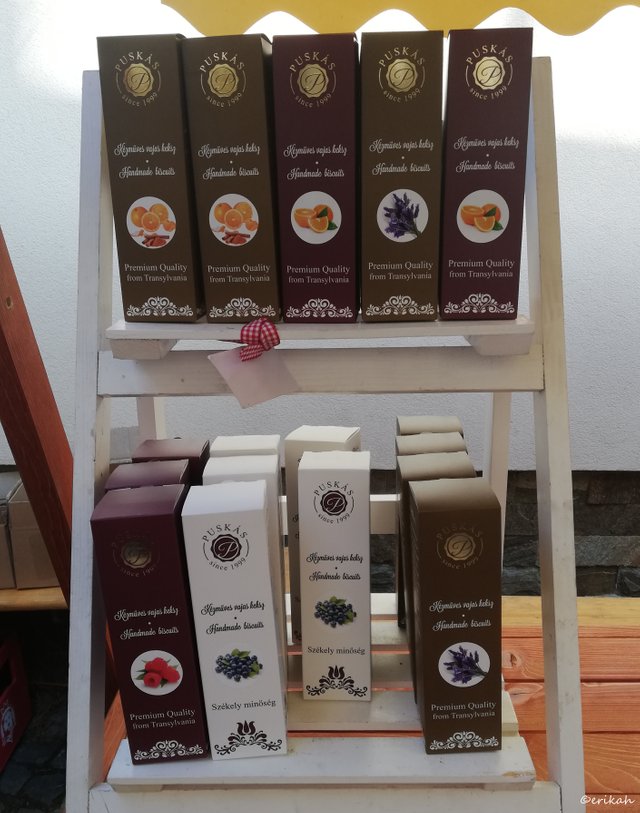 Handmade biscuits, premium quality. These biscuits are on my bucket list for a long time but I never buy them actually. Orange, orange with cinnamon, lavender, raspberry, and blueberry, take a pick or buy one of each. One day I'm going to buy a box for sure :)
Pumpkin Seed Oil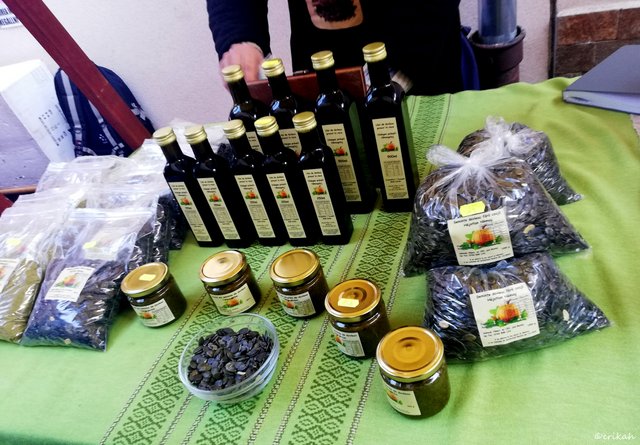 Pumpkin seed oil is another product that is good to have at home. It is believed that oil is not good but that's not true. It can cause a lot of harm, especially when used to fry things, that's true but there is good oil that your body actually needs.
Study-proven uses for pumpkin seed oil include lowering cholesterol, easing symptoms of benign prostatic hyperplasia (BPH) in men, reducing hot flashes and hormone-related headaches in women, and reversing hair loss. source
It tastes differently from olive oil, has a strong flavor but it's healthy. This one is cold-pressed, which means it has all the properties the seeds can offer. A few drops on your vegetable salad, that's all you need.
The Concept Of The Market
Over the years the market has taken an interesting turn, mostly based on costs and taxes, plus let's not forget bribe money going into some pockets, definitely not of those who has been working hard to survive. It's easy to import any products from all over the world at a lower price but is it the right thing to do?
How many times I've seen milk from countries thousands of km from here, at the same price as the local products, if not cheaper. You don't need to be a rocket scientist to figure out how is that possible. Importing goods from far countries means giving up on quality as the price must be still competitive in order to make a profit, and you must cut costs somewhere. Quality is usually the one that is sacrificed, unfortunately.
In recent years I've seen some support from the local authorities, looks like they are supporting local producers and crafters, which is good. This needs to become a normal thing as we have pretty much everything here and the less we import, the better. I'm trying to keep my km 0 policy live as much as possible, especially when it comes to food.
This is the first part of my series, stay tuned for another episode from the farmers market, coming soon.