This year for me it's all about eating as healthy as possible ,regardless the calorie content. I ditched the rice in this recipe because i needed something more nourishing and Nutritious like Buckweat groats.
I love texture of butter beans and sweetness of sweet potato in this meal.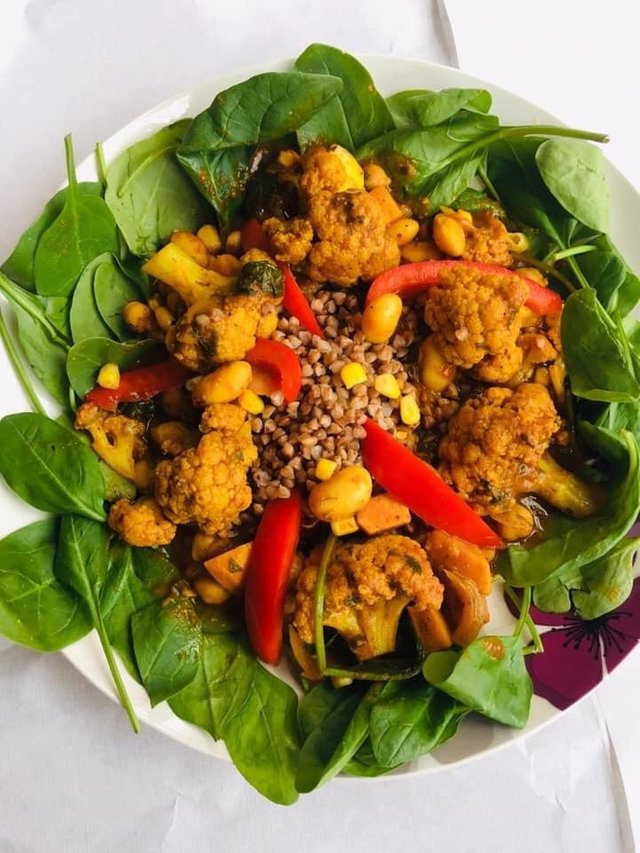 This meal looks like high carb meal but I like to call those carbs "smart" carbs😉. Because they are full of fiber and other goodness we often missing out in our diet!
Oh! Did I mention Buckwheat?
Buckweat groats are amazing!
Just few reasons why:
👉soluble carbohydrates in buckwheat, fagopyritol and D-chiro-inositol, have been shown to help moderate the rise in blood sugar after meals.
👉Protein in buckwheat has been found to be effective in lowering blood cholesterol
👉Buckwheat is gluten-free and richer in minerals than many common cereals, such as rice, wheat and corn.
👉It provides more antioxidants that many other cereal grains, such as barley, oats, wheat and rye.
👉Regular consumption of buckwheat may improve heart health by decreasing blood pressure and improving the blood lipid profile.
👉 It can make gluten free porridge if Soked for 4 hours and blended before cooking.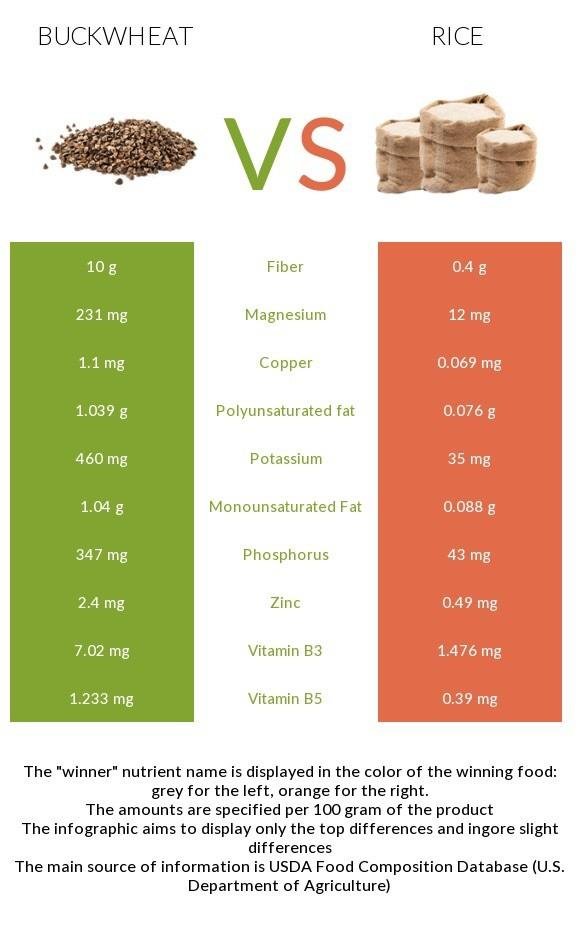 Infographic from: https://foodstruct.com
....Now let's go back to cooking😅
Ingredients for 6 portions
400g sweet potato ( small cubes)
500g small Cauliflower florets
240g canned chickpeas
240g canned butter beans
50g fresh spinach leaves
400ml full fat or low fat canned coconut milk
500ml passata or canned chopped tomatoes
3 garlic cloves, minced
130g chopped onion
250 ml veg stock
200g uncooked buckwheat groats or quinoa
1/3 tsp chili powder
2 tsp Garam masala powder or curry powder
0,5 tsp ginger powder
3/4 tsp turmeric powder
2 tbsp chopped fresh coriander or parsley (optional)
any extra veggies you desire😉
Method
1.In large cooking pan ,sauté the onion over medium heat until soft and translucent (about 3 minutes). Use water for "frying".
2.Add all spices and continue to sauté for one more minute.Add little more water if the mixture is to dry and sticks to the bottom of the pan. Be careful not to burn spices.
3.Add coconut milk, vegetable stock,garlic, sweet potato, cauliflower and passata. Simmer for about 15min.
4.In the meantime cook buckwheat groats or quinoa,According to the instructions provided on the label.
5.Add the drained chickpeas, beans and cook until potato and cauliflower is soft.If the mixture becomes too dry as it simmers, add more water.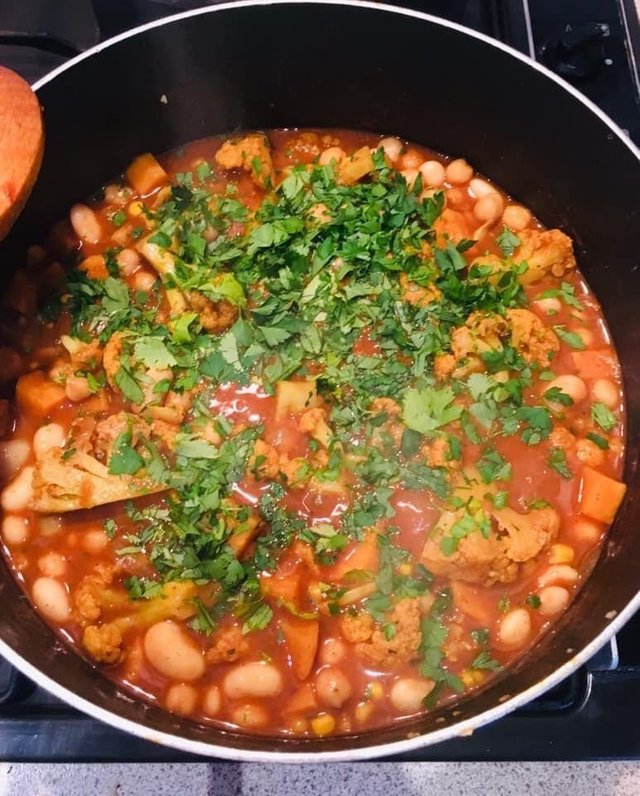 6.At the end of cooking add spinach and herbs. Mix and give the masala a taste,add salt as needed.
I used full fat coconut milk but with low fat will work great too.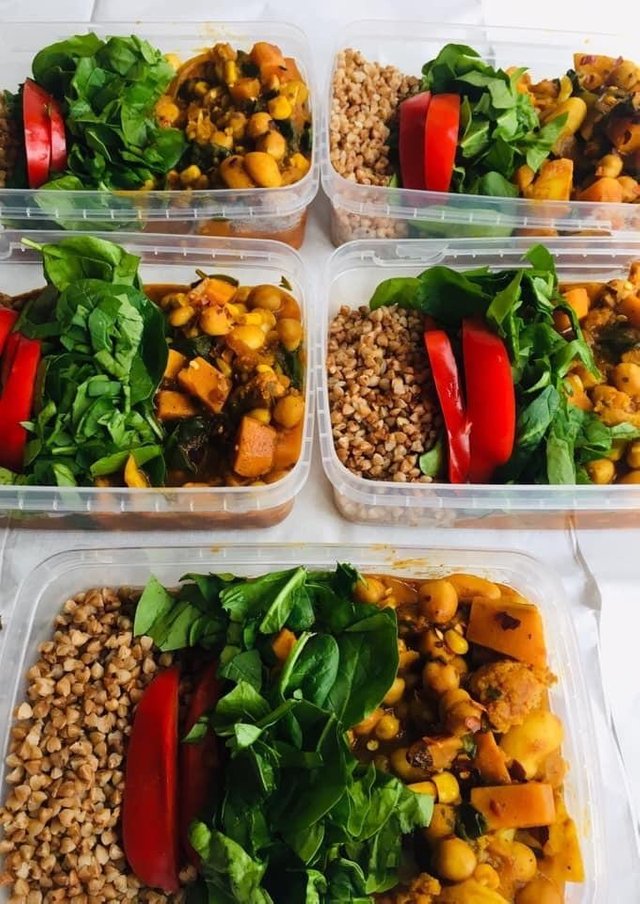 This is perfect for batch cooking! Freeze for up to 3 months.
Add chicken or prawns if 14g protein isn't good enough for you😉
Macros per 1 portion ( out of 6)
Calories 437
Carbs 65g
Fat 12.5g ( less if using light coconut milk)
Protein 14g
Fibre 11.5g😍
............Polish translation.............
W tym roku wzielam sie powaznie za zdrowe I zbilansowane posilki chodzi i niezalezy mi zbytnio na kaloriach.Ryż w tym przepisie zastapilam kasza gryczana ponieważ potrzebowałam czegoś bardziej odżywczego i pożywnego.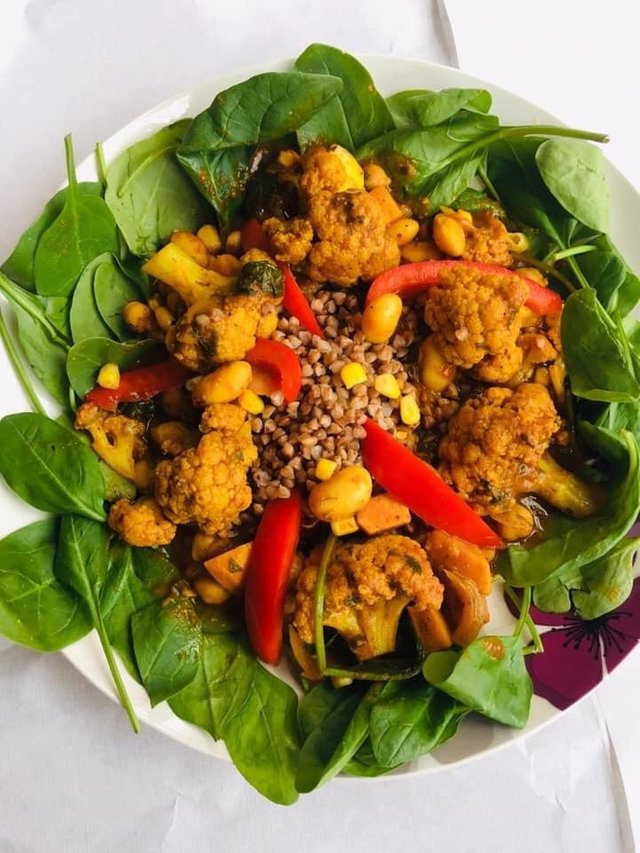 Uwielbiam konsystencję bialej fasoli i słodkich ziemniaków w tej potrawie.
Ten posiłek wygląda na bardzo wysokowęglowodanowy, ale ja nazywam te węglowodany "inteligentnymi" węglowodanami😉. Ponieważ są pełne błonnika i innych dobroci, których często brakuje w naszej diecie!
O! zostanmy na chwile przy kaszy gryczanej😉
Kasza gryczana jest niesamowita!
Sami zerknijcie na ponizsze wartosci odzywcze: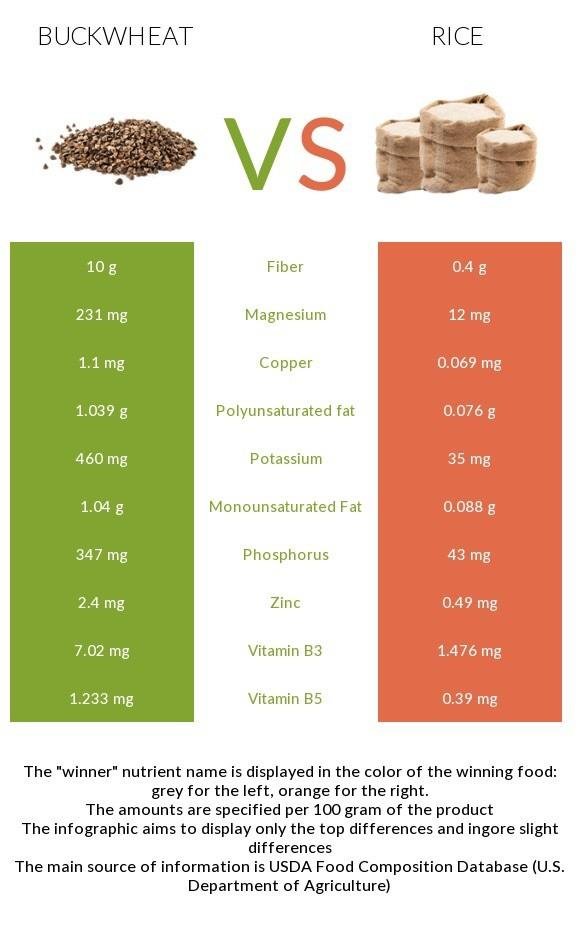 Zdjecie od: https://foodstruct.com
👉Rozpuszczalne węglowodany w kaszy gryczanej, fagopyritol i D-chiro-inozytol zmniejszają wzrost poziomu cukru we krwi po posiłkach.
👉 Stwierdzono, że białko gryczane skutecznie obniża poziom cholesterolu we krwi
👈Kasza gryczana jest bezglutenowa i bogatsza w minerały niż wiele popularnych zbóż, takich jak ryż, pszenica i kukurydza.
👉Dostarcza więcej przeciwutleniaczy niż wiele innych ziaren zbóż, takich jak jęczmień, owies, pszenica i żyto.
👉Regularne spożywanie gryki może poprawić zdrowie serca poprzez obniżenie ciśnienia krwi i poprawę profilu lipidowego we krwi.
👉Doskonale sorawdza sie jako owsianka bezglutenową, jeśli nasaczymy przez 4 godziny przed gotowaniem.
.... No wlasnie! wróćmy do gotowania😅
Składniki na 6 porcji
400g słodkich ziemniaków (małe kostki)
500 g małych różyczek kalafiora
240g ciecierzycy w puszce
240g fasoli w puszce
50g świeżych liści szpinaku
400 ml pełnotłustego lub niskotłuszczowego mleka kokosowego w puszce
500 ml passaty lub posiekanych pomidorów w puszce
3 ząbki czosnku, posiekane
130g posiekanej cebuli
250 ml wywaru z warzyw
200g niegotowanej kaszy gryczanej lub komosy ryżowej
1/3 łyżeczki chili w proszku
2 łyżeczki proszku Garam masala lub curry
0,5 łyżeczki imbiru w proszku
3/4 łyżeczki kurkumy w proszku
2 łyżki posiekanej świeżej kolendry lub natki pietruszki (opcjonalnie)
wszelkie dodatkowe warzywa, których pragniesz😉
Metoda
1.Na dużej patelni podsmaż cebulę na średnim ogniu, aż będzie miękka i półprzezroczysta (około 3 minut). Do smażenia używaj wody.
2.Dodaj wszystkie przyprawy i kontynuuj smażenie jeszcze przez minutę. Dodaj trochę więcej wody, jeśli się przykleja do dna patelni. Uważaj, aby nie przypalić przypraw.
3.Dodaj mleko kokosowe, bulion warzywny, czosnek, slodkie ziemniaki, kalafior i passatę. Gotować na wolnym ogniu przez około 15 minut.
4.W międzyczasie ugotuj kasze gryczana lub komosę ryżową, zgodnie z instrukcjami podanymi na etykiecie.
5.Dodaj osuszoną ciecierzycę, fasolę i gotuj, aż ziemniak i kalafior zmiękną.Dodaj więcej wody, jezeli jest taka potrzeba.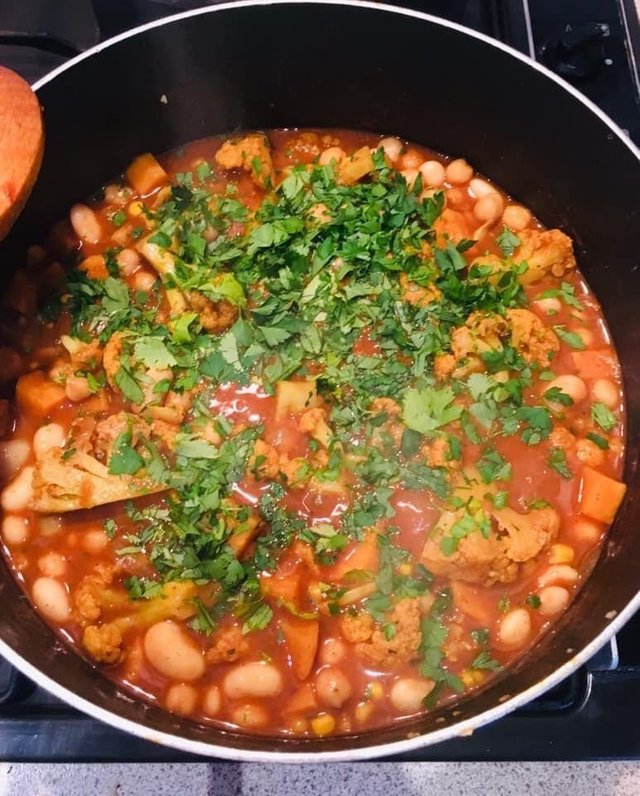 6.Pod koniec gotowania dodaj szpinak i zioła. Wymieszaj i przypraw do smaku.
Często robię to przy użyciu tylko 2 łyżeczek curry w proszku i też smakuje cudownie.
Jest to idealne danie do gotowania na tydzien! Zamrażaj na maksymalnie 3 miesiące.
Dodaj kurczaka lub krewetki, jeśli 14 g białka nie jest dla Ciebie wystarczające😉
Makra na 1 porcję (spośród 6)
Kalorie 437
Węglowodany 65g
Tłuszcz 12,5 g (mniej, jeśli używasz niskotluszczowego mleka kokosowego)
Białko 14g
Blonnik 11,5 g😍
Smacznego!