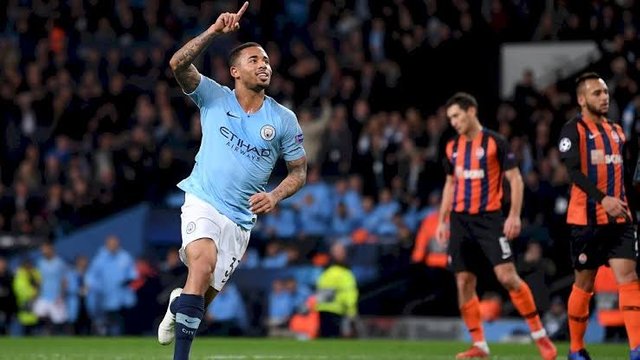 [Source]
--
Just when other English teams were losing and drawing, City did win in style all the way in Shaktar. No one thought it would be this easy especially with the daunting stadium Shaktar have but then, Manchester City has been down this road before and they knew what was needed to sort things out.
Shaktar started brightly and you could see tje desire and intent from their game coupled with flashes of brilliance from their talisman of the night; Taison. They were unlucky not to be ahead or even pull level shortly after City scored.
Manchester City broke the deadlock when Mahrez pounced on a rebound to blast the ball into the back of the net. Shortly afterwards, Gundogan scored brilliantly too just to put the game beyond all doubt. City were not done as De Bruyne released Gabriel Jesus to finish the game and increase the scoreline to 3-0 for the night.
The scoreline was never a justification for how impressive Shakhtar were tonight. They matched City in every department but you could see why City were a class above them with their swift play and decisiveness.
City are definitely favourite but as I would say, it is too early to tell and football is full of surprises.
This post was posted through @sprtshub and it first appeared here
---
Thank you for your time.
---
My pen doesn't bleed, it speaks, with speed and ease.
Still me,
My tongue is like the pen of a ready writer.
Olawalium; (Love's chemical content, in human form). Take a dose today: doctor's order.
---
Request:
Hello everyone, How are you all doing today? Wanna keep up with what @tangerinetravels are up to? Kindly subscribe to their channel on YouTube, click like on their videos and in Maddie's voice "Gong that bell", so as to be notified every time they post new videos.
Their progress on YouTube has been so impressive, I would love you to be a part and be another reason to make them push further. Thanks in advance.
---
Follow @sprtshub, @stach and @stach.pay to keep up with the amazing stuff going on in this amazing community. Decentralizing the offline and making impact everywhere. I am glad to be a part and it would be nice if you would too.
Join the discord server here:
https://discord.gg/ryA7BBE