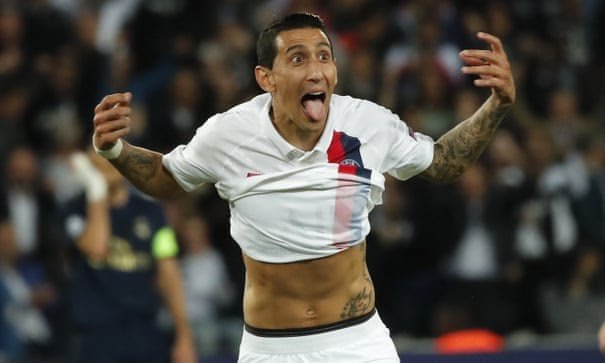 [Source]
---
Who would have thought that Angel Di Maria would go back and haunt his former employers even without Mbappe and Neymar?
Everyone anticipated this match but no one could predict this score line. It is obvious that Madrid haven't yet recovered from the loss of their talisman; Cristiano Ronaldo because this is the match he would have relished.
It is obvious that PSG are still not leaving anything to chances anymore after their collapse at the hands of Manchester United last season.
PSG thrashed Real Madrid by 3 goals without reply and Di Maria did the damage by scoring two of the goals. There was no secret to the fact that Di Maria was pained after he left Madrid and he even cried which he admitted to. He would do anything just to prove to Madrid that they made a mistake - the same proving that he did when PSG met with Manchester United last season when he scored and jubilated wildly before the second match"s score line was eventually overturned by Manchester United.
Madrid would have to go back to the drawing board but the good thing is, it is a group stage and they have 5 matches to make it up to the fans.
Tottenham collapsed against Olympiakos and I don't know maybe it is a North London thing, seeinf how Arsenal also collapsed against Watford in the League after going two goals up.
Olympiakos levelled the matters from being two goals down to 2-2 on the night and Tottenham would be absolutely furious with themselves about that.
Bayern Munich beat Crvena Zvezda as everyone expected by 3 goals to nothing but Juventus suffered another collapse of their own after going 2 goals up against Atletico Madrid to draw the match by 2-2.
This season's Champions League is full of surprises as expected and no one wants to roll over. Everyone understands the importance of starting strong.
Let the games begin!
---
Thank you for your time.
---
My pen doesn't bleed, it speaks, with speed and ease.
Still me,
My tongue is like the pen of a ready writer.
Olawalium; (Love's chemical content, in human form). Take a dose today: doctor's order.
---
Request:
Hello everyone, How are you all doing today? Wanna keep up with what @tangerinetravels are up to? Kindly subscribe to their channel on YouTube, click like on their videos and in Maddie's voice "Gong that bell", so as to be notified every time they post new videos.
Their progress on YouTube has been so impressive, I would love you to be a part and be another reason to make them push further. Thanks in advance.
---
Follow @sprtshub, @stach and @stach.pay to keep up with the amazing stuff going on in this amazing community. Decentralizing the offline and making impact everywhere. I am glad to be a part and it would be nice if you would too.
Join the discord server here:
https://discord.gg/ryA7BBE