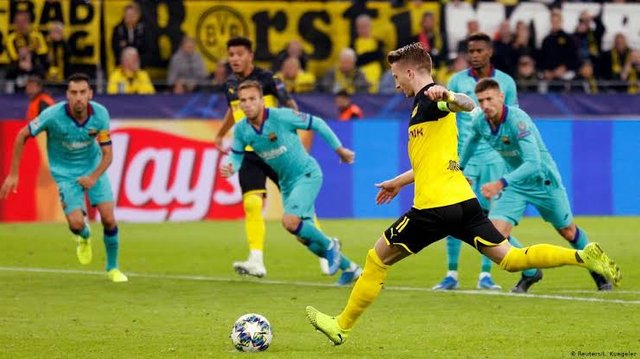 [Source]
---
This is why I love football; the unpredictability of it with jaw dropping moments, without leaving out spectacular goals.
I watched Dortmund with Barcelona match and I can say that Dortmund played impressively. They were so unlucky not to have won on the night. They played with more determination and zeal. They were clearly ready for the upset. They wanted it more. It wasn't until late into the game before Barcelona made their dominance known. They were without their talisman though - Messi and he had to be introduced as a second half substitute.
Marco Reus was so unlucky in front of goal as he squandered chances upon chances and most notably the penalty that was saved by Ter Ste Gen. He did everything to make it right but it wasn't just his night. Lionel Messi could habe won it right at the dead too but he was caught and the play went out. The final whistle came. Dortmund would feel hard done by and more so, Reus.
The young guns of Ajax picked off from where they left off last season when they dispatched Lille by 3 goals without response. Lyon drew 1-1 with Zenith, just as Inter Milan drew by the same score line with Slavia Praha. Lukaku could have won it right at the end if not for the brilliance of the goal keeper.
The shock of the night, personally though came when Napoli beat the reigning champion; Liverpool by 2 goals to nothing even though there was an issue surrounding the penalty call in favour of Napoli.
Chelsea were also beaten by Valencia while Ross Barkley could have snatched a draw in the 86th minute when he couldn't convert his penalty.
It's going to get more interesting, I am sure.
This post first appeared here and it was posted through @sprtshub.
---
Thank you for your time.
---
My pen doesn't bleed, it speaks, with speed and ease.
Still me,
My tongue is like the pen of a ready writer.
Olawalium; (Love's chemical content, in human form). Take a dose today: doctor's order.
---
Request:
Hello everyone, How are you all doing today? Wanna keep up with what @tangerinetravels are up to? Kindly subscribe to their channel on YouTube, click like on their videos and in Maddie's voice "Gong that bell", so as to be notified every time they post new videos.
Their progress on YouTube has been so impressive, I would love you to be a part and be another reason to make them push further. Thanks in advance.
---
Follow @sprtshub, @stach and @stach.pay to keep up with the amazing stuff going on in this amazing community. Decentralizing the offline and making impact everywhere. I am glad to be a part and it would be nice if you would too.
Join the discord server here:
https://discord.gg/ryA7BBE