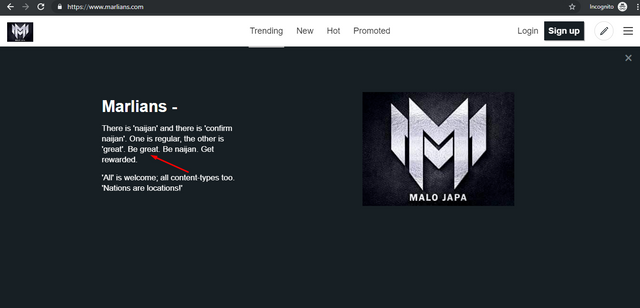 I have been very weak in the past weeks and with very limited productivity. All the same, i have not rested. One reason for this is that 'my brain and body has lost the ability to relax or shut down'. I need a rehab so desperately but there has been no space for this. 
For marlians.com thus, we will be making use of 'automation tools' and this undergoing development. Some announcements will be made about this in the coming days. 
In the meantime, i want to use this post and this time to discuss some things related to the 'vi-mission' behind marlians.com
While it is easy to see a website as 'ordinary' or 'just another website', marlians.com is headed in another direction. We are creating 'an actual home'. 
On the internet of today, where even humans are beginning to have 'relegated value', our vi-mission is a huge feat and we know this. This is why we require your patience and understanding when our development appears delayed.
We were are building a social media experience that revolves around 'mining the human' and this a 'fresh route'. We don't have a blueprint. Speaking of "mining the human" as simple-looking as this may look, it is what the world needs to 'find its balance'. The curriculum(s) of the world are primary modeled to mine things like 'the brain', beauty, talent, luxury, fame etc
Blockchain itself needs to 'emanate down-to-earth innovations' and 'apply down-to-earth paradigms' or it will fade like 'techs before it'. This is already happening! Well, 'proof of brain' has done something and alot to prevent this from happening but even for 'proof of brain' to enter the ranks of great, it needs input from the 'legit illiterates', 'the un(dis)talented', 'the uloggers' etc
Techs overall, need 'down-to-earth innovations' and 'the application of down-to-earth paradigms' to find balance. Note that 'the know-how for things that are down-to-earth' aren't covered in 'the books'.
This 'down-to-earth route' is the route we take. Where there are black/white lists, we are making use of 'grey-lists'. Where we decide to make use of an "oracle", it will be un(dis)talented oracle and our paper is a 'colorlesspaper'.
Now, this route or road is a very hard one to take and requires your patience and understand. We have to be solid, when it comes to 'our vi-mission' and unshaken even in the face of 'bulls or bears', in order to build the base of our enterprise (at least), before we can begin to consider things like partnership etc.
This explains also why we are building our base around a 'growing grey-list of certified uloggers'.
On marlians.com, we are very close to establishing a solid base by virtue of the UI. After the completion of some UI-development tasks and 'some automation tools', we will be better able to receive hearty contributions from 'certified' uloggers, who will help us with curation, growth, development etc as 'true fans' as they become well aware of our vi-mission and begin to love what we represent in terms of 'world adjustment'.
I for one, have become 'very slow' especially recently due to health issues but we are close. Marlians.com didn't just start. There has been ulogs.org, steemgigs.org etc (before marlians.com), that applies a similar framework.
Speaking of our project Marlians, we are trying to create 'a home'. We need to be solid for our vi-mission accomplish the full extent of its intention. 'Bulls or bears' should be negligible when measuring our success. 
We want 'true fans' to back us. We aren't promising investment-returns. We are promising 'real human growth'. We accept flaws too. We aren't about the fast route. We are applying the 'no books' and writing new curriculum(s). This will take time, 'alot of effort', love and will.
Marlians.com is a down-to-earth innovation. This is our route.
Your boy Terry
Get Certified (Optional)
First 1000 certified uloggers will get 50 MARLIANS. This aside other ongoing drops.
Steps 1: Send '5 STEEM' to '@marlians' with this memo; '1 month certification'. 
Step 2: Do a 'ulog' via 'marlians.com' discussing the process of 'how you became a certified ulogger'. Make sure to use '#ulog'. 
Step 3: Subscribe to 'UloggersTV YouTube'. 
Step 4: Fill up this google form. 
If you desire, you can DM '@surpassinggoogle#1660' on discord when you are done with the steps, to hasten the process.
Note: Where you get certified now, your payment ("one month certification") hasn't started counting yet but you will already be 'certified'. This is a bonus. We will notify you when "the one month" starts counting (after we have setup our automation-tools). See our list of 'certified uloggers' on 'https://ulogs.org/discover' 
To Get Some 'MARLIANS'
Here are the steps: 
Visit 'https://steem-engine.com/?p=market&t=MARLIANS' and login using the keychain extension or directly using your private posting key.
Click on the 'DEPOSIT' button to deposit STEEM. Note that you can also deposit BTC, ETH, LTC, EOS etc with steem-engine.
Go on to buy some MARLIANS.
Kindly subscribe to UloggersTV on YouTube
Kindly vote on the 'steemgigs' witness
If you can translate this post into other languages, feel free to do so. You can also show me on discord, so that i can resteem it.