Hey Jessmovie buffs
I have yet to see the Rise of Skywalker but judging by the amount of hate it's getting I think I can give it a miss. I often take time out to watch a movie or too because I expect to be entertained for two hours and give my mind something to drift away with, which is what a movie is supposed to do.
You can't put a price on a good story, and the creative execution. But Hollywood has tried to take it down to necessary numbers. It's all about box office performance and nothing else.
Instead of trying to give us new characters to get behind, the explore their ideas, to explore new worlds and concepts it has been nothing but rehashes, reboots and franchise building for the last few years.
I think its safe to say that Hollywood has run out of ideas.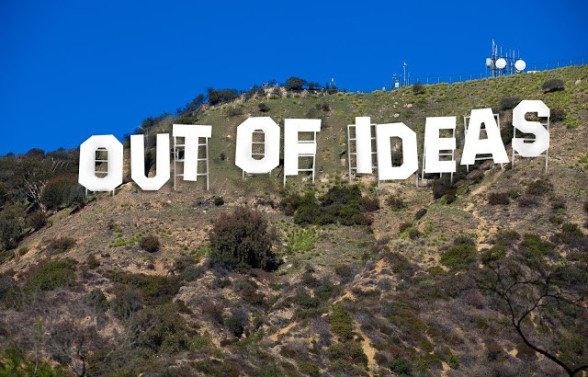 Image source: - jamesharringtoncreativeworks.wordpress.com
What's at the box office?
If you plan on seeing a movie its either some B grade cannon fodder that's pushed to give you the illusion that you have any selection and helps prop up one of the following
Hard reboot of a classic IP or even moderately successful IP
Video game now turned into a movie
Comic book movie
Soft reboot of a classic IP because the previous reboot didn't do so well
Gender flip of a classic IP
Reboot of an excellent story but with brown and black folk and maybe an LBGT representative
Apart from the comic book movies that have seemed to gain traction with audiences seeing their favourite characters on the big screen and has yet to fatigue, the other formulas have performed pretty dismally.
Yet, they continue to persist with it because the nostalgia and affordability of rebooting an old IP to profit on a shitty product are still worth it. The reason they keep doing it was that it made financial sense, but its slowly starting to crumble as fans are beginning to vote with their feet.
Maybe of the woke reboots like the last Charlies Angles and Men in Black failed miserably, Rise of the Skywalker is dubbed the worst of the 9 episodes and the latest Terminator was universally panned. I mean the last one to this one was already hot garbage but okay, tool you some time to get it, but you finally got there.
Movies lack imagination
Instead of trying to entertain us, bring us real talking points, some in-depth social commentary (apart from the Joker movie) movies have become so pedestrian and formulaic that it's downright predictable. I don't even know how movie review YouTubers have enough content anymore.
Reviewers and critics are essentially repeating themselves over and over with the same complaints from another franchise. The funny thing is they will openly admit and compare the failures of these various films, and it's quite sad.
The whole point of reviewers is to break down films and give you their view or pick up things you may have missed and given the movie more context or even some fan theory, but they've had very little to work with of late.
Why pay when you can pirate
It's genuinely worrisome to think that Hollywood values the money brought in by the content created rather than the actual storyline and quality of the material, but that's become a common fear.
This formulaic approach and focus on numbers can only lead to one thing: a decline in the industry. Why would I want to see a movie on the big screen and shell out cash to have an experience when I know it's going to be pretty much the same.
I can wait till it does the rounds and come to streaming services or TV and watch it then. It's not like these movies are generating the hype it used to where people would bring up watching it first, and it would be the talking point of many conversations.
Let's connect
If you liked this post sprinkle it with an upvote or resteem and if you don't already, consider following me @chekohler


---
| Buy & sell STEEM | Donate LikeCoin For Free | Earn Interest On Crypto |
| --- | --- | --- |
| | | |