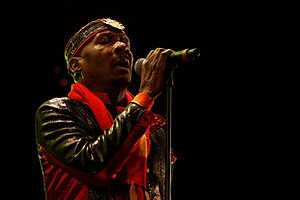 Image and ref source
A Jamaica living legend, a musician, an actor, multi-instrumentalist and song writer.
He was born on 1 April 1948 (age 71) in the city of Somerton District, St. James, Jamaica and lo and behold we share the same birthday.
Research on Jamaica music culture is not complete or to be compiled with adding the name of this great legend called JIMMY CLIFF which is his stage or music name.
His real name is JAMES CHAMBER (OM). He is bestowed with an honour called order of merit which is the highest honour conferred on a person as regards achievement in terms of arts and science.
He plays various instruments such guitar, piano, conga, keyboards and also he is a good vocalist.
Jimmy Cliff was inducted into the hall of fame in 2010 with 4 other performer I.a the rock and roll hall of fame. Jimmy cliff is one of the legendary musician who help to popularize raggae music across the world.
He also starred in a movie titled the harder they come.
Some of his songs are:
The Harder They Come
Beautiful People
You Can Get It If You Really Want
Reggae Night
Hakuna Matata
Wonderful World
Many Rivers to Cross
Jimmy Cliff is a legend and a big name in the raggae nation and culture.
Much respect an love to Jimmy Cliff
One love.