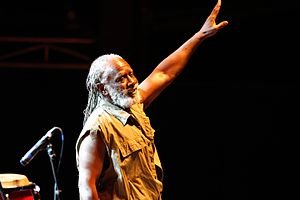 Do this name rings in your mind, thought, ear as a raggae fan, dont know about you but as a raggae fan which I am, a lover of raggae music I always remember this raggae legend called Winston Rodney OD.
He is a rastafarian to the core, one of the most influential and long-serving Jamaica raggae artist or musician in the 1970s, his stage and music name is BURNING SPEAR.
He was born March 1 1945 aged 74, He is from Saint Ann's Bay, Saint Ann, Jamaica. As a young man he listened to jazz, rock, r and b and soul music which is played especially in the U.K back then. Rodney was deeply influenced in one of his idol who was a political activist Marcus Garvey
He was advised by Bob Marley in a conversation to approach Coxsone Dodd's Studio One label.
Burning Spear has won two Grammy Awards for Best Reggae Album one at the 42nd Grammy Awards in 2000 for Calling Rastafari, and one for 2009's Jah Is Real. He has been nominated for a total of 12 Grammy Awards.
Some of his hit songs are
People in the world
Jah is real
The world should know
Calling Rastafari
Our music
Free Man amongst other.
Anywhere raggae music is mentioned, Burning Spear name cannot be kept aside.
Raggae lives on
Burning Spear lives on
One love
Keep jahming.