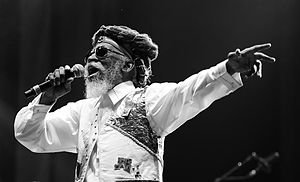 Image and ref source
He is a raggae living legend who was given birth to on 10th April 1947(Aged 72) in the capital city of Jamaica called Kingston.
He is christened Neville O'Riley Livingston, a reggae musician, vocalist, songwriter and percussionist and also a living music legend and icon. He blends raggae with a genre of music called Ska and can play Percussions like bongo drums, congas, tambourine, drums very well as this are his key instrument.
His stage or music name BUNNY WAILER.He is also known as Bunny Livingston and affectionately Jah B.He is also a three times grammy award winner as he is called the honourable as he is seen as one of the legendary living standing longserving reggae standard bearer.
Bunny Wailer was with the group called the wailers which he toured with them to events and world stage concert. He was an underused songwriter and vocalist tho.
Bunny left the Wailers in 1973 as he was reluctant to leave Jamaica to other part of the world as he claims Jamaica is his root and travelling or staying outside Jamaica is against the Rastafarian doctrines or principles.
After going solo, he was able to merge or blend with other types of genre of music like dancehall, typically apolitical, more pop.
Some of his songs are: Dancing shoe, dreamland, judge not, pass it on. Etc.
Today I celebrate Bunny Wailer for his endless effort and contribution to the growth of raggae music.
Raggae lives on.