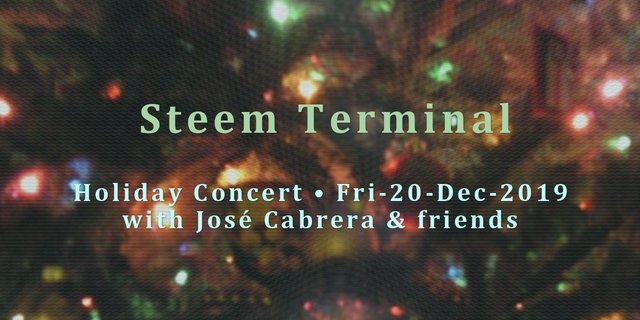 Many thanks
to José Cabrera (
@joseacabrerav
) and his musician friends for gracing us with a fabulous "live" Holiday Concert in the Steem Terminal discord server! The event took place Friday, 20-Dec-2019 at 9:30 pm UTC. Three hours of wonderful music was recorded, and they were still going strong long after that, making it a real party!
At the beginning of the concert, José announced: "This is not like Christmas songs, but our spirit is of Christmas so that changes all the music and puts us in a Christmas mood." And, indeed, the gathering of musicians in Venezuela, as well as the gathering of the audience in the Steem Terminal, was definitely upbeat and festive!
There was much good music — some of it original, some of it old folk songs of Venezuela, and some of it Latin American standards. There were some wonderful voices that brought these songs to us, lovely harmonies, whistling, and background drumming, to keep things lively. The laughter of the musicians between songs was a testament to how much fun they were having, and the simultaneous text-chat revealed the same about the audience!
Click on the following video to listen to the music and follow the text-chat. And please consider joining us in Steem Terminal for future concerts!
José Cabrera (@joseacabrerav) and friends performed this concert for free, without expecting any compensation. However, if you enjoyed the concert and can afford to tip a couple of Steem their way, I am sure they would appreciate the gesture, particularly as difficult as life currently is for folks in Venezuela. And if you cannot afford to send a tip, consider sending positive vibes, instead, or do something kind for someone in your neighborhood this holiday season!
Thank you for spreading the love! 😊

֎


to learn more about either of these projects, please visit: @heyhaveyamet or @steemterminal