Image Source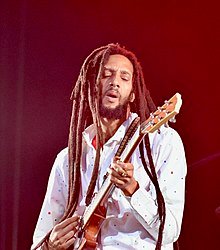 One of the son of the raggae legend Bob Marley named Julian Ricardo Marley, he is a raggae and dancehall musician,song writer, producer and also someone who is into charity and humanitarian service.
He is a devout Rastafarian who uses his song to inspire and uphold spirituality.
He was born in June 5 1975 and he is also called Juju Royal. He is a grammy award nominee.
His seventeen track in his album AS I AM titled BROKEN SAIL is a track that has been jaming and giving melody vibes to raggae and song lovers.
Youtube
The song is like a story like song but in a proverbial way talking about a sailboat which can get broken.
A sailboat connotes a movement carriage convening people which if its to dock in peace, everybody there must be in one accord.
If there is dispute, war, misunderstanding, the boat is then to break or even get recked.
For sure there might be stormy wave and wind, which most time its inevitable, but the strength in togetherness which enable the boat get to its shore.
The sees unity and peace as the main tool to conquer proverty, war and every other issues that can cause a treat to human existence.
He also connote that is not how far we have come that will liberate us but a collective effort geared at unity will make us get there.
I would rate the song 8 out of 10.
I urge everyone to listen to the song
Raggae music lives on.
---
Posted via ReggaeSteem | Reggae Culture Rewarded