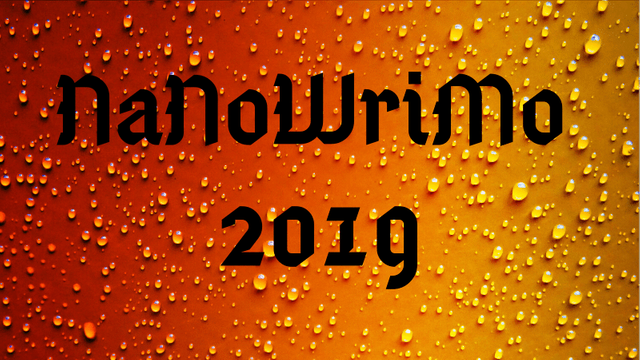 Didn't get much writing done today, but tomorrow should be mine to do as I please - well, until four. Now, I am sleeping so I can wake up early and write, write, write :)
If you happen to live in San Diego and are participating in the NaNoWriMo Madness, here are some places to meet up with fellow writers and get some support and have fun. None of these work for me this week - but maybe next week I will go. If I do, I post pictures here :)
I am also tagging the post as #sandiego - just because I live here. But there is another reason. @ackza started the Sand token that is San Diego specific and I think it would be fun to somehow use it as an incentive for local writing get-togethers. Rewards are always nice!
[Wrimo-run] UCSD Friday Lunch Write-In
Friday, Nov 8, 2019, at 12:30 pm
[Wrimo-run] Darkstar (UCSD) Write-In
Saturday, Nov 9, 2019, at 1:00 pm
NaNoWriters on Steem
Check out what we are up to at the Freewrite House. This post will be of particular interest to you.

Disclaimer
I am planning to write 50,000 + words this month in the spirit of NaNoWriMo - National Novel Writing Month. But I am going to ignore the Novel part and write whatever I want to. I am doing a complete stream of consciousness style of writing. It might become a Novel, it might look more like morning pages - basically, word vomit onto the page to empty the brain. Maybe, I get a bunch of good blog posts out of it. I don't know. Feel free to read it - or not. Quality is not ensured! 😂

Day 7
Here we are at day seven of the NaNoWriMo madness and I have declared my effort in this the NaMeWriMo month. I am a nation on myself - isn't that something written in some kind of scripture? I am sure. It must be.
If not, I was the first to say that? Impossible. Some old fart dictator in some country must have said something like it before. But that is not the point. Since very obviously for those of you who have read any of my nonsense, I am not writing a novel this month, it is really all about me. Can I write every day a significant amount of words? And do it no matter what?
I set out on Steem to write every day and that was one of the reasons I created the Daily Prompt Movement. And I am calling it a movement. We have been doing it for over two years. And by we, I mean that I am posting the prompt and you all have been writing.
In the beginning, I wrote every day too. Then, I didn't want to post what I wrote since I didn't want anyone to get influenced by the direction I was taking with the prompt. Also, I wanted to read everyone's work and comment, deliver the new prompt, and such.
Before I knew it, I was busily doing that and more often than not, I was too tired to write my own.
That is a little bit the story of my life. I am great helping others to succeed and not so great following through on my own goals. But, what is success? And that is the great question.
Is someone who lived a happy life without ever doing more for society as a whole besides picking up trash from the sidewalk ever so often, more or less successful than someone who has been driven by passion and was part of a political movement - a changer of society - that got murdered young.
Sure, we admire (or not) the activist that gave their life for their believes. We don't admire the person who was happily living in the background trying to do the right thing but never making waves.

Join us for the daily 5 - Minute Freewrite. Check my profile for a new prompt every day.
I am adding the CC tag to all prompt posts and to most of my other posts as well. You can earn Comment Coins simply by leaving a good comment. No spam please!!!

All images are my own unless otherwise cited.
Graphics made on Canva.



Animation By @zord189

#SoCalSteemit is building and supporting the Steemit community of Southern California. If you are from SoCal and are into creating quality content here on Steemit, we'd love for you to follow us @SoCalSteemit and join our group on Discord!

Join @Actifit, become healthier by being active and earn as you walk. My referral link
Join us at the Freewrite House for fun and games!!! Weekly drawing for SBI memberships and so much more!!

And get your Freewrite House Swag here