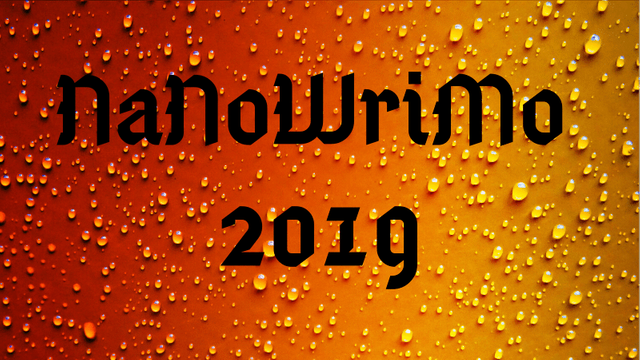 ---


If you happen to live in San Diego and are participating in the NaNoWriMo Madness, here are some places to meet up with fellow writers and get some support and have fun. None of these work for me this week - but maybe next week I will go. If I do, I post pictures here :)
I am also tagging the post as #sandiego - just because I live here. But there is another reason. @ackza started the Sand token that is San Diego specific and I think it would be fun to somehow use it as an incentive for local writing get-togethers. Rewards are always nice!
[Online] Discord Write-In
Monday, Nov , 2019, at 7:00 pm on the regional Discord Virtual Write-Ins channel.
[ML-run] Fenton Parkway Starbucks Write-In
Tuesday, Nov , 2019, at 5:30 pm
[Wrimo-run] Mira Mesa Souplantation Write-In
Wednesday, Nov , 2019, at 11:30 am
[Wrimo-run] UCSD Friday Lunch Write-In
Friday, Nov , 2019, at 12:30 pm
[Wrimo-run] Darkstar (UCSD) Write-In
Saturday, Nov , 2019, at 1:00 pm
I didn't get any more updates - but am pretty sure those are weekly events.
NaNoWriters on Steem
Check out what we are up to at the Freewrite House. This post will be of particular interest to you.

Disclaimer
I am planning to write 50,000 + words this month in the spirit of NaNoWriMo - National Novel Writing Month. But I am going to ignore the Novel part and write whatever I want to. I am doing a complete stream of consciousness style of writing. It might become a Novel, it might look more like morning pages - basically, word vomit onto the page to empty the brain. Maybe, I get a bunch of good blog posts out of it. I don't know. Feel free to read it - or not. Quality is not ensured! 😂
And at this point, it is highly unlikely that I will finish 🤔

Day 27
I just have a few minutes and want to get today's writing started.
There are only 4 more days left for the NaNoWriMo effort and if I make it to the 50,000 words will greatly depend on the weather.
We are invited to go to one of our Navajo friends for Thanksgiving tomorrow. If there is no snow, I love to go, but that will mean that the whole day will be dedicated to driving there, visiting, and driving back again. In the best of weather conditions, the drive takes about an hour and a half each way. Yes, she drives that to work every day. That does take dedication!
We shall see. And now, just a little bit into this session, it is already time to go again.
It is cold outside but very warm inside the house. Actually, it is warmer inside than it is in my house in California. What is up with that.
The weather here reminds me a lot of my childhood. The days are cold, but the sun is coming out and if the wind isn't blowing too hard, it is refreshing to be outside.
To finish what I started yesterday, one of my friends, actually the wife of one of my father's war comrades, did talk to me about that time and she said that it was terrible. That people disappeared but everyone was too afraid to ask questions.
I guess we are not much different today. Many of us know that something might not be right but it is easier to ignore it and look the other way than to ask questions. In the cities, it could be the reign of gangs and all that what comes with it. Or it could be a child not being treated right. Or hunger in a family that lives just down the way.
To be fair to the generation that lived through the war - it is quite possible that nobody could wrap their mind around what was really happening. How could it go that far - and how can it go that far over and over and over again. Today. In China, in Syria, and in places I don't even know what is going on.
But back to the castles and all that was and is to be found in them.
As I mentioned, the duke's family was well connected all over the world. I already mentioned Queen Elizabeth and her love for Coburg. The mother, or probably the grandmother of the current Swedish royal came from Coburg. The last Zar of Bulgaria was from Coburg and returned there after he stepped down and the country did not have a monarchy anymore. Later, he became their Prime Minister, but returned to Coburg again to live there to the end of his days. I do remember walking by his villa often, but I never saw him. At least, I didn't know if I saw him.
The politics of marriage among the royals is well documented and the worldwide connections that were forged that way is one of the reasons that I grew up in a town rich with art and history. Rumor has it that the Dukes ordered all kinds of things, like tapestries that were handmade in Africa, glass of all sorts, paintings, ornate wooden furniture, and so much more and nobody could refuse them because they were so well connected, but they seldom paid for the items.
I am not a hundred percent sure that this is true, but it sounds something the arrogant blu- blooded members of society would do.
Well, let me get back to the scary door. Don't want to deprive you of one of my childhood fears.
As I said, we often took a walk as a family on Sunday afternoons up to the Veste.
Since I don't have any of my Coburg pictures with me, I am going to give you a link to pictures here. I hope the one I am going to write about actually shows up.
https://www.google.com/maps/uv?hl=en&pb=!1s0x47a3ce3d86ed21f5%3A0x8d1c844610c5e95b!3m1!7e115!4shttps%3A%2F%2Flh5.googleusercontent.com%2Fp%2FAF1QipPhSZ6Amg6gO0F4XVsbJHnnB4gTd_gIX_gUXtnp%3Dw226-h160-k-no!5sVeste%20coburg%20-%20Google%20Search!15sCAQ&imagekey=!1e10!2sAF1QipMLnXmKt93TzkGIDy9xz3i1FUcGto0B2Uthw5Od&sa=X&ved=2ahUKEwih6OXq5IvmAhVQOq0KHcwvBe4QoiowCnoECAsQCA
Wow, that is a long link!!
The bridge in the picture is the only access to the veste. The moat used to be under the bridge and going all around the castle. Now, it is filled in a walkway. The design of one entrance/exit makes it possible to defend the Veste from intruders.
Of course, the enemies could climb up the walls, but to do so, they first had to cross the moat and then avoid the boiling oil the soldiers inside the Veste poured over the top of the wall. Not a good fate for the intruders.
The doorway has a big metal door that can be closed and will withstand attempts of ramming it open. But, just in case that an enemy was able to come close before the door could be closed, about a yard or two inside of the doorway is a fall door fashioned from big beams with sharp points. It is held up by a rope and the door guardians could cut the rope with their swords and the fall door comes crushing down - spearing whoever was trying to come in.
Having grown up without a TV but with a steady diet of Grimm's Fairy tales, I had an overactive imagination as long as I can remember - especially imagining scary stuff. That fall door always scared me and not once did I walk through at a normal speed.
It took all of my courage to even try and I was running with a pounding heart.
So far, I have survived the visits and haven't heard of anyone being speared by the door during my lifetime. But caution is a good thing and even as an adult, I will not linger under those pointy beams.
From the towers of the Veste, we were able to see what used to be East Germany. It was so close, but at the same time, impossibly far away. There was no way to visit the East side of the border - at least not when I was a child.

Join us for the daily 5 - Minute Freewrite. Check my profile for a new prompt every day.
I am adding the CC tag to all prompt posts and to most of my other posts as well. You can earn Comment Coins simply by leaving a good comment. No spam please!!!

All images are my own unless otherwise cited.
Graphics made on Canva.



Animation By @zord189

#SoCalSteemit is building and supporting the Steemit community of Southern California. If you are from SoCal and are into creating quality content here on Steemit, we'd love for you to follow us @SoCalSteemit and join our group on Discord!

Join @Actifit, become healthier by being active and earn as you walk. My referral link
Join us at the Freewrite House for fun and games!!! Weekly drawing for SBI memberships and so much more!!

And get your Freewrite House Swag here