Now that the fast is virtually over, it's time to mention its amazing benefits. Okay, I could have done this at the beginning too, but let's be honest: I don't have the medical / scientific expertise to be able to describe in which ways fasting prevents cancer, or talk about ketones... whatever they are. Though I do want to mention this wonderful post by @moderndayhippie, talking about these health benefits of fasting, which he just happened to have published the other day. Thanks for the info, and the great timing!
Instead of science talk, what I'd like to address in this post, are the actual experiences I made with fasting, and how I became a believer without really bothering with the nitty gritty.
Punk Fast as a Teenage Rebellion
There are many different types of fasts. Some come from a religious, others from a medicinal background. Some last only a day, others over a month. As it turns out, I created my own fast back as teenager, which I called punk fast later on, when I learned what constitutes fasting and what doesn't.
As a fifteen-year old I had a bit of a weight problem. For my 169 cm (5' 6") height, I was pushing 90 kg (198 lbs), or may even have surpassed it. It doesn't matter, I was fat, simple as that. And I was getting quite tired of it. So in spite of the best advice I was given (none of it had to do with fasting) I decided to stop eating for a while. A week was always my goal, but I never made it past five days. Also, I did it without any preparation, let alone the intestinal flush, liver packs, or other recommendable parts of the fast. Since I didn't manage to complete my week, though I kept getting closer to it each time, I repeated my starvation four times all together.
Now while I don't recommend this kind of punk style fasting to anyone, it did have the intended results. My weight somehow settled at an ideal 70 kg (154 lbs), from which it hasn't changed since. The best part about this is that it didn't even happen during the fast, but over the subsequent weeks and months. And let me tell you, I didn't change my eating habits either, at least not consciously. My metabolism must have picked up pace, and I may have stopped desiring to stuff my stomach to the brim.
Sharpening My Senses With a True Fast
Since my dad and my sister have gotten so involved into studying fasting on a higher level, my curiosity got me to try the Buchinger fast they were getting trained in. The experience was neat, but the following results just blew me away.
It doesn't come as a surprise that when you're fasting you become more sensitive to the smell of food. Of course! But this heightened sense stayed with me for the next couple of weeks. And not just for food! I literally felt that I could pick up smells that I'd thought were outside of my spectrum (or didn't even exist). But this didn't stop at my nose either: I felt that I appreciated music better, the colors in the world, the human touch... ALL my senses seemed to be more sensitive than before the fast. Most powerfully affected, however, were my taste buds. What I described in my previous post about coming up with recipes stayed with me for quite a while, only fading very gradually into the background. So preparing, and especially eating food suddenly became a newly discovered joy. Mouthgasm doesn't even come close to describing it.
Listening to Your Body
The most important effect, though, that I want to write about, is how fasting will get you attuned to your body's needs. What is good for you, and what isn't, is not just a matter of taste or consistency. It's mostly about what's in it, or rather what it does to you. Normally you'd think we have to read volumes on nutritional science to get an idea what it is that we need... but consider how animals just instinctively know what they need (that is as long as their senses have not been confused by modern food, like ours).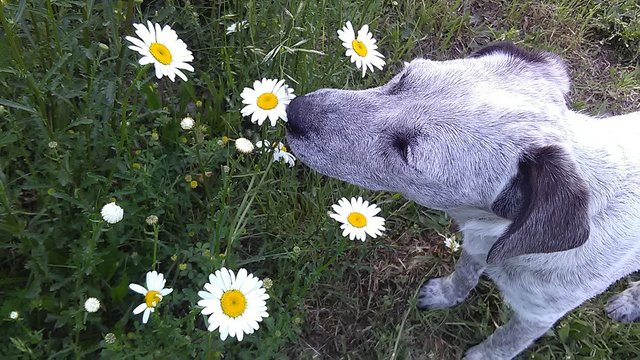 image source
After completing my fast I thought I'd jump right into eating heavy foods... and oh, have I dreamed up dishes for this occasion while fasting! In the end that wasn't the case. However, I knew exactly which foods would cause me the greatest pleasure, and the did. Interestingly, they were the best, healthiest choice too! Just like the heightened senses, this ability to understand clearly what my body wanted me to put into it stayed with me for quite a long time after completing the fast. But as all things go, gradually this sensation too was covered by our most common addictions: overly sweet, salty, or greasy stuff. Looking at it at the bright side, though, this gives me another good reason to do a regular fast, and enjoy the underlying health benefits, which you can read in about in @moderndayhippie's post.
Follow my Whole Fast in This Series:
Three Days of Preparation
Day One - Three Square Meals a Day
Day Two - Flushing Out Your Body
Day Three - Keeping Active During the Fast
Day Four - Relaxing the Right Way
Day Five - Lead Yourself Into Temptation
Day Six - What to Expect After the Fast
Day Seven - Time for the Break-Fast
Please check out these great communities I'm contributing to: 


#ecotrain | What is EcoTrain? | Discord Invite


#tribesteemup | The 8 Pillars of TribeSteemUp


#naturalmedicine | Welcome Page | Discord Invite


#cyclefeed | Introducing CycleFeed | Discord Invite