Greetings friends of Steemit.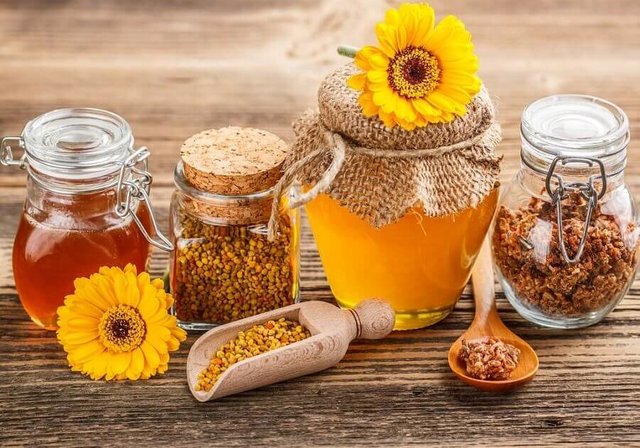 Source
Thank you for visiting my blog and Continuing with the series of properties and benefits of fruits and vegetables, today I bring you information about:



Propolis is a substance of totally plant origin produced by bees. It is said that propolis is produced directly by bees through pollen residues. Others say that it is produced by bees by means of resins collected from trees that mix after regurgitated pollen residues.


Most properties and benefits of propolis are attributable to the abundant presence of flavonoids. Below I will mention some of the benefits for our body, which I researched.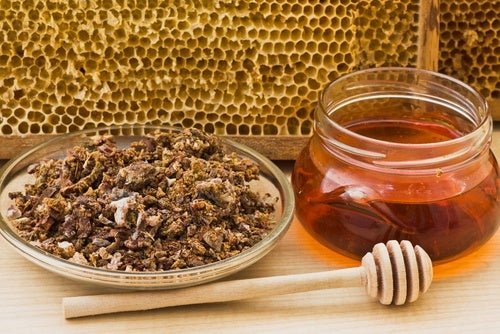 Source
Disinfectant and bactericide:
It has disinfectant, bactericidal and fungicidal properties. In alcoholic solution, mixed with a little water, brings benefits in case of sore throat. It is also a good preventive method, especially if combined with royal jelly, against winter diseases.


Some studies have shown that in the alcoholic solution it has the ability to prevent the development and proliferation of some bacteria. Among these, the E. Coli. It is also able to counteract infections caused by candida fungus.


When an invading insect enters the hive, the bees kill it and, if they cannot transport it outside, they cover it with propolis. This procedure literally embalms the dead insect. Therefore, it prevents rot and guarantees a clean and bacteria-free environment for bees.


Skin regeneration:
In case of wounds or skin burns, its use is very useful. In fact, it has the ability to stimulate the regeneration of epidermal tissues.


Improve circulation:
The presence of flavonoids also brings benefits to the capillaries, strengthening their walls and, therefore, reducing their fragility. Propolis properties improve blood circulation and increase vitality. In fact, many take propolis as a nutritional supplement.


Immune system:
Propolis stimulates the immune system and protects the body from infections. It has been shown that taking it while taking antibiotics enhances the effect of these medications.


Gingivitis:
it is mainly used for external use. It is used in alcoholic solution, to treat sore throat and inflammation of the respiratory tract and oral cavity. It brings benefits in the treatment of gingivitis and periodontitis. It is also effective in preventing bacterial plaque and tooth decay.


Herpes:
It has been shown that it can treat herpes conditions both labial and vaginal


Bone Benefits:
According to studies, the caffeic acid present in propolis is very effective in suppressing inflammatory compounds that cause bone diseases. At the same time, its properties are also proposed as a possible treatment for osteoporosis.


Warts:
For the treatment of warts, the mother tincture can be applied on the affected areas until the warts disappear.


Burns:
Its effectiveness has also been successfully tested against minor burns.


Glycemia:
Some studies suggest that antioxidant compounds help keep blood sugar levels under control.


Soothing:
It can be used in cases of nervous headache, nervous exhaustion and insomnia.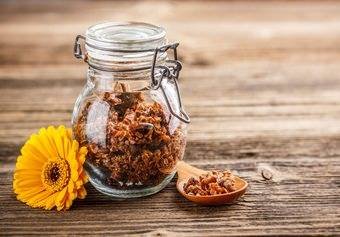 Source
Propolis is also used as an ingredient in skin beauty products such as soaps, creams, lotions, as it contains regenerative properties, in addition, thanks to the flavonoids it contains, it can slow down the effects of skin aging.



There were no particular contraindications regarding its use, however it should not be used by people allergic to bees as it could cause some condition.


As for pregnant women, this product may contain allergens. Therefore, for future mothers it is possible to take it if before the pregnancy there was the certainty of not being allergic to it.


I hope you like this initiative... you can make suggestions and propose fruits and vegetables for the next delivery.
References:

---
Posted from my blog with SteemPress : http://blessed-girl.repollo.org/2020/02/06/health-beauty-delivery-number-47-propolis/
---
Posted via neoxian.city | The City of Neoxian