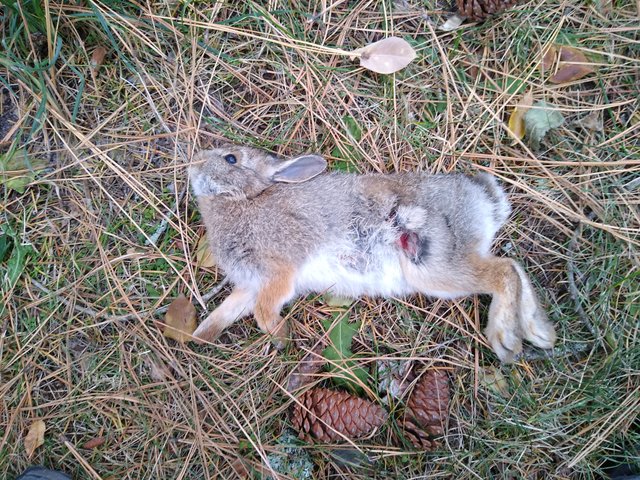 Asshole. That is exactly what my cat amounts to. Yesterday morning at about 1am we woke to the sound of screaming in our room and a rush of tromping feet. I turned on my bedside light and jumped out of bed to find our stupid cat had brought a RABBIT in the house, into our bedroom. I grabbed the rabbit which was much worse for wear and not seeming to be long for the world.
Of all the damned things the asshole has brought in the house, this is the biggest and most alive.
The rabbit was summarily tossed outside where I found it like this in the morning.
Asshole cat!
Then at about 3am something startled the asshole, (I think my throwing axe fell off the shelf and hit the floor) and he bolted from the bed crashing stuff off @stryeyz bedside table.
Suffice it to say the shit head is sleeping in the basement for a while at night.
(A note: I LOVE that the cat catches/kills the rabbits and mice, I HATE that he brings them inside as gifts!)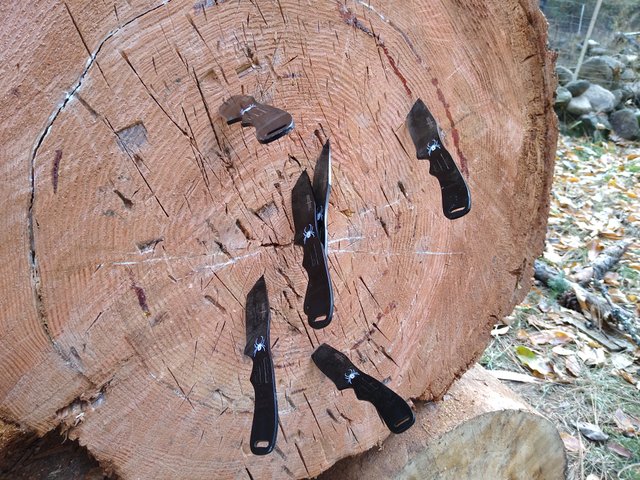 I had to get grain in the morning, only 2 barrels, but the sheep are super happy to have it. The cold temps make the act of dumping the grain SOOOO much easier. The frozen ground means I can walk in their pen without sinking to my shins. The problem with piling the grain in the same area for so long is the depth of loose muck when it rains or gets wet.
After returning with the grain I found UPS had delivered my new throwing knives. I spent a bit of time getting to know my new friends and getting a feel for how they throw. I am VERY happy with them and have figured out my throw quite quickly.
At 3:30pm I took the boys in costume to @stryeyz work to trick or treat the front offices. The boys love it and it got them a nice little load of sugar. We all left then and went to a friends house to be her first ever trick or treaters as they bought their house this year. We went out to eat at Applebees then the boys went with @stryeyz to her co-worker's house to trick or treat while I headed home. Simple outings seem the best right now with the boys being 3 and 6, we don't need to be out all night and they were both destroyed by the time we got home.
I'm not positive about today. I have a few things that I want to try and get done but nothing set in stone yet. I will see how the morning goes before I commit to any projects for the day.


10347

Daily Activity, House Chores, Play with kids/grand kids, Walking, Yard Work