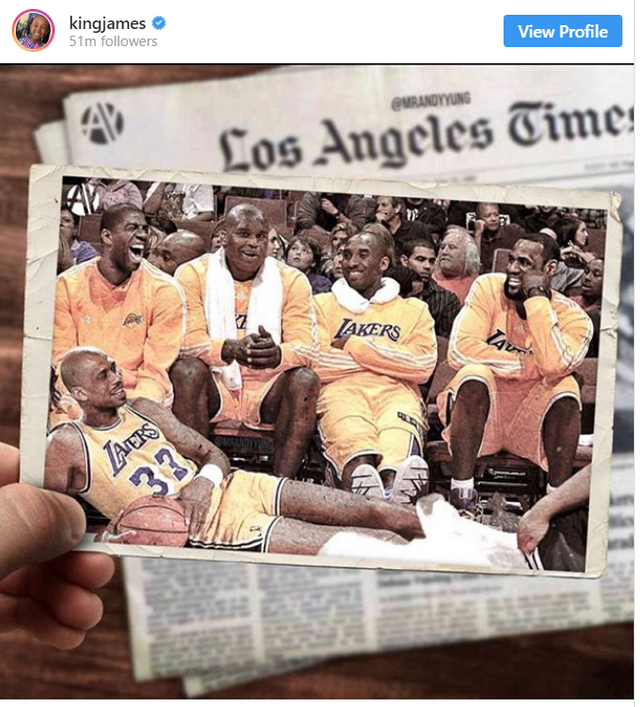 courtesy of insta
This week is like a not so much highlight or drama in the sport world.
It is really quiet except repeaters mentioning the same thing
hoping to make some noise.
AB is back to training even though he cannot train 100%.
No Luck for Andrew with his injuries since last year.
This time LBJ posted this picture you see on top about all the greats
in Lakers uniform.
At first you wonder why he posted it.
It will mean different thing to different people.
These guys are all championship worth players.
The only problem they did it with the Lakers.
James could be honored to be part of the Lakers organization
but no Championship yet with them.
As a fan I can see his desire to succeed.
Maybe it is too early to post it even though you are part of the Lakers.
Why would a fan be offended?
I betcha they are Clippers fans.
I am pretty sure this season is the season to push for a win.
Even though Kahwi is close by, Lakers looks more poise
to go further.
Health is key for any NBA team in contention for a ring.
Kyle just quit USA FIBA team due to a previous injury.
Health is so important we can see last year
LBJ was out for a good chunk of the remaining games
of the season, Lakers lost so bad
they dropped from fourth place to 9 spot.
Lakers again did not make the playoffs.
I am pretty sure it will be a special year for Lebron.
Taking away injuries, we will witness the true duality
in the NBA.
Every day they will dissect all the big duo.
Some are worth our time some are just getting a paycheck.
In the East I see teams more complete and easy to win
but the true winner will come from the West.
When Lakers will stack up the wins the conversation
will change and you will see why LBJ posted that picture.
Training and preparation is fast approaching and
LBJ will be there to build rapport and most important
chemistry and everyone will pick their spot on the floor.
Being in L.A. is the place to make your voice heard
make actuality.
Actually LBJ is shooting a movie.
He is getting involved in a lot of things.
Cool part he is earning.
End of October will put an end to all of this.
NBA will start the game in the West coast a little bit earlier
so more people will make time to see the three NBA teams
in California.
So far LBJ behavior is hard to comprehend and
glad he has not been in drama for a foreseeable season.
I am putting Lakers way high in the playoff.
Lakers get the West, it will be difficult for 76ers or Toronto
and so many teems.