I love waffles and if possible, I would eat them for breakfast, for lunch, even for dinner plus supper! But I only get to eat them on special occasions which means, not often. Don't you love waffles? There are the sweet kinds and the savoury kinds. I have seen on telly that waffles are served with fried chicken too in some parts of the world! Totally awesome!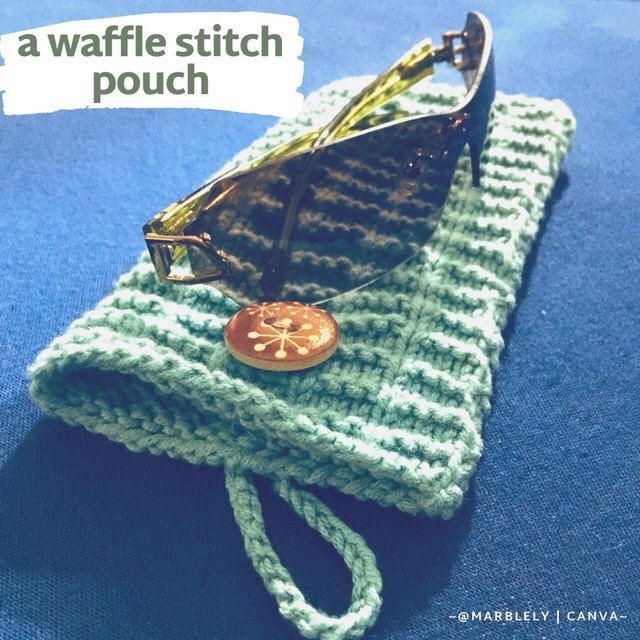 One day, during one of my online surfing moods, I found a stitch called waffle stitch: https://www.simple-knitting.com/waffle-stitch.html. I was like whaaat?? How sweet is that? And it seemed fitting too that I am practising my knit stitches and I love waffles! Best pairing ever!!

The moment I saw the waffle knit stitch, I went searching for a yarn ball, my knitting needles and got working. I chose a greenish cotton yarn, maybe it is aqua or turquoise, I can't really remember what I bought. I knitted and purled according to the pattern:
Multiple of 3 sts + 1
If you'd like to knit a sample cast on 13, 16, 19 or 22 stitches.
Row 1: (WS) Knit 1, * Purl 2, Knit 1, repeat from * to end
Row 2: P1, *K2, P1 rep from * to end
Row 3: Knit
Row 4: Repeat row 2

The pattern requires quite a bit of focus to build the pattern. One missed stitch or one wrong stitch changes the dynamics of the pattern altogether. After several days of careful knitting and purling, I got this piece of about 7 inches by 7 inches: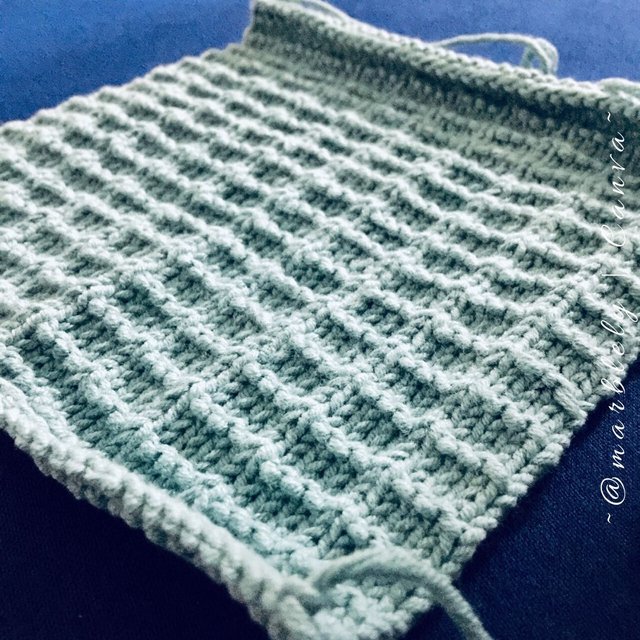 I left quite a bit of tail on both the beginning and end of the knitted piece because I wasn't sure what to do with this piece. I just wanted to knit my waffle stitches!

After leaving the waffle knitted piece for a day or two, I suddenly had an epiphany to turn this square piece into a pouch 💡. And surprisingly, it was just the right size for my phone or my sunglasses!

~ ~ ~ 🧵🧶💗🧶🧵 ~ ~ ~

Here is the schematics of the sewing plan: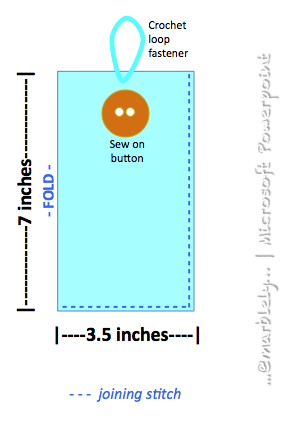 ~ ~ ~ 🧵🧶💗🧶🧵 ~ ~ ~

I folded the square piece into half, took my fat darning needle and started stitching the long side and the short side with the long tails which were left behind at the beginning and end of my knitting piece. Good thing I left long tails of about an arms length on both sides: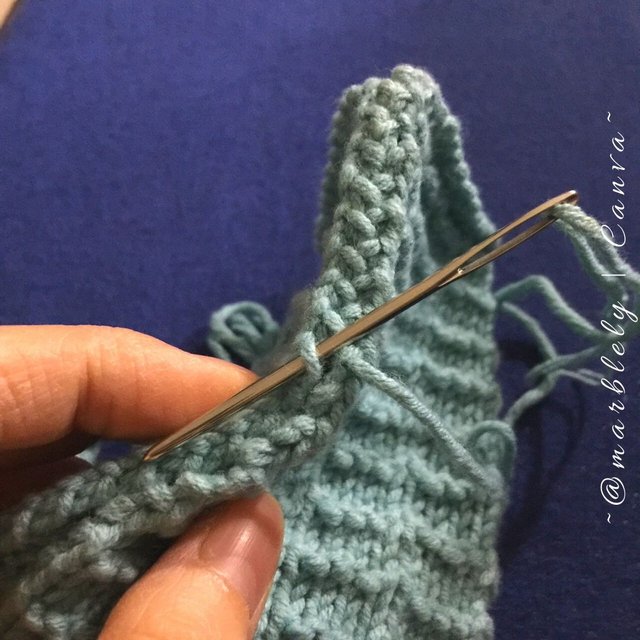 I tried to hide the joining seams by stitching into the existing stitches, like a weave and the result was suppose to give a stitch that looked as though they are part of the knit: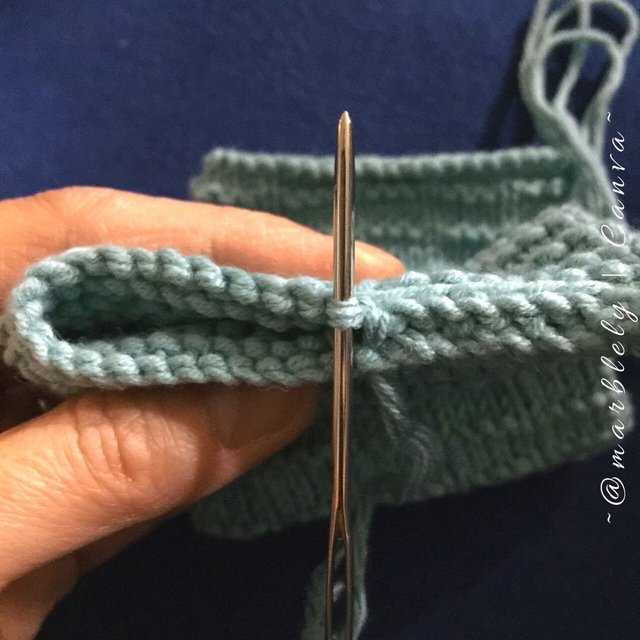 I think it is a similar stitch used when we join amigurumi pieces together. And it sort of looked weaved into the knitted piece.

After stitching both sides, I crocheted a fastening loop at the opened side: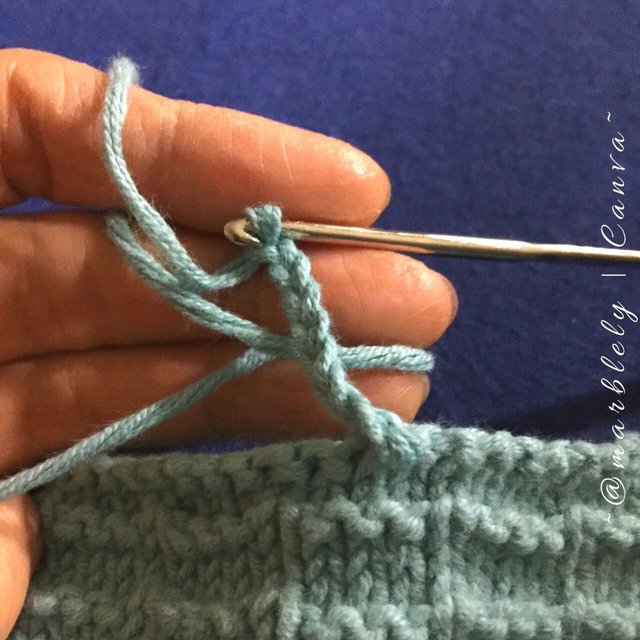 Once that was completed, I stitched a button for the fastener. A nice wooden brown button with a snowflake design: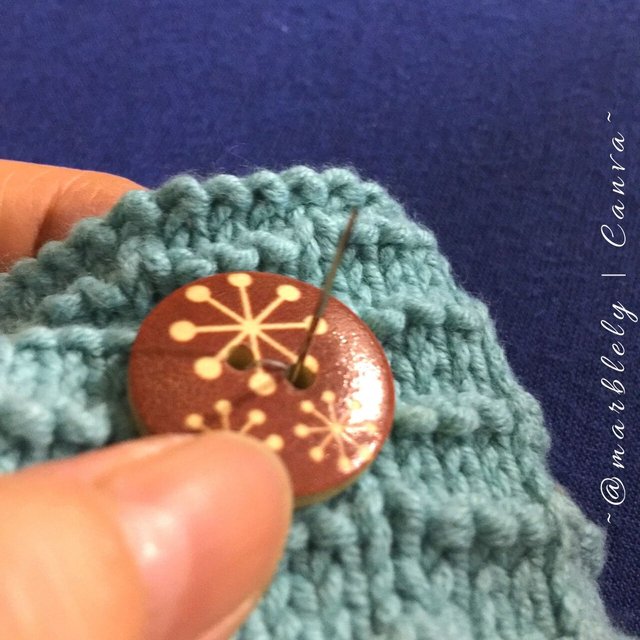 I decided not to put a lining because the yarn is soft and I wanted to make use of the stretchy stitch, to be able to put bigger things inside.

~ ~ ~ 🧵🧶💗🧶🧵 ~ ~ ~

With the button in place, it was time to test this out.

First up, my cool sunnies: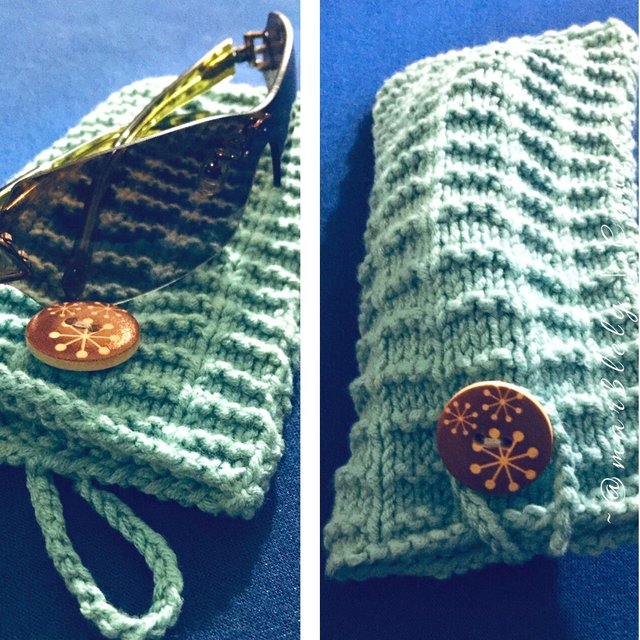 Nicely snuggled inside :D

Then, my mobile phone: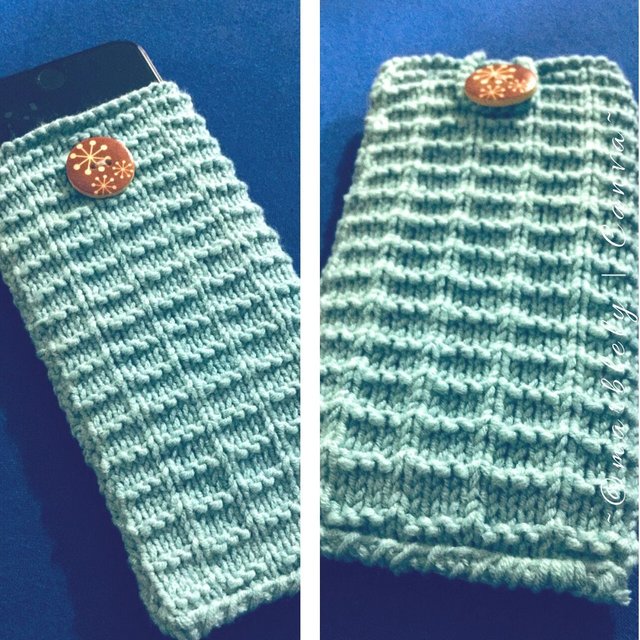 They both fit very nicely. I just need to decide which item will be housed by this delicious waffle stitch pouch :D

~ ~ ~ 🧵🧶💗🧶🧵 ~ ~ ~

My happy delicious waffle stitch pouch :)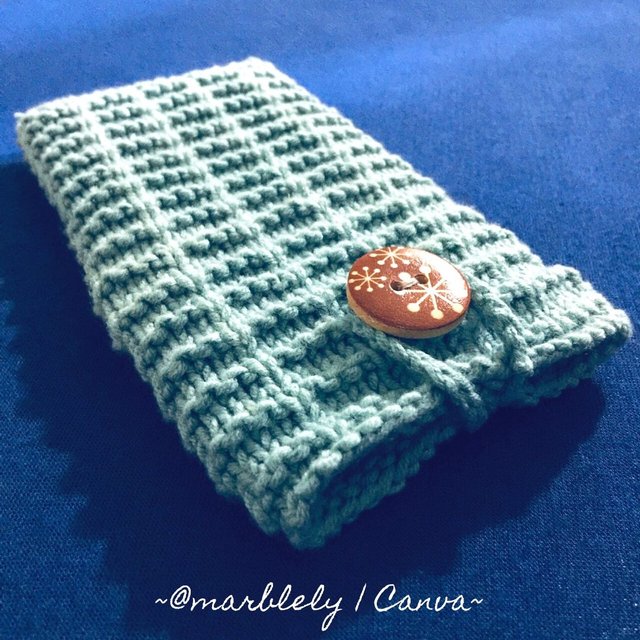 ---
Thank you again to @crosheille for starting this wonderful community and to the awesomely supportive #NeedleWorkMonday community!
Take a look at the FAQ to learn more!
Helping to host are @muscara, @shanibeer and me.
If you love any craft that uses needles, come and join the fun with us here every Monday! You can also join us every other day at #NeedleWork.
---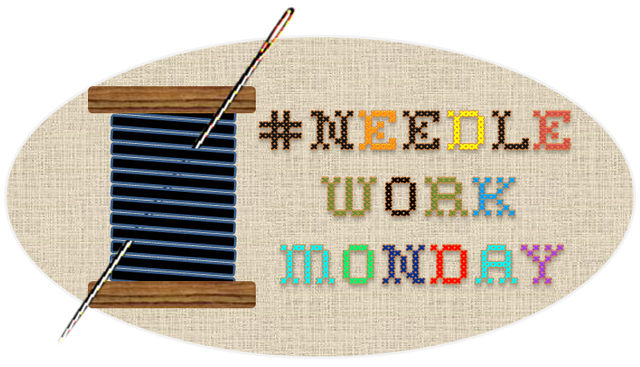 ---
This is an Invitation to join #ccc for Guaranteed 👍 Daily Income 💵 and Payout 💸 for Newbies (2.0) 🐟 🐜 🐛 in #ccc 👣 and Follow 👣 the Honor Code 🏅 - the Creed (Conditions and Limits Inside)
AND
the latest update <<< please click to read.
---