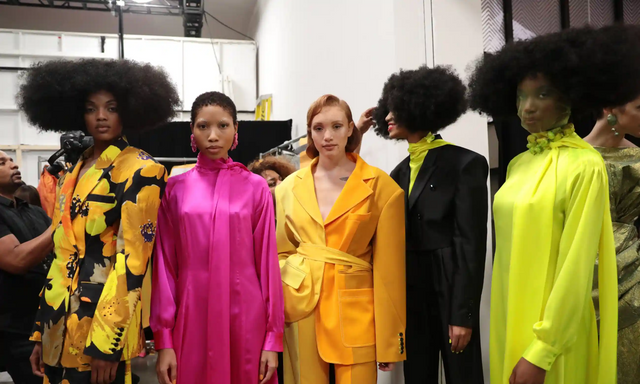 Source Backstage at the Christopher John Rogers AW2020 show at New York Fashion Week. Still the acid yellows, but warmer colours, too. Emphasised waists, either shaped or cinched, big shoulders and tailoring, romantic sleeves, big bright patterns, sumptuous fabrics with many textures.
In a previous post, I talked about Audrey Coyne's approach to curating her wardrobe and applying it to the creative work I wanted to do for the Textend Challenge. Somewhere in the comments was a thread about a curated wardrobe.
I think this is a really great idea. It's about moving away from randomly buying clothes and ending up with a bulging wardrobe in which nothing goes with anything and, if it does, you can't find it.
It's about an approach to slow, sustainable fashion - keeping the fun and pleasure of enjoying what you have and what you wear and how you present yourself to the world - but moving away from over-consumption (in the UK, some alarming percentage of garments are only worn two or three times before being discarded).
It's also about your own identity: In Lessons from Bargain Hunt, @revisesociology is reflecting about cultural markers (my interpretation), how we are all defined by what we choose, whether that is fashion (or anti-fashion), or possessions or any other material things that we like.
One way we express our identity is through our wardrobe and what we choose to have in it, and what messages we are sending to ourselves and to other people through what we are wearing. In the world of fashion bloggers, this is sometimes described as your personal style, and as something that evolves over time as you evolve and develop on the journey through your life.
Audrey Coyne is one of my favourite bloggers, who describes herself as "a fashion enthusiast and minimalist, doing more with less." Audrey talks about a forever wardrobe, put together over time and founded on your personal style, with simple additions at intervals to add contemporary touches.
Here, Audrey takes the trends she's identified for SS20 and talks about how they can be adapted for your personal wardrobe. She's especially creative about tailoring (buy new to you), necklines and fuller sleeves.
In the following video, Audrey describes how, having identified trends and inspirations, she uses them to create outfits from items she already has in her wardrobe. She has many other similar videos about how to "shop from your wardrobe" rather than buying new or new-to-you.
This is probably my favourite of the series. Audrey explains each outfit she puts together in some detail, showing the inspiration and then talking about colour, shape, textures and proportions. She also talks about styling, a new concept to me - how you wear an outfit as well as what you wear.
Once you view one of Audrey's videos, you'll find your youtube feed filled with a million fashion bloggers and minimalists, most of which are rubbish. What distinguishes Audrey's videos are a clear philosophy and an ethical approach, a non-judgmental focus on the audience and concise, well-presented videos, packed with information. She is also very soothing to listen to.
Over the winter holidays I spring-cleaned my bedroom and found I had a curated wardrobe, complete with something Audrey describes as a uniform - an outfit you know is going to work for you, you always feel good in it and you don't need to think about it while you're wearing it. Plus a posh frock and all the accessories for weddings, interviews and the occasional court appearance.
There is a book called The Curated Closet written by a psychologist, Anuschka Reeves. Goali Saedi Bocci provides a good review and covers some of the main points of the book in her post. Like Audrey Coyne's approach, it's all about understanding your self and your life style, what suits you and what you enjoy wearing.
Bocci makes an important point:
One of the most uplifting philosophies of Rees' book is that less truly is more. While this is a mindset that appeals to many millennials, it is also kinder to the environment, our wallets, and ourselves. At the end of the day, clutter is mentally consuming. How we feel emotionally walking into a clean house is vastly different from walking into one that is a total mess.
I did add some pieces during the sales (Rees recommends not shopping in the sales, I say: have a written list). Sorting through things and refining what I wanted to keep (a carrier bag went to the charity shop), helped me to identify where there were gaps and what garments, knitted, sewn or crocheted, I wanted to make to fill those gaps.
To me, this is about feeling good inside and outside and knowing that you are enough and you have enough. Nothing is wanting.