Good grief! I am only 39 years old and I am already telling "old man" stories.
Speaking of Old Man Stories
I was recently talking to a 19-year-old college student about the new Aladdin movie. He looked at me and said, "I did not know that Will Smith was such a good singer."
What?! I never listened to much music growing up, but during my high school days Will Smith was a rapper (and rather famous at the time). He released multiple albums as I was growing up.
I have to step back and remember that there are adults who were not even born when I was their age. Ouch! I am getting old.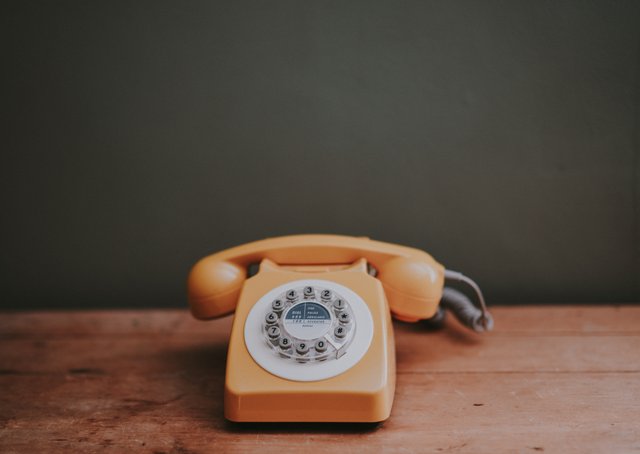 image source
So Back to the Point - We Use to Call Locations
Even though my parents had touch-tone phones, I am old enough to remember rotary phones. I also remember calling a house, not a person.
In the past, the conversation would go something like this.
The other person:
"Hello, this is the ____ residence." (insert family name)

Me:
"Hello. This is Nathan. Can I speak to _____? " (insert person's name)

The other person:
"Hold on a moment. Let me go get _______." (insert person's name)
Today, you call a device that is connected to a person, not a location. The person answering the call usually knows who you are before you even speak. And if that person does not want to talk to you, they just don't answer.
We live in a very different world than I grew up.
The Good And The Bad
I use to hate wired phones. Most of the time you were stuck near a wall in the kitchen or in a back bedroom (if you wanted privacy). The call was always an adventure because you never knew in advance if you were going to talk to a friend or a foe (example: unwanted sales call about the latest and greatest As Seen On TV product). There was an element of uncertainty and anticipation. And since one location usually only had one line (at least in my family), everyone shared the phone. Battles were often waged over the use of the phone.
Today everyone has a phone, and I mean everyone. The mobile phone which parents once bought for their kids to "keep them safe" has turned into a portable entertainment system that keeps us distracted. We feel connected, but we never feel the freedom to disconnect. We are more social with people around the world, but we experience greater distance with the people who sit in our own living rooms. We have all of the information we could want at our fingertips, but we have become less wise as we become more dependent on our devices.
Phones Are Morally Netural
Like most technology, it is hard to pin all the evils of the world on a phone. Granted, there have been many vicious conversations take place via phones. We now have access to violence and pornography like never before in the history of mankind. We breathe in the internet and social media like we breathe air - we are addicted.
Like most things, it is not the device itself that causes our heartaches. We, the users, are the heartbreakers. We all have choices to make. We all desire to stay informed and connected. I just hope we are willing to stay equally engaged in the lives we are blessed to live - lives that take place away from all the blue screens.
We use to call locations, not people. And honestly, I can't say one is better than the other.
New Steem
We have the same choices within our Steem community. We have incredible technology and opportunities at our fingertips. As a result, we have equally important decisions to make about our individual and communal well-being.
Are you old enough to remember wired telephones?
Have you been apart of the Steem community long enough to see some of the major changes/transitions that have taken place?
Thanks for stopping by!
@SumatraNate