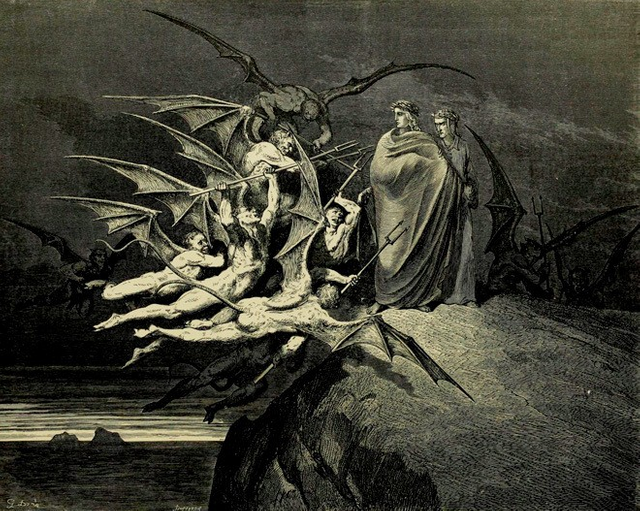 As a young Miss
of the Sacred Heart,
.
I look to the ravages,
spoils of the venom
of the sin.
Lift up thy face
the old man of the time,
babbling.
Eyes
scorched by fury
carries the fear.
Maid
soul,
The Erynias drag you along.
if you allow
the fire claudicate.

In the difficult times that we live in Venezuela, with the greatest hyperinflation in history, it is very difficult, among many things, to publish books, especially on paper... However, there is good news! The Steem platform is a wonderful space that allows us to spread what we have been writing.... That's why today I wanted to share with all of you As a young Miss of the Sacred Heart, one of my experimental poems included in an unpublished book of poems called Viscosas Memorias de la Decencia (Viscose Memories of Decency).
I wanted to accompany it with an image of the great French illustrator Gustave Doré that was included in the 1900 version of Dante's The Divine Comedy. It depicts those terrible beings from Greek Mythology known as The Erynias.


100% 🅾🆁🅸🅶🅸🅽🅰🅻 🅲🅾🅽🆃🅴🅽🆃
Texts and images - except where specified - are my own intellectual property.

100% 🅲🅾🅽🆃🅴🅽🅸🅳🅾 🅾🆁🅸🅶🅸🅽🅰🅻

Textos e imágenes -salvo que se indique- son de mi propiedad intelectual.

♥ It would be a great pleasure for me if you visited my blog ♥
♥ 𝚂𝚎𝚛á 𝚞𝚗 𝚙𝚕𝚊𝚌𝚎𝚛 𝚙𝚊𝚛𝚊 𝚖í 𝚚𝚞𝚎 𝚟𝚒𝚜𝚒𝚝𝚎𝚜 𝚖𝚒 𝚋𝚕𝚘𝚐♥

@yomismosoy

𝒜𝒫💗𝒴𝒜 𝒜 𝐿☯𝒮 𝒮𝒯𝐸𝐸𝑀𝐼𝒜𝒩🍩𝒮 𝒱𝐸𝒩𝐸𝒵☯𝐿𝒜𝒩🍬𝒮
¡𝐄𝐧𝐟𝐫𝐞𝐧𝐭𝐚𝐦𝐨𝐬 𝐮𝐧𝐚 𝐠𝐫𝐚𝐧 𝐜𝐫𝐢𝐬𝐢𝐬 𝐡𝐮𝐦𝐚𝐧𝐢𝐭𝐚𝐫𝐢𝐚!
𝒮𝒰𝒫𝒫💙𝑅𝒯 𝒱𝐸𝒩𝐸𝒵𝒰𝐸𝐿𝒜𝒩 𝒮𝒯𝐸𝐸𝑀𝐼𝒜𝒩𝒮
𝐖𝐞 𝐚𝐫𝐞 𝐟𝐚𝐜𝐢𝐧𝐠 𝐚 𝐦𝐚𝐣𝐨𝐫 𝐡𝐮𝐦𝐚𝐧𝐢𝐭𝐚𝐫𝐢𝐚𝐧 𝐜𝐫𝐢𝐬𝐢𝐬!