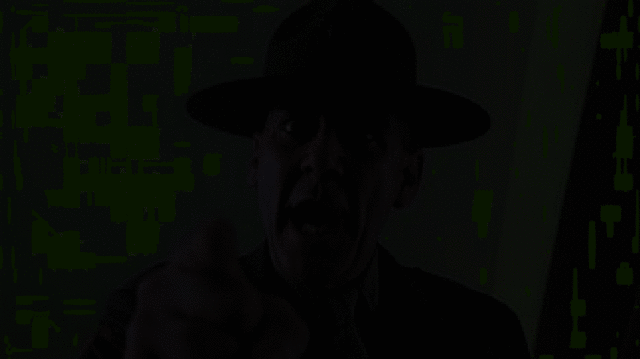 FULL METAL JACKET
                                           Who protects me from birds?
                                                                                     Lucien Blaga.
Poets are old soldiers
                      Nothing hurts them.
Can sleep long hours
At the end of the night
they take the rope
by the neck
They look at themselves a lot
in the broken mirror
of their fears
On the roof beams
                      with their knives
suffering write
Who protects me from birds?
They are rather
myopic boys
in a country in war.

Here is the original poem in Spanish: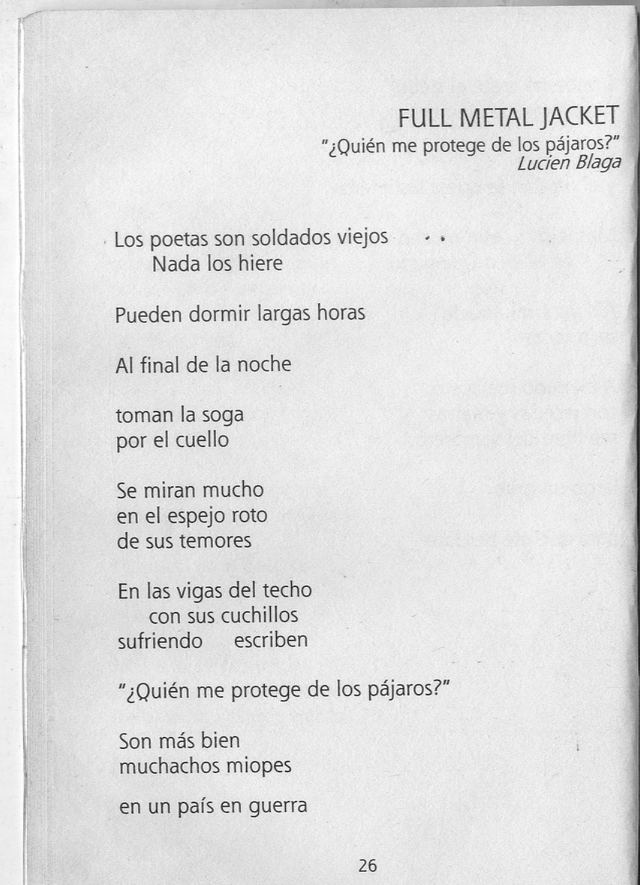 Hello, eSteemed Steemians, lovers of poetry and digital art...
The friends of the Colectivo Editorial La Mancha (Editorial Collective The Stain), from Caracas, Venezuela, had kindly to publish me a book of poems that I began to write at the end of the 20th century and in the elaboration of which I invested more than ten years. It is a collection of poems that carries the same name of one of Sthepan King's novels that was later taken to the cinema, Zona Muerta, Dead Zone.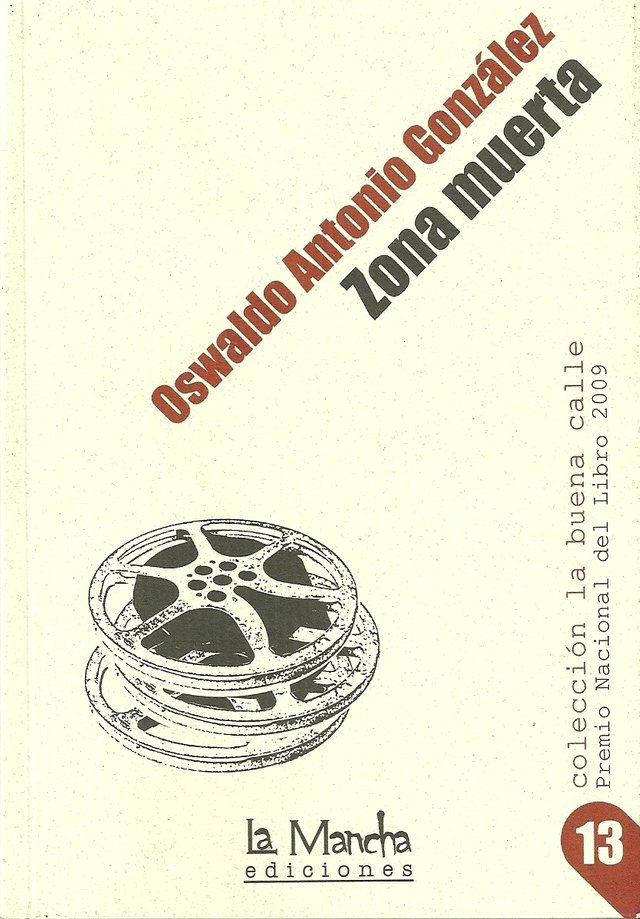 Throughout it, I play and review the figure of the ungodly, the monsters, the antiheroes, the killers, the outsiders and other characters that meander through the screens of popular cinema, trying to find the poetic essence that some beings marginalized by society may have.
On this occasion I wanted to translate one of the poems included in the book which talks about of a paradox such as the fact of fortitude and, at the same time, of the fragility of poets who live in the midst of a society in which various forms of violence are present.

https://www.deepl.com/ helps me with the Translation
I intervened the images with the free software http://firealpaca.com/
I convert them into a GIF with the free software http://firealpaca.com/douga/

100% 🅾🆁🅸🅶🅸🅽🅰🅻 🅲🅾🅽🆃🅴🅽🆃
Texts and images - except where specified - are my own intellectual property.

100% 🅲🅾🅽🆃🅴🅽🅸🅳🅾 🅾🆁🅸🅶🅸🅽🅰🅻

Textos e imágenes -salvo que se indique- son de mi propiedad intelectual.

♥ It would be a great pleasure for me if you visited my blog ♥
♥ 𝚂𝚎𝚛á 𝚞𝚗 𝚙𝚕𝚊𝚌𝚎𝚛 𝚙𝚊𝚛𝚊 𝚖í 𝚚𝚞𝚎 𝚟𝚒𝚜𝚒𝚝𝚎𝚜 𝚖𝚒 𝚋𝚕𝚘𝚐♥

@yomismosoy

𝒜𝒫💗𝒴𝒜 𝒜 𝐿☯𝒮 𝒮𝒯𝐸𝐸𝑀𝐼𝒜𝒩🍩𝒮 𝒱𝐸𝒩𝐸𝒵☯𝐿𝒜𝒩🍬𝒮
¡𝐄𝐧𝐟𝐫𝐞𝐧𝐭𝐚𝐦𝐨𝐬 𝐮𝐧𝐚 𝐠𝐫𝐚𝐧 𝐜𝐫𝐢𝐬𝐢𝐬 𝐡𝐮𝐦𝐚𝐧𝐢𝐭𝐚𝐫𝐢𝐚!
𝒮𝒰𝒫𝒫💙𝑅𝒯 𝒱𝐸𝒩𝐸𝒵𝒰𝐸𝐿𝒜𝒩 𝒮𝒯𝐸𝐸𝑀𝐼𝒜𝒩𝒮
𝐖𝐞 𝐚𝐫𝐞 𝐟𝐚𝐜𝐢𝐧𝐠 𝐚 𝐦𝐚𝐣𝐨𝐫 𝐡𝐮𝐦𝐚𝐧𝐢𝐭𝐚𝐫𝐢𝐚𝐧 𝐜𝐫𝐢𝐬𝐢𝐬!