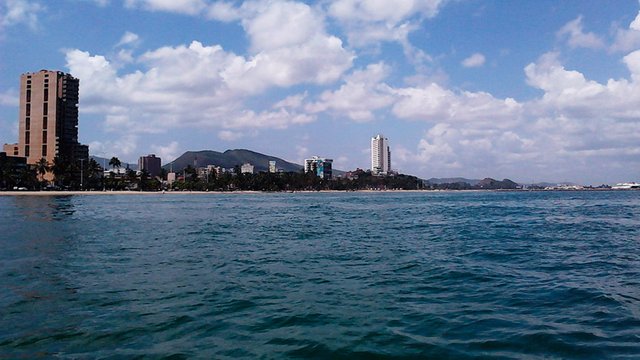 ---
Esta es una vista fotográfica de la Bahía de Pozuelos en Puerto La Cruz realizada desde un peñero al frente del Paseo Colón. A la izquierda tenemos el edificio Pasaje Colón el cual es uno de los más altos de la zona, detrás de las montañas más grande esta la ciudad de Barcelona, luego tenemos de color blanco al Hotel Rasil, un poco más pequeño se ven dos cerros del parque Andrés Eloy Blanco y a mano derecha el terminal marítimo de los ferrys.
This is a photographic view of the Bay of Pozuelos in Puerto La Cruz made from a peñero in front of the Paseo Colón. From the left we have the Pasaje Colón building which is one of the highest in the area, behind the largest mountains is the city of Barcelona, then we have the Rasil Hotel white, a little smaller two hills of the Andrés Eloy Blanco Park and on the right the ferry terminal.


El presente post ha sido publicado usando la plataforma de nTOPAZ para participar en el concurso Stock Photography SKYLINE, la foto fue tomada con una cámara Sony DSC H10 de 8.1 mega píxel. Visita mis recientes post:
Luz interna (Ilustración)
Emoji pendrive
Emoji maíz
Paseo Colón (Ilustración)
Si deseas participar de los concursos de Ntopaz únete al Discord en Español para que obtengas la asesoría necesaria ya que las curaciones solo son realizadas a los post publicados en su plataforma (www.ntopaz.com).
Te invito a entrar a mi blog para que te nutras de mis publicaciones.

Apoya el Contenido 100% Original, no al plagio