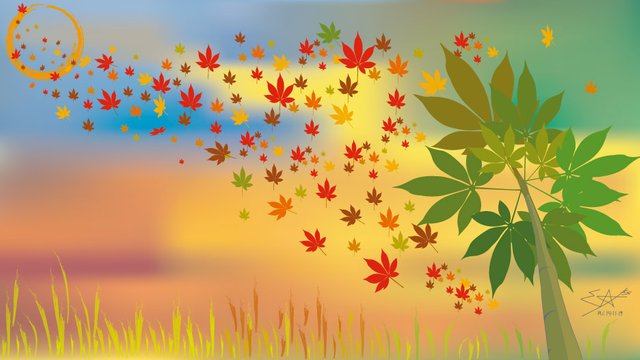 En mi país solo hay dos estaciones: la temporada de lluvias y la temporada de sequía, con el cambio de estas estaciones el paisaje natural cambia, pero es muy difícil encontrar suelos decorados con hojas doradas como en otros países y hay variedades de árboles que son siempre verdes durante todo el año.
La muestra artística que les presento es un árbol de Ceiba de tamaño mediano, él pierde sus hojas en la estación seca, algunos árboles dejan caer sus hojas en el suelo pero los arbustos no las dejan notar.
In my country there are only two seasons: the rainy season and the drought, with the change of these seasons the natural landscape changes, but it is very difficult to find soils decorated with golden leaves as in other countries and there are varieties of trees that are always green .
The art work that I present to you is a medium-sized Ceiba tree, which loses its leaves in the dry season, some trees drop their leaves on the ground but the bushes do not let them notice.


El presente post ha sido publicado usando la plataforma de nTOPAZ , la ilustración la diseñé con el software Adobe Illustrator para participar en el concurso AUTUMN SCENERY.
Si deseas participar de los concursos de Ntopaz únete al Discord en Español para que obtengas la asesoría necesaria ya que las curaciones solo son realizadas a los post publicados en su plataforma (www.ntopaz.com).
Te invito a entrar a mi blog para que te nutras de mis publicaciones.

Apoya el Contenido 100% Original, no al plagio