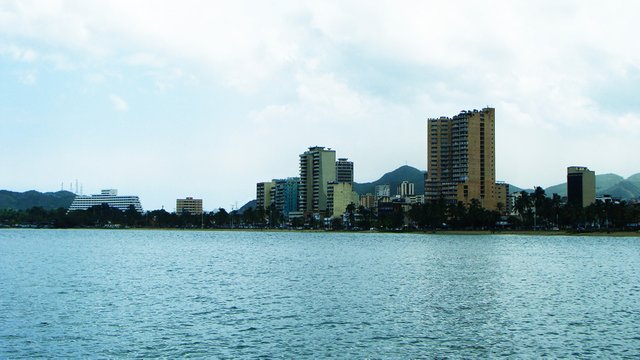 Desde la izquierda podemos ver el comienzo del Paseo Colón, así como la bahía de Pozuelos, en color blanco está el antiguo hotel Melia, luego los edificios de la zona bancaria, destacando en color ladrillo el Pasaje Colon, detrás de las montañas se encuentra la parte sur de la ciudad, el parque La Sirena y la cueva Rolando, ambas del municipio de Guanta.
From the left (east side) we can see the beginning of the Paseo Colón, as well as the bay of Pozuelos, in white is the old Melia hotel, then the buildings of the banking area, highlighting the Colon Passage in brick color, behind the Mountains are the southern part of the city, The Sirena Park and Rolando Cave, both of the municipality of Guanta.


El presente post ha sido publicado usando la plataforma de nTOPAZ para participar en el concurso Stock Photography SKYLINE, la foto fue tomada con una cámara Sony DSC H10 de 8.1 mega píxel. Visita mis recientes post:
Luz interna (Ilustración)
Emoji pendrive
Emoji maíz
Paseo Colón (Ilustración)
Paseo Colón Centro (Fotografía)
Paseo Colón Este (Fotografía)
Si deseas participar de los concursos de Ntopaz únete al Discord en Español para que obtengas la asesoría necesaria ya que las curaciones solo son realizadas a los post publicados en su plataforma (www.ntopaz.com).
Te invito a entrar a mi blog para que te nutras de mis publicaciones.

Apoya el Contenido 100% Original, no al plagio