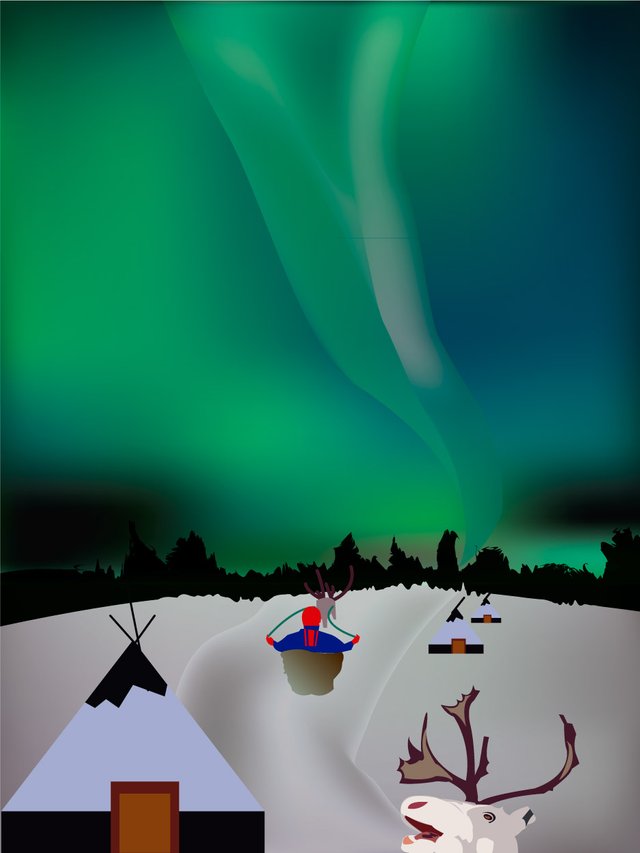 ---
Les presento a Laponia, las tierras boreales europeas de los Sami, abarca el norte de Noruega, Suecia, Finlandia y la península de Kola al noroeste de Rusia; los Sami son los únicos aborígenas originarios que quedan en Europa, su principal producción económica es la cría de renos del cual aprovechan la piel para confeccionar su vestimenta y construir sus viviendas, así como innumerables herramientas de trabajo como también una gastronomía basada en su carne; mantienen su cultura ancestral de la cual destaca el Yoik como referencia artística musical. Al estar Laponia cercana al Polo Norte se pueden apreciar las Auroras Boreales en su máxima expresión, es por eso que también se le llama la tierra del Sol de la media noche donde muy pocas veces oscurece y el frío es el que manda.
I present to you Lapland, the European boreal lands of the Sami, encompasses northern Norway, Sweden, Finland and the Kola Peninsula northwest of Russia; the Sami are the only native aborigines left in Europe, their main economic production is the reindeer rearing of which they take advantage of the skin to make their clothes and build their homes, as well as innumerable work tools as well as a gastronomy based on their meat; they maintain their ancestral culture of which the Yoik stands out as a musical artistic reference. Since Lapland is close to the North Pole, you can see the Northern Lights at its best, it is because of those that it is also called the land of the Sun at midnight where it rarely gets dark and the cold is what rules.


El presente post ha sido publicado usando la plataforma de nTOPAZ , la ilustración la diseñé con el software Adobe Illustrator.
Visita mis recientes post:
Luz interna (Ilustración)
Emoji pendrive
Emoji maíz
Paseo Colón (Ilustración)
Desierto del Sahara (Ilustración)
Paseo Colón Centro (Fotografía)
Paseo Colón Este (Fotografía)
Paseo Colón El Espigón (Fotografía)
Si deseas participar de los concursos de Ntopaz únete al Discord en Español para que obtengas la asesoría necesaria ya que las curaciones solo son realizadas a los post publicados en su plataforma (www.ntopaz.com).
Te invito a entrar a mi blog para que te nutras de mis publicaciones.

Apoya el Contenido 100% Original, no al plagio