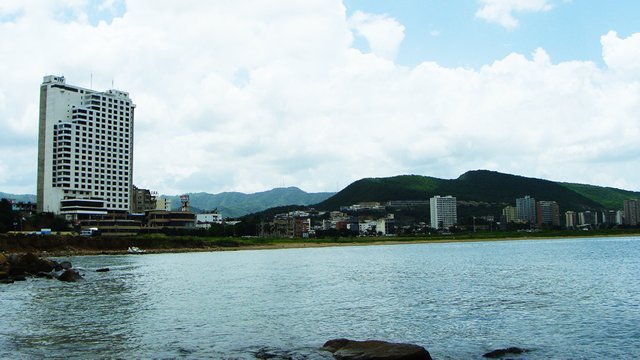 ---
Al final del Paseo Colón existe una especie de malecón conocido como El Espigón, el cual sirve de rompeolas, desde ese sector realicé unas buenas tomas fotográficas, en la foto que les presento vemos al hotel Rasil enclavado en el cerro Las Monjas, el resto es el sector Los Cocos y los edificios están cercanos al sector La Tinia y detrás de la montaña queda Barcelona.
At the end of the Paseo Colón there is a kind of boardwalk known as El Espigón, which serves as a breakwater, from that sector I made some good photographic shots, in the photo I present you see the Rasil hotel nestled in the Las Monjas hill, the rest is The Cocos sector and buildings are close to the La Tinia sector and behind the mountain is Barcelona.


El presente post ha sido publicado usando la plataforma de nTOPAZ para participar en el concurso Stock Photography SKYLINE, la foto fue tomada con una cámara Sony DSC H10 de 8.1 mega píxel. Visita mis recientes post:
Luz interna (Ilustración)
Emoji pendrive
Emoji maíz
Paseo Colón (Ilustración)
Paseo Colón (Fotografía)
Si deseas participar de los concursos de Ntopaz únete al Discord en Español para que obtengas la asesoría necesaria ya que las curaciones solo son realizadas a los post publicados en su plataforma (www.ntopaz.com).
Te invito a entrar a mi blog para que te nutras de mis publicaciones.

Apoya el Contenido 100% Original, no al plagio