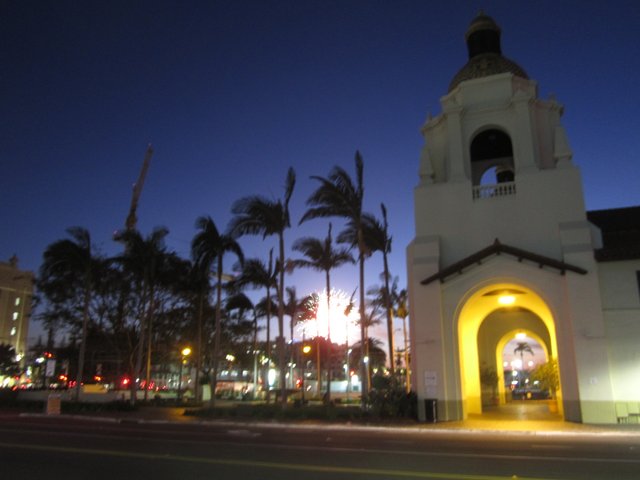 I'm at the American Trolley Station waiting to travel down to the border with Mexico and passing time with my camera. Across the street is San Diego's Union Station where I just alighted from the train from Los Angeles. This last trip to LA was to get my Visa so I could enter Thailand.
Fireworks are going off behind the palm trees on San Diego Bay. I'm trying to catch the light of them and this was my most successful shot.
San Diego is a place of fireworks which can occur at any time. The Bay is often the venue and frequently you have no idea why. This was Wednesday March 16, 2016 at 6:30 pm. So it could be for a winning score for the Padres baseball team. The stadium is on the water and they go off when the team is victorious and the light is right.
Aside from Bay fireworks, Seaworld sets them off each night at closing, and the Hotel del California has them on the beach for any random reason. So you have a good chance of seeing fireworks on any given night.
I was on my way out of town and would be gone for good in 10 days. Southeast Asia was calling me away from this place I had lived for the past 20 years. San Diego was the longest stop in my nomadic life and is unlikely to lose the top spot. I'm not expecting to stay anywhere this long again since I am "off to see the world."
This photo looks quintessentially California to me. The trees, the Spanish architecture, and the beautiful light are all things I remember from my time there.
This post is my entry for @bilpcoin's Tree Contest where you can win 100 of their tokens.
I'm also entering @socalsteemit's weekly Show Us Your California Contest with this memory of good times I had while living there.
I used a Canon ELPH160 point and shoot camera for this photo.
What I do on STEEM
freewrite daily with @mariannewest
Minnow Tips
Photography
Travel
Food and ccc contest posts
Tasteem restaurant reviews
@pifc contest entries
dApp, tokens/tribes and gaming review posts
dpoll- STEEM and lifestyle questions
BitcoinMalaysia playing card posts; coming soon!
My most recent summary of Minnow Tips is here:
These tips will help you if you are new and struggling on STEEM. Tag me in any comment, and I will help you if you ask me to.
Find me on Discord:
fitinfun#2249
Email me:
sjfrenchtosd at yahoo.com <<< NOT my paypal address

I am a proud member of @socalsteemit. We bring Southern California to you on the STEEM blockchain. If you have a connection to this area, please join us. We would love to have you!