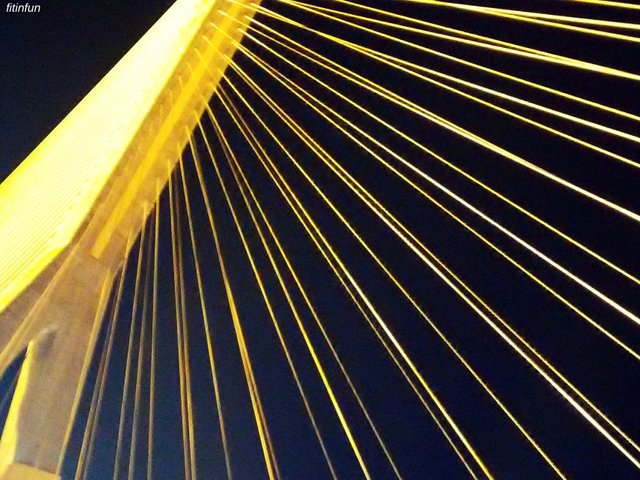 This magic moment in Bangkok came on the last night of STEEMFest as we were all enjoying the closing banquet with a Chao Phraya river cruise. I was walking to my table with yet another plate of yummy food, and saw a yellow glow on the water.
Sticking my head and camera over the side, I caught this detail in the iconic Rama IX Bridge. The bridge is named after the beloved and recently passed King Rama IX, and so is commonly referred to by his given name.
I have seen this beautiful bridge from afar many times. I am one of the people who spends all plane rides with my face in the window, and have since I was a kid. I watched for it on all the many flights I have taken in and out of Bangkok in the last several years. Most of the time my plane will follow the river in and out and this bridge is a highlight for me.
But never once have I been close to this bridge until the STEEMFest cruise. Seeing it and taking this photo capture a moment I will always treasure. I was going to be in Bangkok for the STEEMFest dates in any case due to the timing of my necessary Visa trip so I can legally stay in Malaysia for 90 more days. But I could not afford the conference fee and planned to hang around for anything free I could get into.
This cruise and banquet would certainly have been off limits if I was not an official attendee. By a miracle I did win the conference fee about two weeks before the event. During this moment with the bridge, I was overcome with gratitude and joy.
Lucky, lucky me to have been able to participate in STEEMFest 4. I most certainly assure you I will be back next year no matter where in the world the event ends up. It lasted five days, and I am showing you only one second of it in this post. While this was a highlight, it is only one of many.
This post is my entry for the NEOXIAN CITY PHOTO CHALLENGE - WEEK #10 with the theme of "Leading Lines." Show us your photo with lines in it, and you can enter too.
If you would like to see this incredible bridge in a wider shot, here is a link to some images of this landmark. I like my impression of it, but sometimes it is good to know what you are really looking at :)
I used my HMNOTE 1LTE mobile phone for this photo.