Hi everyone and good day. It has been quite a while that a contest or any activities are posted on Altruistic not because it was neglected but because I was not available for sometimes. I am still on and off but promised to drop something to get the account active again with all your engagement. There were plans on contests and curations but did not have time to execute them but I will be bringing them in one by one and I will try to post more frequently.
So Community members, are you ready to engage in here? Well, let's see. Even if it takes time, I will still try to go on.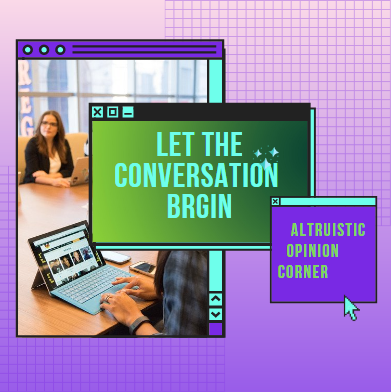 Opinion Corner
In this corner, I will be asking random, fun, unexpected, interactive questions and I will like the pod members to answer the questions and engage in conversation. The opinion corner started in Altruistic discord server and it has been brought out to the public community members to discuss and have fun.
The topic for today is What Do People Do Too Much Of Today? You might talk generally or personally on the bad habit(s) that is keeping people back.
To participate
Vote this post any amount you want to support the community initiative
Leave a thoughtful comment and not a phrase
You may write a post about it on your blog but your comment must be dropped on this post
What's in for this?
All thoughtful, value-adding main answers will be voted on randomly
The most engaging comment will get more
We will keep it this way until we have more to give. You can also donate to the course of this contest.
The Corner will end when another is out.
Let the conversation begin!