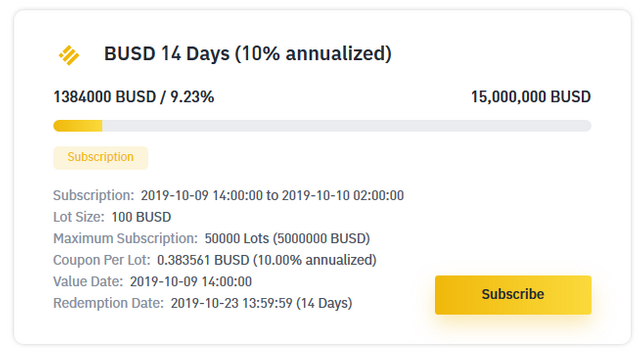 (Source of pictures, texts and info / Bilder-, Text- und Info-Quelle: www.binance.com)
Binance(@binanceexchange) has its own stable-coin now.
(deutsch: Binance hat nun seinen eigenen stable-coin)
"Binance USD (BUSD) is a stable coin pegged to USD that has received approval from the New York State Department of Financial Services (NYDFS). BUSD will be available for direct purchase and redemption at a rate of 1 BUSD = 1 USD. "
At the moment you can make passive income by lending BUSD-Token on the Binance-platform
(deutsch: Momentan kann man Rendite erzielen, indem man an dem BUSD-Lending-Programm auf Binance teilnimmt)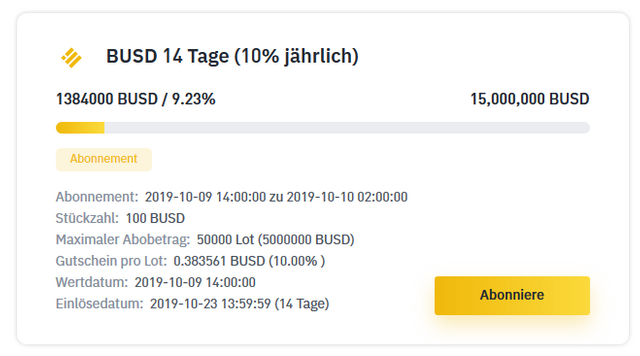 I wrote about Binance lending in these posts:
(Ich hatte über Binance lending in diesen posts berichtet:)
english:
If that sounds interesting for you and you are interested in signing into Binance I would be happy when you use my ref-link:
https://www.binance.com/en/register?ref=PAPUTY7E
(I'll get 15% commission and you'll get 5% commission)
Otherwise here's the direct link to the project:
https://www.binance.com/en/lending
Best wishes ! Thanks ! And Good Luck !!
(note: This is NO investment-advice!! it's just for your info)
deutsch:
Falls für Euch interessant, würde es mich freuen, wenn ihr Euch über meinen ref-link anmeldet:
https://www.binance.com/en/register?ref=PAPUTY7E
(Hier bekomme ich 15% commission und Ihr bekommt 5%)
Falls Ihr Euch nicht über meinen link anmelden möchtet kommt Ihr hier direkt zum Projekt:
https://www.binance.com/en/lending
(Aber wie immer, das ist keine Aufforderung zur Geld-Anlage, sondern nur eine Info!! Bitte selber erst ausführlich Gedanken drüber machen, ob das was für Euch ist)