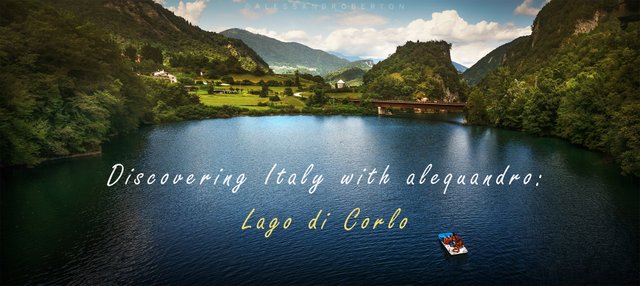 Welcome to this new episode of "Discovery Italy with alequandro"!
Last week I decided to do an exploratory excursion in the province of Belluno, precisely at Lake Corlo.
It is an artificial lake built in 1954 with the construction of a dam and has an area of ​​2.7 square kilometers.
ITA
Benvenuti in questo nuovo episodio di "Discovery Italy with alequandro"!
La scorsa settimana ho deciso di fare un'escursione esplorativa nella provincia di Belluno, precisamente al lago di Corlo.
Si tratta di un lago artificiale realizzato nel 1954 con la costruzione di una diga e ha una superficie di 2,7 km quadrati.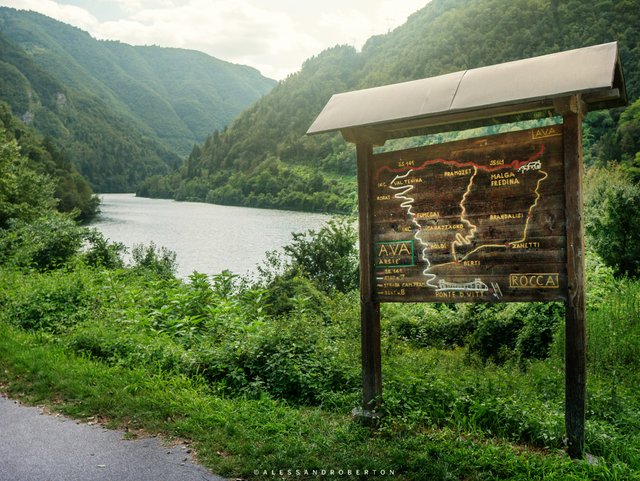 Parked the car near the shore of the lake, we walked along the path marked by a map near the parking lot.
ITA
Parcheggiata la macchina vicino alla riva del lago, ci siamo incamminata lungo il percorso segnato da una mappa posta vicino al parcheggio.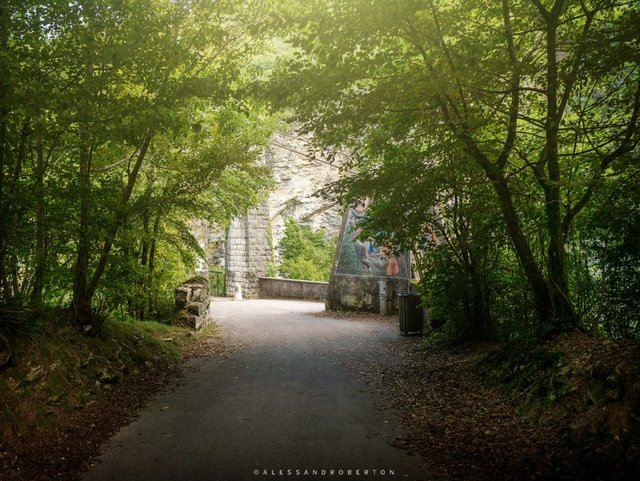 After passing a green tunnel made of deciduous trees, we arrived at the beginning of a bridge that would lead us to the opposite shore of the lake.
ITA
Dopo aver superato un tunnel verde fatto di alberi di latifoglie siamo arrivati all'inizio di un ponte che ci avrebbe condotti sulla sponda opposta del lago.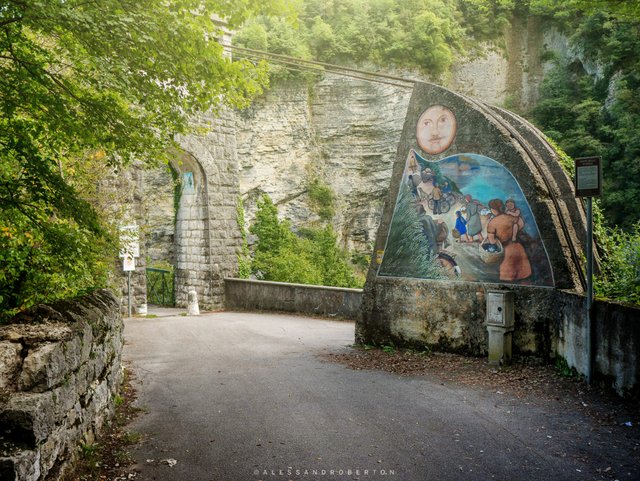 Part of the bridge structure had been colored and featured depictions of families emigrating.
On another section of the bridge there were represented the smugglers who carried tobacco, a design that wants to remember the economy and the activities of the place.
ITA
Parte della struttura del ponte era stata colorata e presentava delle raffigurazioni di famiglie che emigravano.
Su un'altra sezione del ponte c'erano rappresentati i contrabbandieri che trasportavano il tabacco, un disegno che vuole ricordare l'economia e le attività del luogo.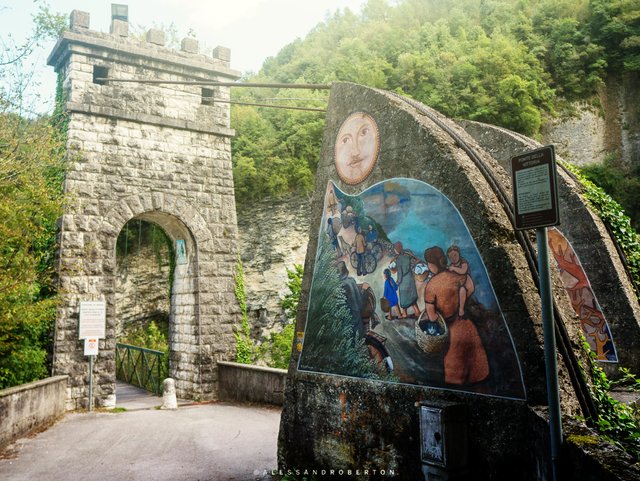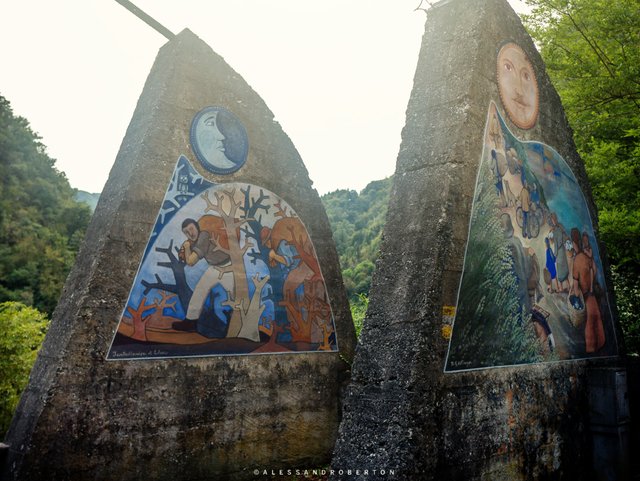 Then when I arrived on the bridge, I was surprised!
I didn't imagine it was that long!
It is called the Victory Bridge and was built in 1928.
The current bridge replaces an old bridge that had been built too low, touched the water.
ITA
Poi quando sono arrivato sul ponte, sono rimasto sorpreso!
Non immaginavo fosse così lungo!
Si chiama ponte della vittoria ed è stato realizzato nel 1928.
Il ponte attuale sostituisce un vecchio ponte che era stato realizzato troppo basso, sfiorava l'acqua.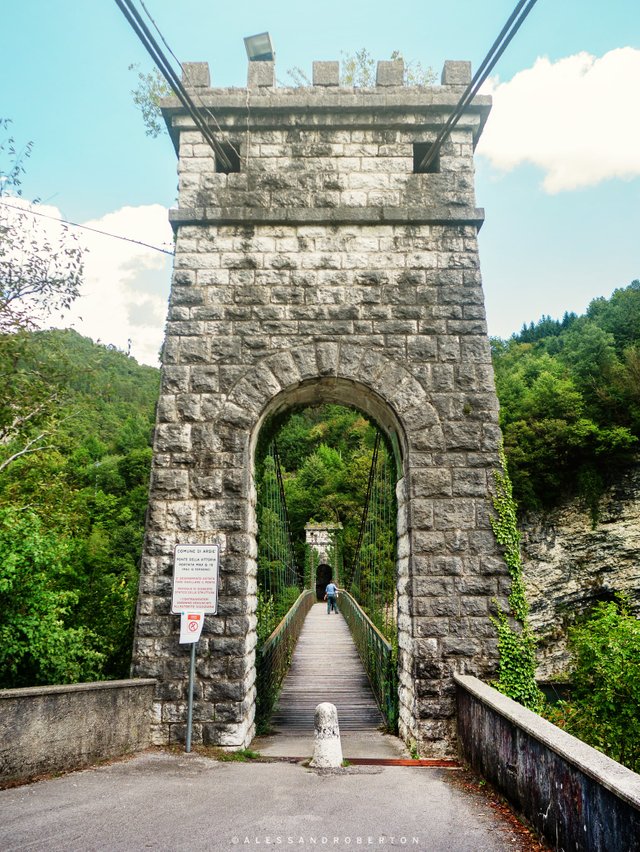 At each step the bridge moved, then noticed that it was supported by metal ropes!
Beautiful feeling of adventure!
ITA
Ad ogni passo il ponte si muoveva, poi notato che era sostenuto da funi in metallo!
Bella sensazione d'avventura!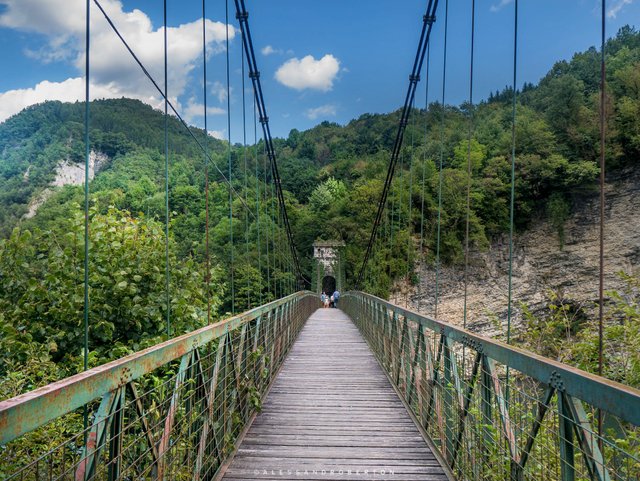 From the top I noticed some pedalos! One day I will definitely take one!
ITA
Dall'alto ho notato alcuni pedalò! Un giorno ne prenderò sicuramente uno!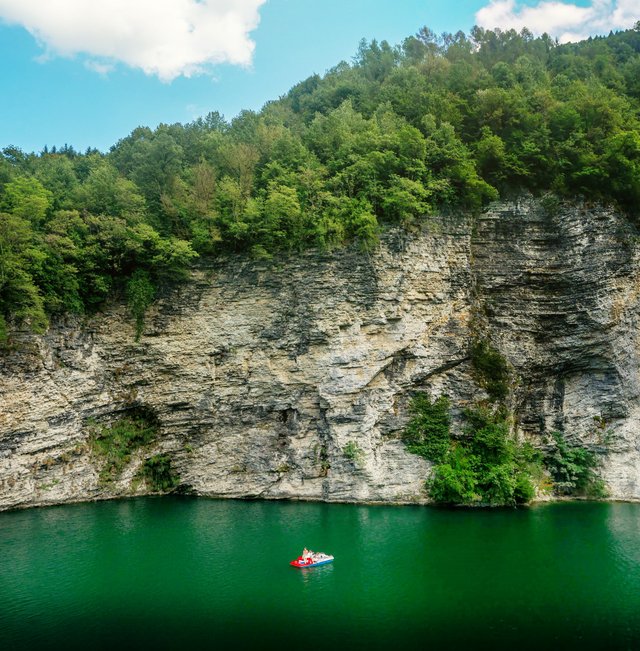 The bridge is 93 meters long.
ITA
Il ponte è lungo ben 93 metri.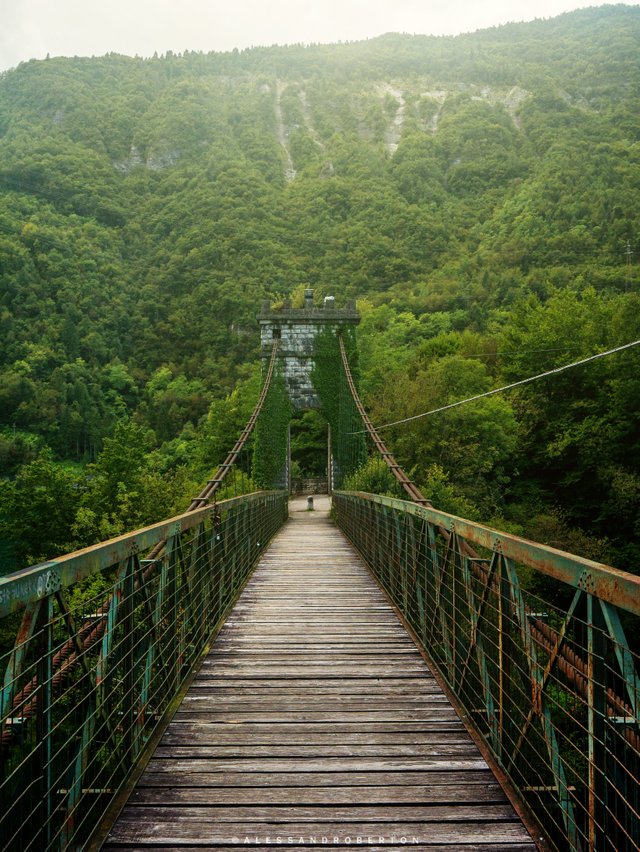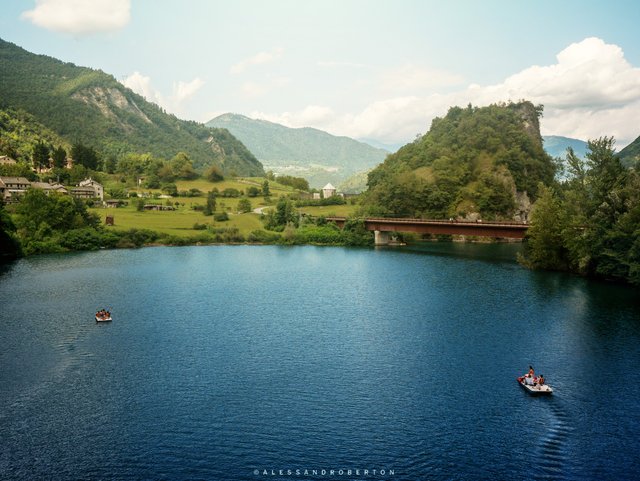 From the floor of the bridge to the water there are 70 meters.
ITA
Dal piano del ponte all'acqua ci sono 70 metri.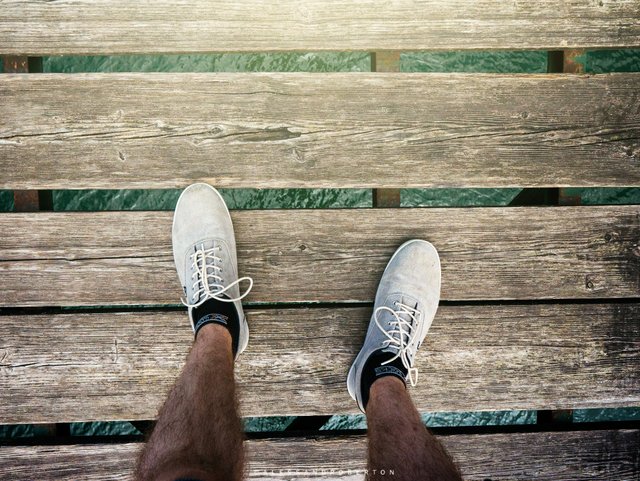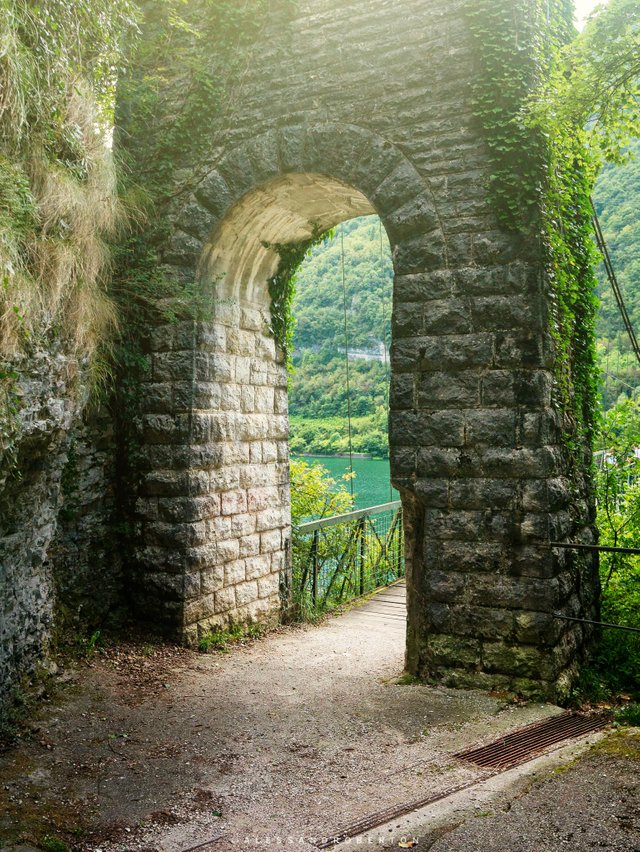 After the bridge we followed an easy flat path...
ITA
Dopo il ponte abbiamo seguito un facile sentiero pianeggiante...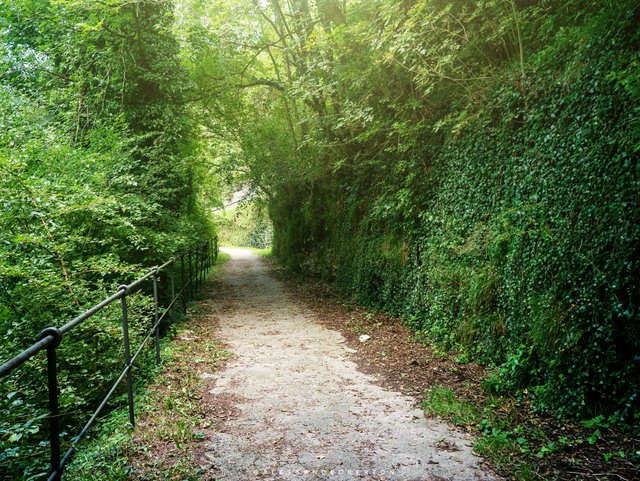 A short uphill section led us to a higher observation point but the vegetation began to be thicker.
ITA
Un breve tratto in salita ci ha condotti ad un punto di osservazione più alto però la vegetazione cominciava a essere più fitta.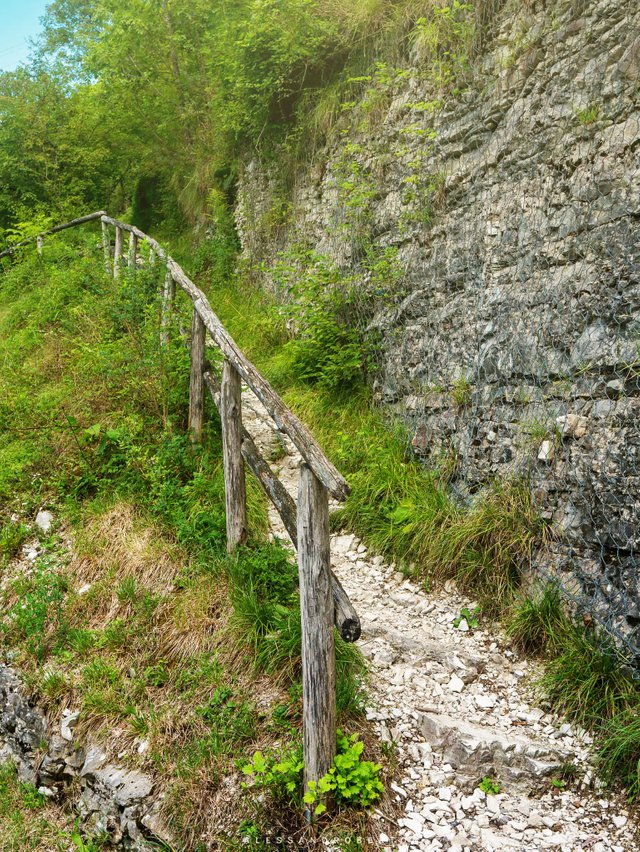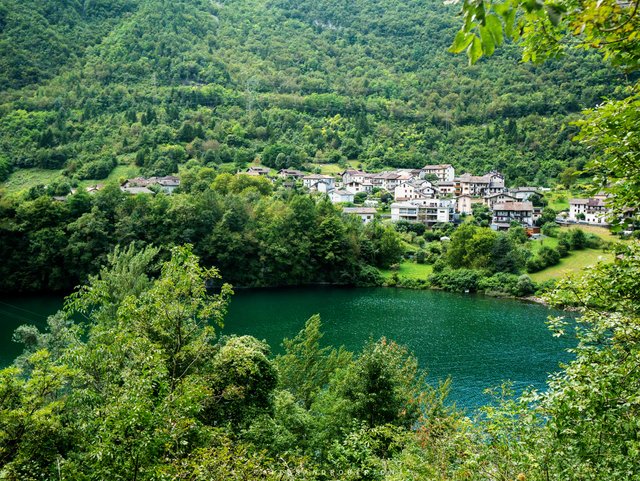 The path then skirted a rocky wall on one side while on the other there was a stream, however, much lower than the road.
ITA
Il percorso poi costeggiava una parete rocciosa da un lato mentre dall'altro c'era un torrente però molto più basso rispetto alla strada.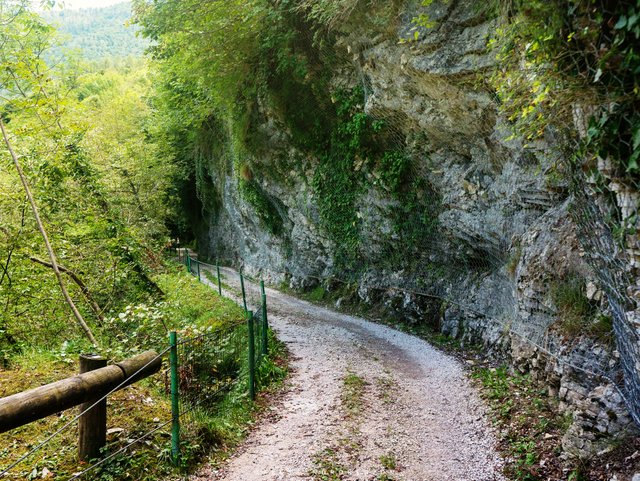 Curious to look at the stream up close, I found a path that led to the stream bed.
ITA
Curioso di guardare il torrente da vicino ho trovato un sentiero che portava al greto del torrente.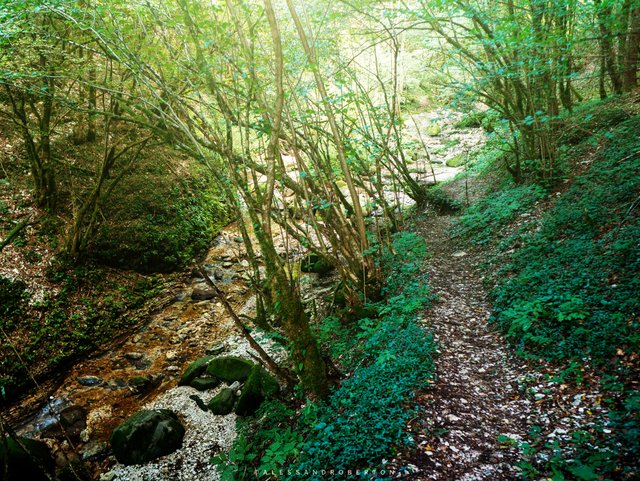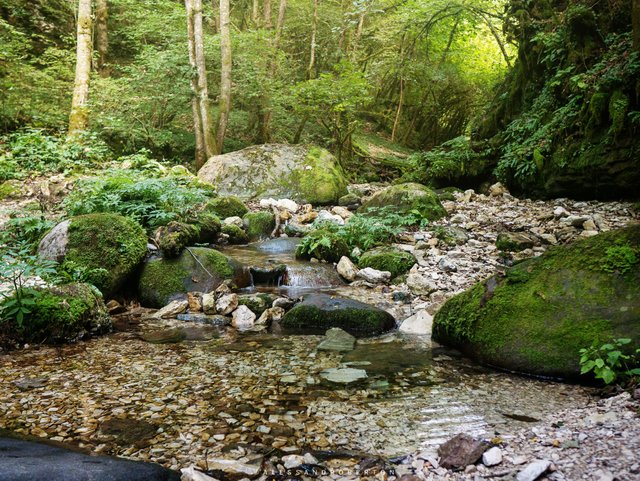 How cool that was there!
I would have been happy to relax there but the exploratory excursion had to continue!!
ITA
Che fresco che era lì!
Sarei stato lì volentieri a rilassarmi ma l'escursione esplorativa doveva continuare!!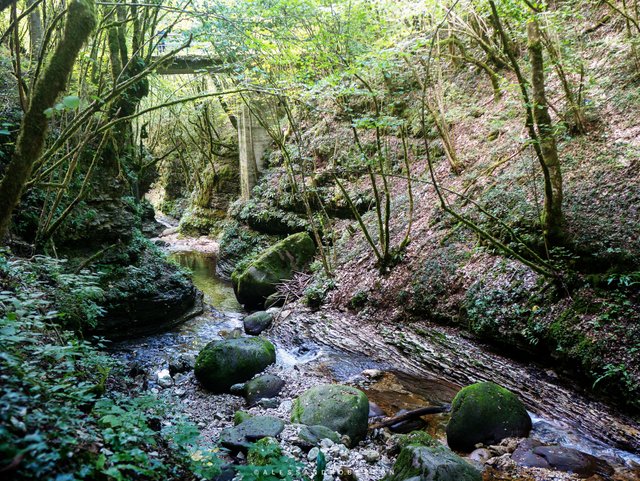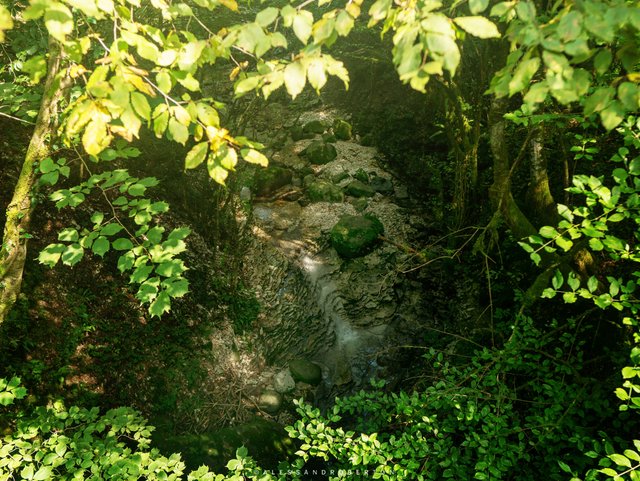 We continued and the road was paved but really narrow!
ITA
Abbiamo proseguito e tratti la strada era asfaltata ma davvero stretta!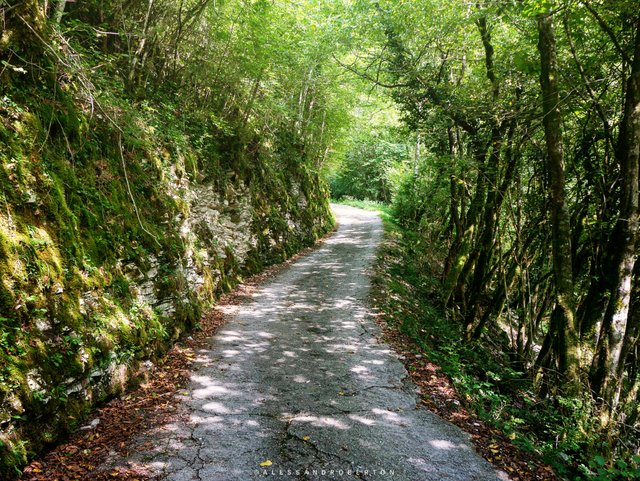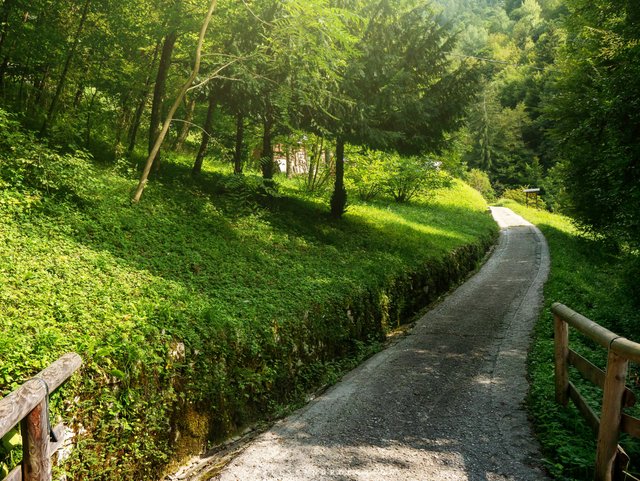 After a curve we reached a small village, there were few houses almost all closed.
I wasn't surprised, it was really an awkward place to reach by car and lacking services...
ITA
Dopo una curva siamo giunti ad un piccolo borgo, c'erano poche case quasi tutte chiuse.
Non ero sorpreso, era davvero un posto scomodo da raggiungere in auto e privo di servizi...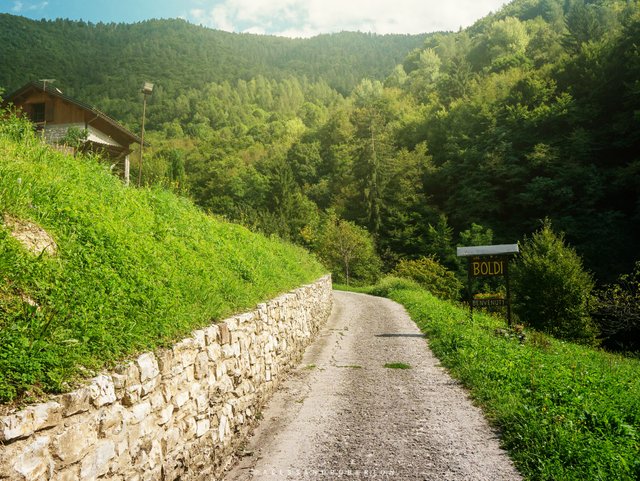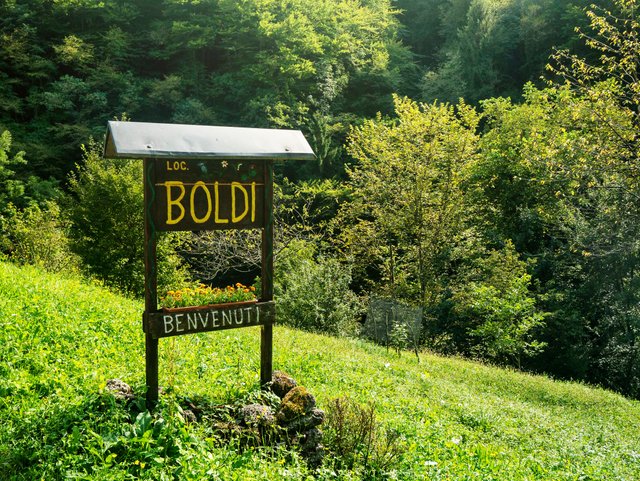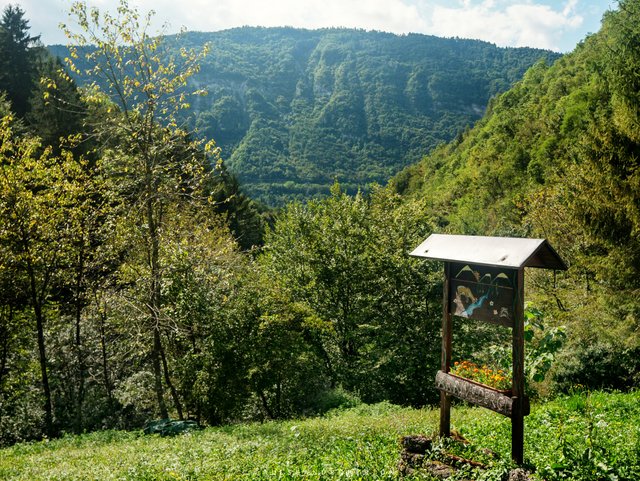 Every so often along the road there was a house with a stable.
These abandoned houses give me a little sadness.
Who knows how many things those walls saw and what they could tell if only they could!
ITA
Ogni tanto lungo la strada c'era una casa con stalla.
Queste casette abbandonate mi mettono un po' di tristezza.
Chissà quante cose hanno visto quelle mura e cosa potrebbero raccontare se solo potessero!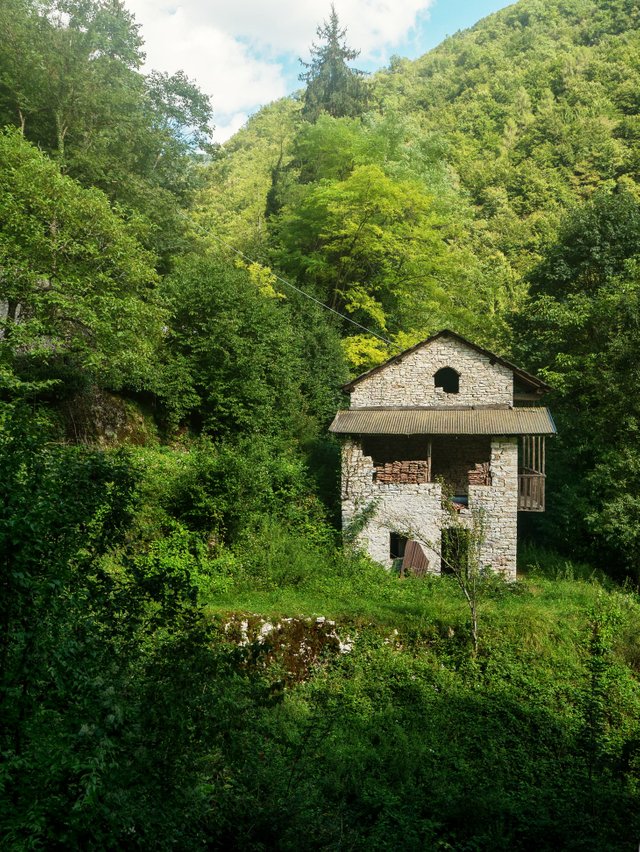 The road was all uphill and we only met a few people exploring like us.
ITA
La strada era tutta in salita e abbiamo incontrato solo qualche persona in esplorazione come noi.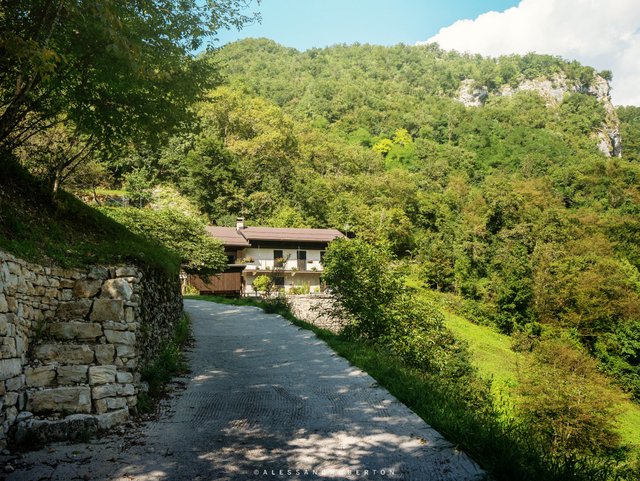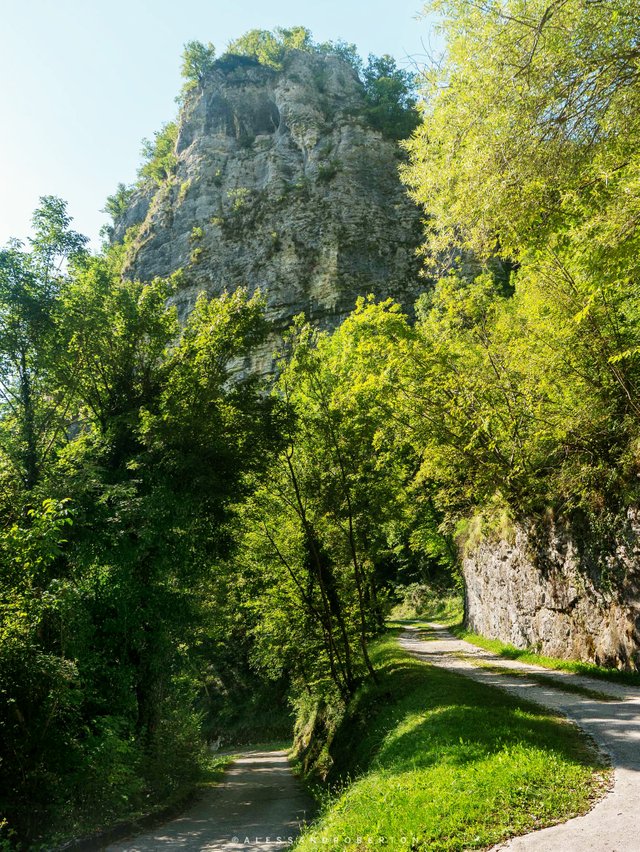 At a crossroads we checked the map and decided to go left.
ITA
Ad un bivio abbiamo controllato la mappa e abbiamo deciso di proseguire a sinistra.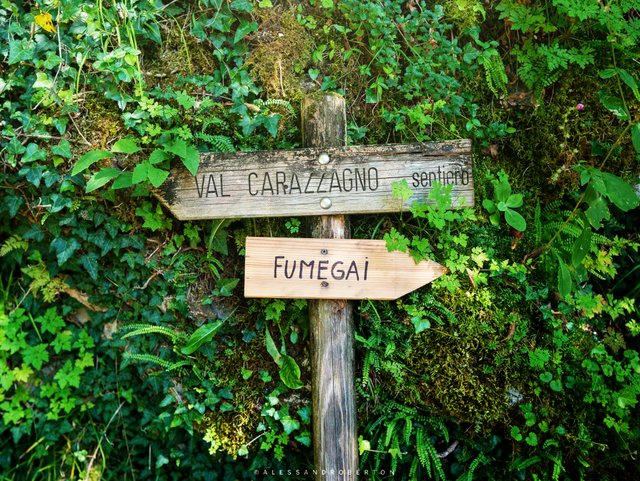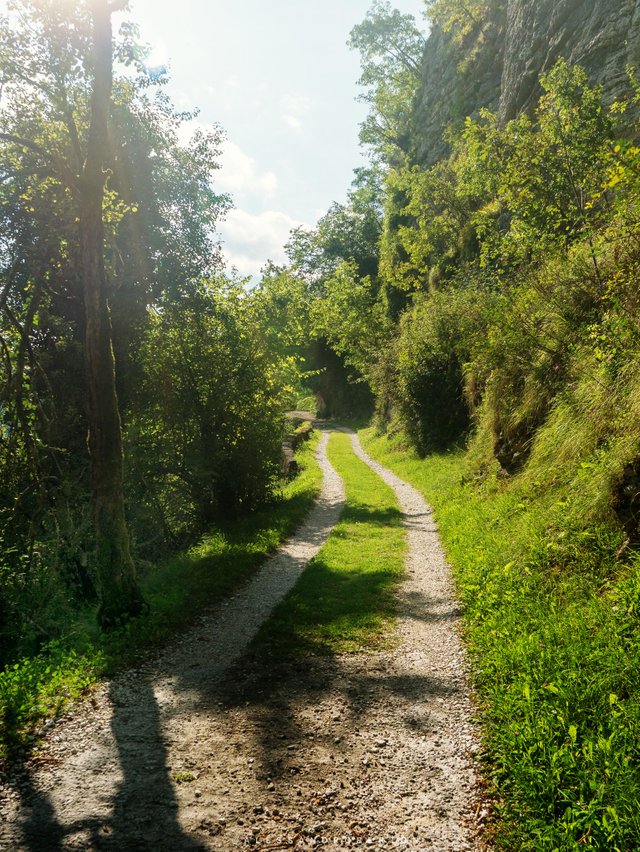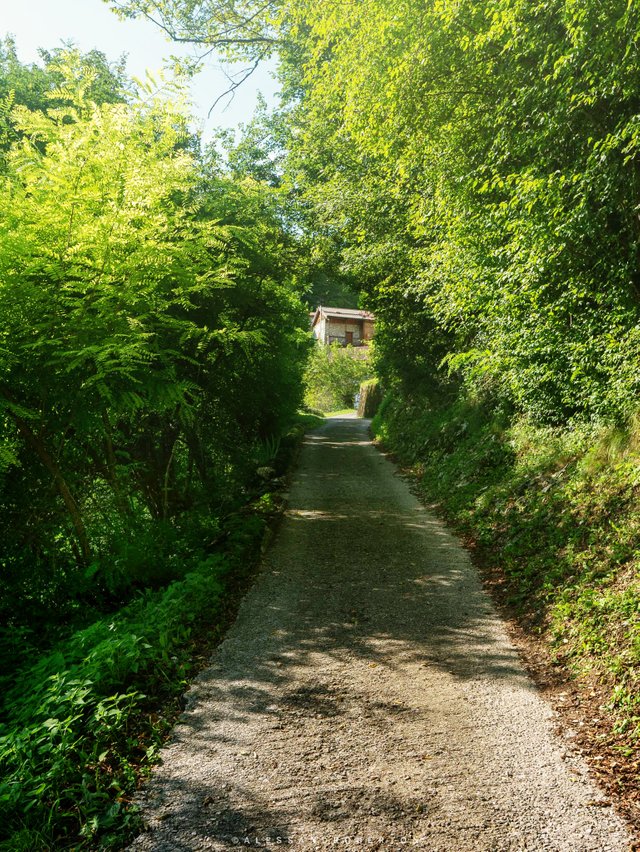 We saw a total of five villages and I think, ten people!
ITA
Abbiamo visto in totale five borghi e penso, dieci persone!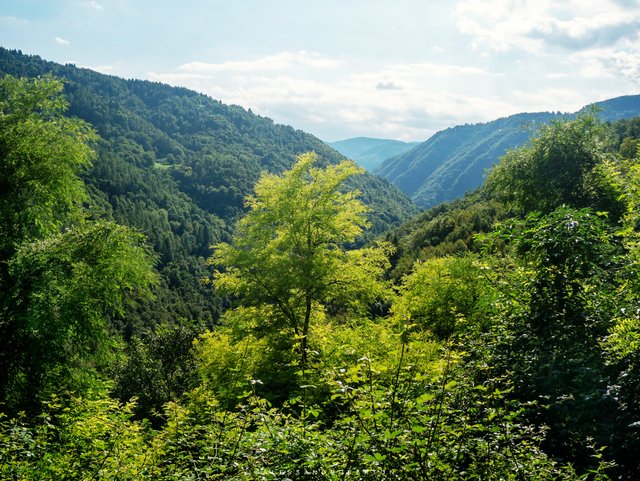 Just before reaching a group of houses, a couple of people were traveling by car and there was very little space despite the small size of the car...
ITA
Appena prima di raggiungere un gruppo di case, un paio di persone in auto stavano transitando e lo spazio era davvero poco nonostante le dimensioni piccole della macchina...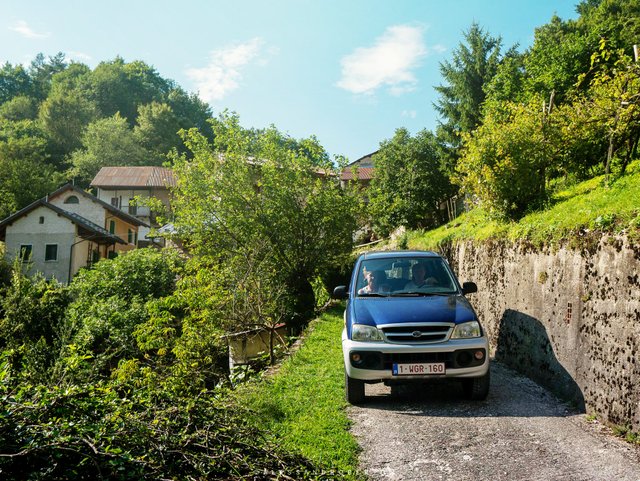 This village was inhabited by some people during the summer.
What an incredible place, in the middle of nowhere ... if something unexpected happens, even the cell phone has no signal!
ITA
Questo borgo era abitato da alcune persone durante il periodo estivo.
Che posto incredibile, in mezzo al nulla...se succede un imprevisto neanche il cellulare ha segnale!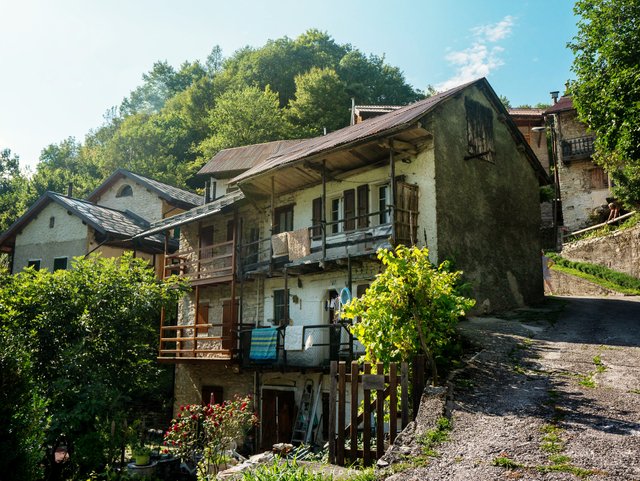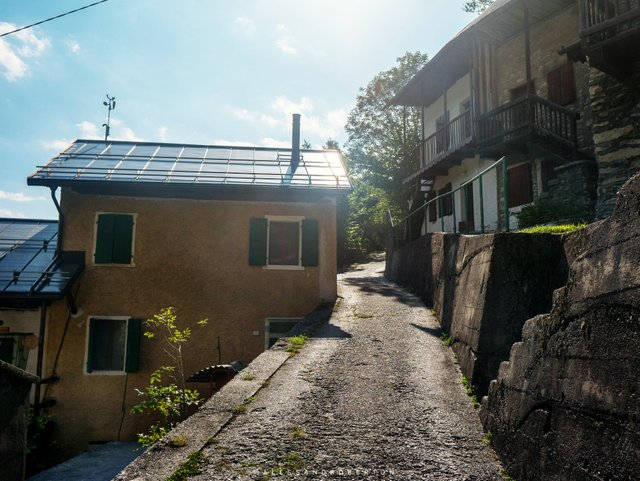 We weren't satisfied yet and we continued the walk, it was just fine there!
ITA
Non eravamo ancora soddisfatti e abbiamo proseguito la camminata, si stava proprio bene lì!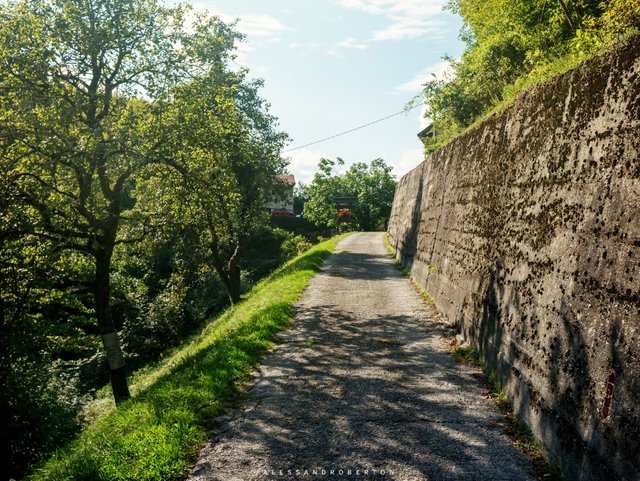 Here is another village! Right on top of the mountain!
ITA
Ecco un altro borgo! Proprio in cima alla montagna!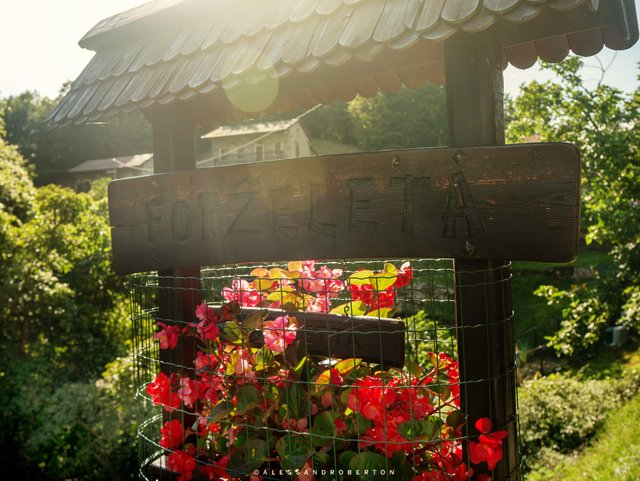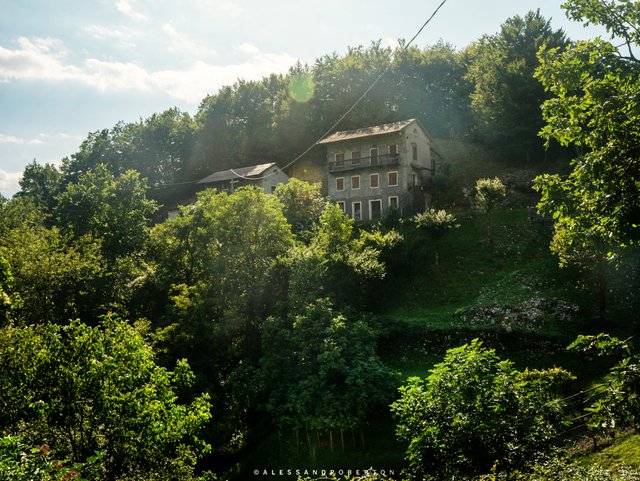 Here there were some very nice wooden houses that I didn't expect to see up there!
ITA
Qui c'erano delle case molto belle in legno che non mi aspettavo di vedere lassù!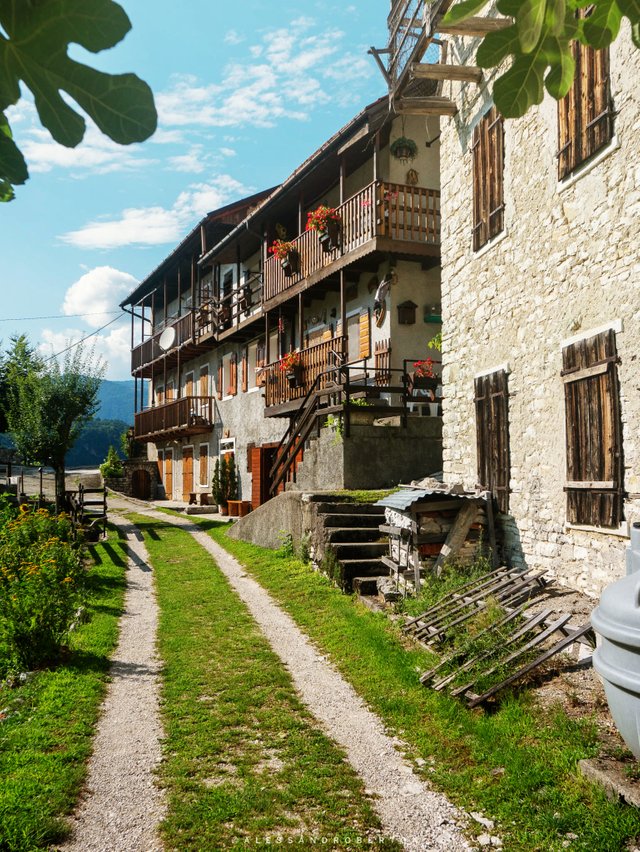 Once past the houses, we were at the top, it was the right place to enjoy a beautiful landscape...
ITA
Superate le case, eravamo in cima, era il punto giusto per godere di un bel paesaggio...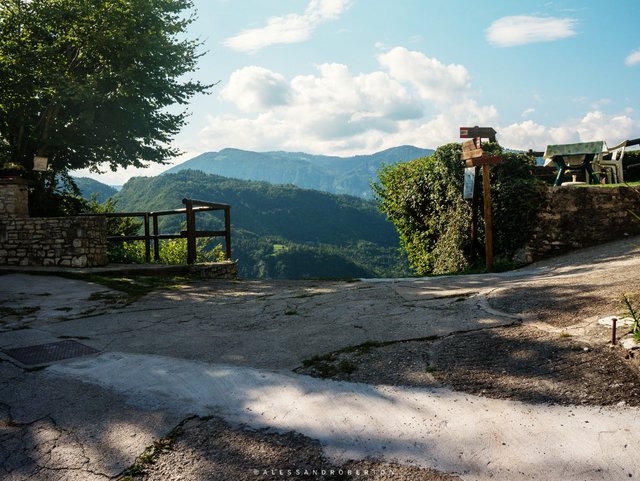 Nearby there was also a very pretty stone fountain but I couldn't wait, I had to look at the landscape that you could see from that point!
ITA
Lì vicino c'era anche una fontanella in pietra molto carina ma non riuscivo ad aspettare, dovevo guardare il paesaggio che si vedeva da quel punto!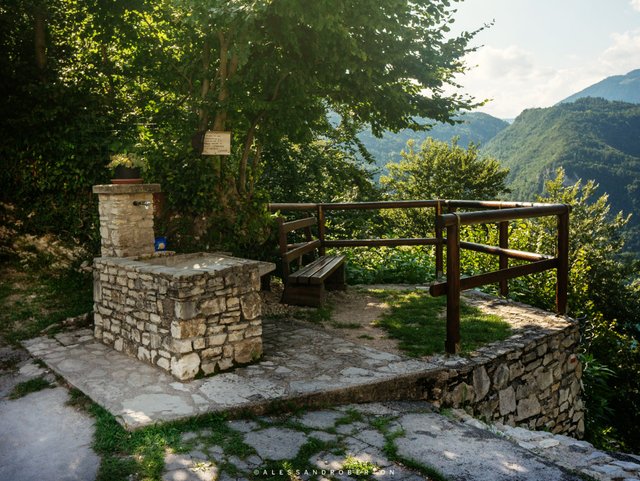 A few steps and the view was incredible!
Impossible to describe with photos, but I tried ...
I made this image by combining five shots, it was worth it!
ITA
Pochi passi ed ecco una vista incredibile!
Impossibile descriverla con le foto, ma ho ci provato...
Ho realizzato questa immagine unendo cinque scatti...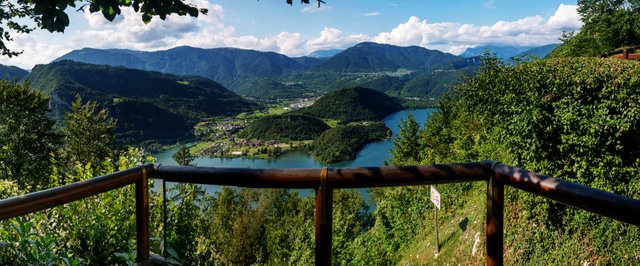 Two more steps and 5 more shots to create a panoramic photo.
We were happy and satisfied!
A perfect framework to end the excursion!
How I like to explore new places!
ITA
Ancora due passi e altri 5 scatti per screare una foto panoramica.
Eravamo felici e soddisfatti!
Un quadro perfetto per concludere l'escursione!
Quanto mi piace esplorare posti nuovi!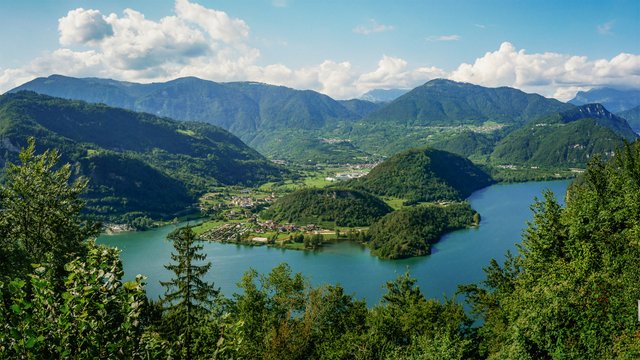 I hope I was able to adequately tell this adventure.
I invite you to follow me to follow me in the next adventures of my series:
Discovery Italy with alequandro
Thanks to everyone, see you soon!!
ITA
Spero di essere riuscito a raccontare adeguatamente quest'avventura.
Vi invito a seguirmi per seguirmi nelle prossime avventure della mia serie:
Discovery Italy with alequandro
Grazie a tutti, alla prossima!!