Liverpool lost 2-3 in their home in the Friendly match against Dortmund today.
Dortmund was opportune to score an early goal
as Parco Alacaser scored a brace 3minutes into the game.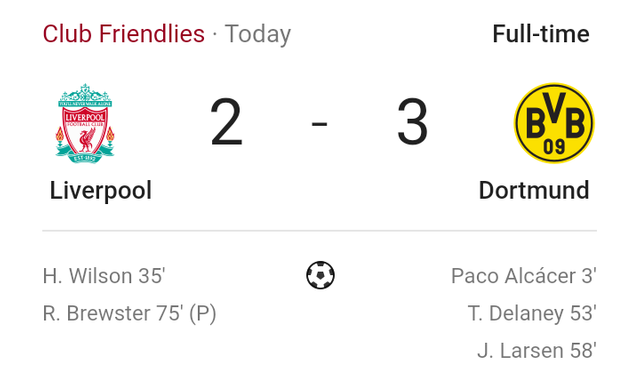 In the 35th minute of the game, Liverpool player H Wilson scored an equalizing goal to give them a sort of come back in the game and the game ended a 1-1 draw at half time.
On the 53rd minutes T. Delaney scored a brace to give Dortmund yet the lead again and this time they tried to seal is as J. Larsen scored on the 58th minute.
Liverpool scored another goal on the 75th minute as the referee awarded a penalty in which R. Brewster scored.
---
Liverpool played a total of 12shots in which 5was aimed on target while the opposing team played 9shots which 6 was on target.
Dortmund dominated the match with 57% out of 100 while Liverpool had 43%
The rest of the stats are stated in the picture above.
Thanks so much for reading through.