Welcome to this post and please leave a comment if you really did read it, because I fear none will.
Before I start, this post has two beneficiaries:
5% @Steampeak for their great work
5% @Inertia for beeing one of the first witnesses of the opinion I'm about to share again with this post
So this is what's happening: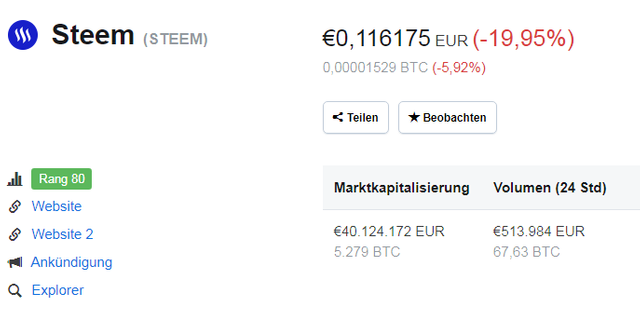 There is also no doubt about the value since it is established by transactions with the volume of more than a quarter-million dollars:


The main part of the reason is a pothole in the overall Crypto Market, BTC is also down ~13% at this very point of me writing this. So the relative loss of STEEM to BTC would be only around additional ~7%.
Still makes me wonder...
---
Is HF 20/21 'The single best thing happening' to STEEM #NEWSTEEM
, besides giving free Downvotes to everyone! YAY!
For me, living on the moral side of life is always the best choice. I don't downvote based on only my subjective opinion. That is nasty behaviour to me, a downvote is a personal statement.
I don't discriminate dwarfs or people of the LGBT(Q) community in real life. Nor do I take part in any verbal or written assault of opinions for any greater meaning than having a fair discussion afterward.
My one greater goal is just to be REAL, and that is often more than people actually can handle. That is especially dangerous on discord, as I had to realize -_-
BUT since HF20/21 Patch days, downvoting has already established itself as a part of STEEM culture, even if I don't like it. Maybe I have to reconsider my viewpoints, in the end.
You should never trust yourself unless you did double-check.
-myself2019
Check yourself before you wreck yourself!
-Ice Cube
| Am I ?? | should I? |
| --- | --- |
So let's get down to some real Facts!
1. Top Rewards dropped a lot!
source: https://steempeak.com/steem/@tarazkp/the-top-lists-and-the-bottom-shifts
Only last month @haejin with $3,437.788, @coldsiksu with $1,835.176 and @traf with $1,589.967 in 30day had been the to authors. New we have @gooddream with $829.525, @steemcleaners with $624.566 and @acidyo with $577.401 in the Top 3.
So I'm not going to dig deeper into this with this post, there's too much dirt to find. But look what happened to Mr. @haejin after HF20/21 took pace: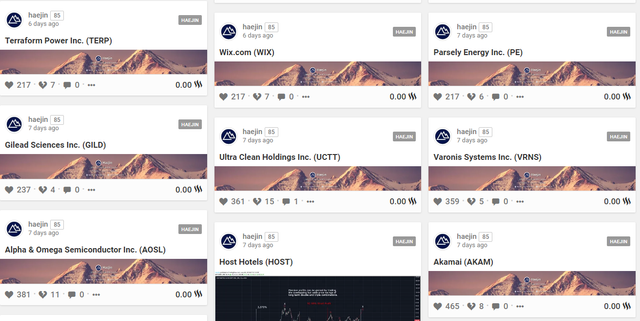 Disclaimer: Targeted by coordinated downvotes and got freakN' stomped!
Should be a sign of better Reward distribution overall, might also just be not.
2. User numbers still steady falling
source: https://steempeak.com/statistics/@arcange/steem-statistics-20190923-en
HF20/21 didn't show to have any impact on that so far.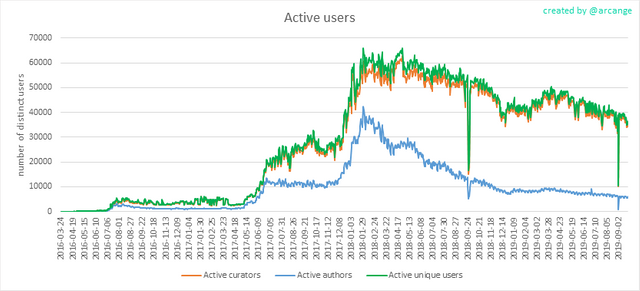 3. The Explore Page looks tidily
Anytime I checkde the Explore Page the last days (~top50), there are only authors with Rep 60+ and a good amount of network and SP behind them, sided with some posts ocd/b did promote.
That's all I wanna write about this for now - facts only.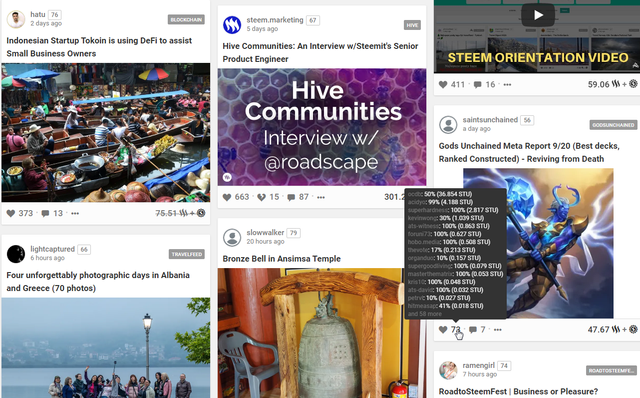 ---
Here is what I think:
One of the fundamental paradigms of what makes STEEM better than others, is the capability of hosting Free Speech as inhabitation of freedom of choice. HF21 didn't improve that for me so far.
Meanwhile, a lot of people talk/write about mass onboarding and the uprise of the different creative and powerful projects on the STEEM Blockchain. I can not stop asking myself if they really have hidden knowledge or plans of what I don't know yet or if their optimism is just their personal feature.
What really is fact: I will get downvotes on this post, even if basically none will read it - HF21 is not nice to me so far.
Yesterday on MSP Waves @r0nd0n said that we live in clown world anyway, so I'll conclude with asking myself: "Why so serious?"
Have nice evening, Manni
ps. Don't forget to downvote me for being a member of that Upvotebank.
---
Maybe check my last Video, it's fun to watch :))
--> https://steempeak.com/dtube/@manniman/ul7mnihs91g