After having fiddle-faffed around with the Arduino and the Servo a little bit in [Part 1](https://steempeak.com/palnet/@synrg/automaticwindowblinds-part1-s2ubd414m9) I saw that I could indeed operate the continuous servo in both directions. I saw also that there was a bit of 'speed control' that could be attained as well - although from what I saw the operation was a bit 'quirky' for all intents and purposes it does what it needs to do. So for the second part of the build, I didn't concentrate much on the Arduino aspect although I will have to work out many more details in regards to that. I worked on improving my Solidworks skills for designing some parts to be 3d printed.
---
design revisions and evolution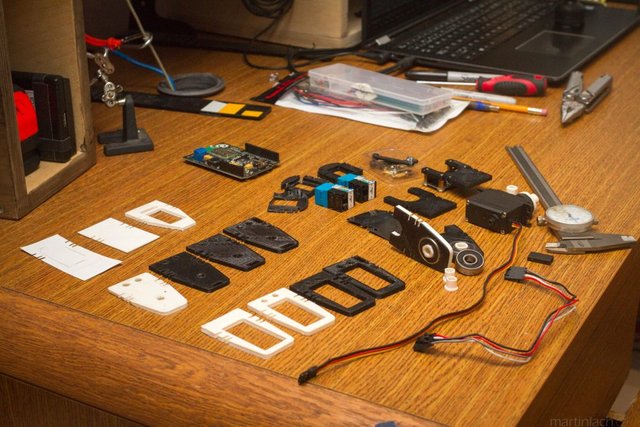 I spent a number of days designing, printing, re-designing, tweaking, re-printing several parts for this project. Along the way I had to figure out several things in the cad software I am working with, but it is an amazing program when you start to get the hang of it. As well, sometimes you print a part and something might not quite fit right, it's hard determining exact tolerances. Other times you might think of an improvement on the design. I was using an old caliper that I had lying around to make measurements with.
These things are super useful for 3d printing
Calipers can help you easily, quickly and fairly accurately make various measurements
---
A journey into the lands of solidworks
I had a lot of fun making some things with this software. I was daunted by this project not knowing exactly how I would begin to create the parts I needed using Solidoworks. I had some rudimentary knowledge from a few of their tutorials I did. Here and there I got stuck, but seems to be always somebody that has had the same problem before answered online. Creating these simple forms gives me an appreciation for not only the software but also the more in depth designs that people create using it... Not to mention parts assemblies, which I have not tried playing around with yet. However creating these parts left me wanting to find other things to need to 3d-print!
---
An Odyssey in 3d printing
3D printing is far from perfect - throughout the process I had several mishaps with the printing. However, anyone familiar with 3D printing knows this is the way it goes. Fused Deposition Modelling is the most common form of 3d printing. It uses a technique similar to a hot glue gun, and makes thin two-dimensional layers repeatedly until a 3d object is made. Using a filament of most often ABS or PLA plastics, the material gets extruded through a hot end and nozzle a precise bit at a time. Depending on the design of the printer, there are various configurations of "X-Y-Z" layouts, but essentially each layer is formed on-top of the last. Complex, amazing shapes and forms that would otherwise be impossible to traditionally manufacture are possible with this technique. However, the process for the home hobbyist is still a bit rudimentary at times and in certain respects - relatively speaking of course. Many things can and do go wrong during the printing process, and the process is admittedly slow at times in itself. Some parts can take hours if not even days depending on their size, complexity and print settings. Sometimes mishaps can fail near the end of a print resulting in having to start over, if not with a tweaked printing strategy.
---
The Joys of 3D Printing
Although, with some patience and even practice, very high-quality results can be had. The vast majority of the first objects I ever tried to print failed, but with repeated attempts you learn what's happening and why, often with some searching online. Although I wouldn't consider myself a 3d printing wizard by any means, I'm glad that I'm finally starting to better utilize the 3d printer. For a while, all I printed were things from Thingiverse but eventually, started designing simple things and this is the first 'major' project I design-built using Solidworks and the 3d printer. I'm happy because the possibilities of creation with 3d, to be able to design and manufacture your own custom-fit parts, items, objects, tools, adapters, spacers, etc. The possibilities are almost endless. And creating things from scratch is totally doable! But to fully know the software, much time and dedication is required. However there are also simpler programs, some of them are even free and/or online based, or like I mentioned before, thingiverse has a lot of amazing things that people have created. I may even decide to upload this project if I can find some more info on the blinds.
---
Exporting files for 3D printing
---
The process unfolds
The final printed object is always a little bit 'imperfect and some might say even a little bit ugly. They end up with interesting 'artifacts,' ridges appear where there where none in the model, holes are never perfectly round, fills happen with interesting patterns. The objects have their own little bit of character. Usually you can get things to work right out of the printer, sometimes you need to do minor touch ups such as drilling holes or slightly sanding down things. You want to get things of course as perfect in your model dimensions as possible, but certain things are better to do afterwards, such as perfectly circular through-holes is better done drill and bit, if possible/necessary for the application. There is a speed/quality trade off as well in the settings, higher more precise prints are possible but it's no surprise they take longer. I tried making threads in via solidworks, and admittedly, plastic is pretty easy to thread stuff into regardless, it's pretty soft, but it seems do think it actually worked! It's amazing that threads can be created layer by later and end up still working. Sometimes the process is quite impressive.
---
Time to print
When printing parts, you have the option to do multiple parts at once, but I haven't had much success doing this. I find I get the best results when printing one part at a time, when giving the printer the ability to 'focus' on one object. The slicer software I'm using is not perfect, and for a while there was much gnashing of teeth while I was trying to get the outdated, no longer supported crappy makerbot® fail software to work - the current Makerbot Print software doesn't support their Replicator 2X printer which I am using. Admittedly though, it does the job, and one day I will try another program like Simplify3d or slic3r[which I actually already tried briefly] but for now I just used the Makerbot Desktop to export my print files. Regardless, here is some time lapse of the printing process:
Contains Audio. Please note - this isn't actually the noise made by the 3d printer - it's just something I made up, but the real noise and operation of the printer is quite cool.
---
JUST MAKE THE DAMN THING ALREADY
Sometimes it's hard not to get carried away with feature creep: As work progresses on a project, new ideas can spring up, leading to the project becoming more and more complex. Project starts to get out of hand, deadlines can get missed if adherence to some key-list of features needing to be done. I started off with a vague idea of something I wanted and worked towards that, brainstorming as I went along. Coming up with solutions for what I needed to do, I made parts as I saw necessary. However, after reaching a certain amount of progress, I found that the project lay in a bit of a state of limbo, so I decided to make a 'final' to-do list. Some times it's a bit hard to particularly narrow down a task but a general run down of next steps is as follows:
While I did actually get the blinds moving up and down, there is still a lot of work to be done... catch up with that in [Part 3!] Thanks for checking this out! :)