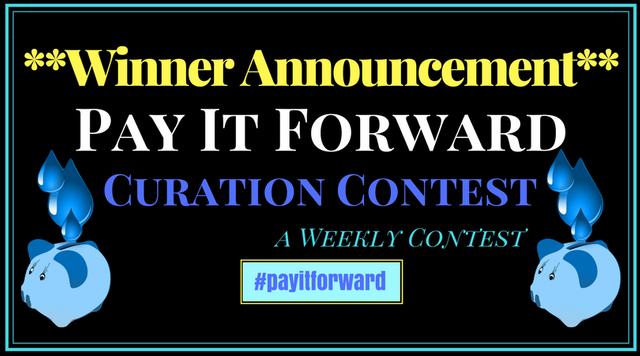 ---
---
This post is over a week past due. Very sorry about this, but real life got in the way. Between having my biggest show of the year and Grandparents who both have dementia and had "issues" last week including each of them falling life was completely crazy. I will get the winner post for week 81 up within 24 hours.
Thank you to everyone who took time to curate great content for Week 80's Curation Contest in which we featured #CreativeCoin Posts. Make sure to visit the current week's Curation Contest in which we are featuring #marlians posts to find some great content or to make your own entry.
---
---

Judges Choice Winners
Here are the winners of 1 SBI share each sponsored by the Judges.
Featured Bloggers of Judges Choice SBI Winners
Each Judges Choice Winner featured 2 great bloggers and they will each get an SBI share for lifetime votes on their posts.
Random Winner
This week are 2 random winners of 1 SBI share Sponsored by @pifc & @thedarkhorse

This Weeks Sponsors
The following sponsors made the prize pool possible. Please make sure to show them some appreciation.
@bengy, @andrewharland, @stever82, @roleerob, & @thedarkhorse.
Special Thanks to Our Judges
This week we are giving a small thank you to the Judges and giving a 5% beneficiary to each from this post. It's a small amount, but wanted to give a little back to our judges.

Steem-Bounty
All steem-bounty payouts should have happened by now. Special thanks to @knircky, he is the brains behind @steem-bounty and he does a lot to help boost the contest posts allowing for higher rewards.

Staked Tokens - Show Support of Tribes
@pifc has started to build up a couple tokens to help add extra value to our community. Posts with #palnet, #neoxian, #creativecoin or #marlians will gain a small bonus as we have staked tokens from each of them.
If any of these tribes prefer we not use their tag and/or not try and help expand the curation of their tag feel free to message @thedarkhorse on discord (#6765) or leave a comment below. Our goal in using the tag is to allow members of these tribes to have an extra way to earn rewards and more importantly gain exposure for their posts.
If there are other Tokens you want to see @pifc start staking please let us know which one and the focus of the token. Currently we are only staking Tokens that are for general content, but are open to others if there is demand from our community.