---
---
Before we get into the winners announcement I'd like to point out a post in which you can give a little extra to @pifc as it's set at 100% beneficiary to @pifc. That means all post rewards will come to @pifc and help keep the account funded.
Your Help Needed, 100% Beneficiary Set for Pay It Forward Community Account
I (@thedarkhorse) did this post on my personal account to help @pifc as much as possible since it uses my SBI vote bank and allowed some added exposure. So if you can please give that post a 100% upvote to help keep @pifc funded.
---
---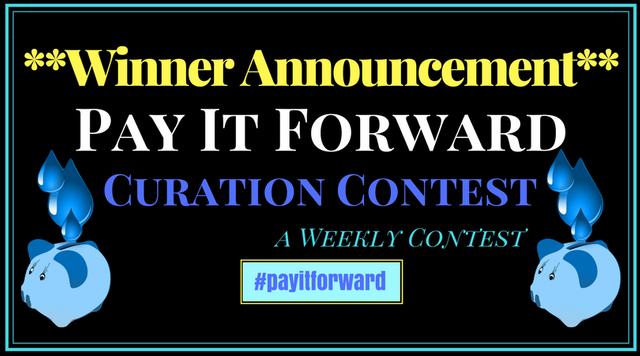 ---
---
Thank you to everyone who took time to curate great content for Week 85's Curation Contest which Featured Natural Medicine Tribe. Make sure to visit the current week's Curation Contest featuring Steem Leo to find some great content or to make your own entry.
---
---

Judges Choice Winners
Here are the winners of 1 SBI share each sponsored by the Judges.
Featured Bloggers of Judges Choice SBI Winners
Each Judges Choice Winner featured 2 great bloggers and they will each get an SBI share for lifetime votes on their posts.
Random Winner
This week are 2 random winners of 1 SBI share Sponsored by @pifc & @thedarkhorse

Bonus Autovote from @pifc
For this week everyone who makes a valid entry will get a daily autovote on up to 1 post per day. The percentage of this vote is purely based on the percentage that you voted on @pifc. You will get anywhere from 10% up to 25%. To get 25% you needed to give @pifc a 100% upvote, if you gave a 50% vote to PIFC then you will get 17.5%.
The Judges Choice Winners will each receive an autovote for 1 post per day from @thedarkhorse purely based on the percentage they upvoted the @pifc contest post. This is a bonus and voting for @pifc isn't required to be part of the main contest, but this is @thedarkhorse using his personal stake to help encourage people to support @pifc with 100% upvotes.

This Weeks Sponsors
The following sponsors made the prize pool possible. Please make sure to show them some appreciation.
@bengy, @andrewharland, @stever82, @roleerob, & @thedarkhorse.
Special Thanks to Our Judges
This week we are giving a small thank you to the Judges and giving a 5% beneficiary to each from this post. It's a small amount, but wanted to give a little back to our judges.

Steem-Bounty
All steem-bounty payouts should have happened by now. Special thanks to @knircky, he is the brains behind @steem-bounty and he does a lot to help boost the contest posts allowing for higher rewards.