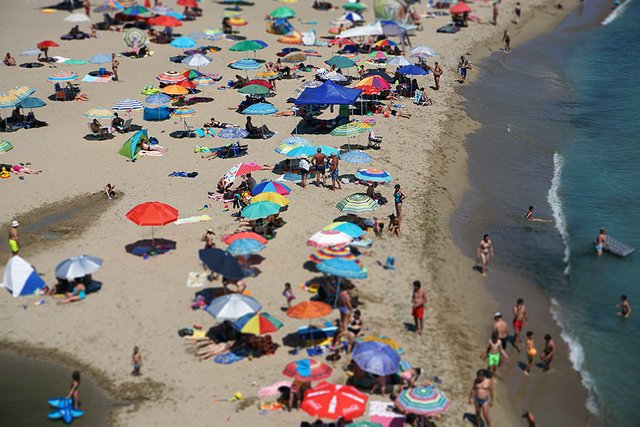 Greetings, friends!
I came back from the sea more than a week ago now and it still feels awkward. I sometimes realize I am no longer there. It was a wonderful vacation at Sinemorets, a...generally secluded settlement at the South Bulgarian Black Sea coast.
Butamiata Beach, the one on the picture, is the central one and near the river with the same name, which stops some ten meters away from the sea in summer.
Looking crowded, as usual. Well, we need people here, since this is my entry fo the #peoplephotography weekly challenge by @worldcapture. Going to the comments section of the challenge you will find amazing people by talented photographers from around the world.
It is worth spending some time, so go there and see if you can resist providing your support for this initiative!
The photo needed some blur filters so that some details remain partially obscured. It is a tilt-shit-like filter that works bottom-to-top on the frame itself, though, and not in real depth as created by distance as a real tilt-shift effect would be. So I even reduced it to have fewer details in the bottom part only.
Because this image is not about details. It is about chaos and colors. And people.
Enjoy!
Yours,
Manol