| | |
| --- | --- |
| A few Summer Macros I picked out for today's gray foggy day. | Ein paar Sommer Makros habe ich für diese heutigen grauen Nebeltag herausgesucht. |
Bumblebee : Bombus : Hummel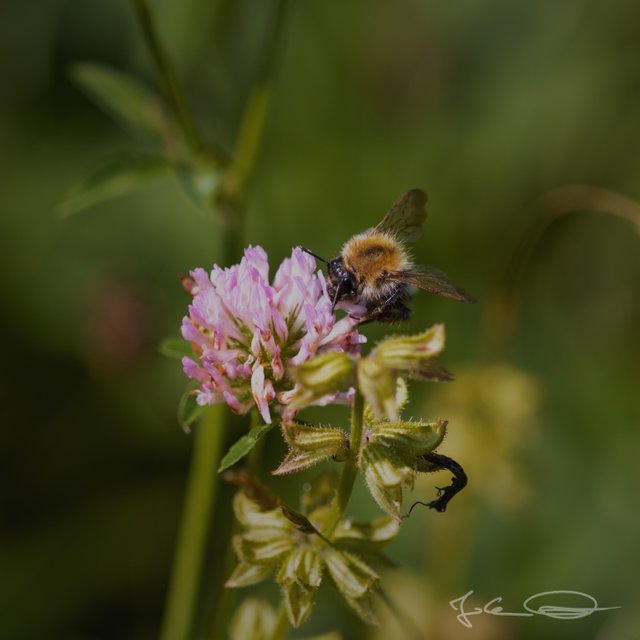 ❖ click the image for fullsize view ❖
Canon EOS R | SIGMA 105mm 1:2,8 DG MACRO HSM
| | |
| --- | --- |
| I photographed this Bumblebee with the Sigma 105mm macro in July at the reservoir. She was so busy collecting nectar that she did not notice me at all. | Diese Hummel habe ich mit dem Sigma 105mm Makro im Juli am Stausee fotografiert. Sie war so fleißig mit dem Sammeln von Nektar beschäftigt, dass sie mich überhaupt nicht bemerkt hat. |
Today the high fog has been hanging all day long over the valley and we have not seen any sun.

My daughter needs photos for a school project in her fashion school for a catalog in which she should be seen dressed in several autumn jackets. And because the photos should look autumnal, I drove her to a nearby mountain, where I thought to see some sun. Unfortunately, there was quite dense fog and the fall colors had already pretty much gone.

Actually, I do not take pictures of people, but of course I make exceptions for John Lennon and for my daughter - @qwerrie can confirm that, can't you @qwerrie?

Luckily, some of the photos have become very nice and my daughter is satisfied.

Heute ist der Hochnebel den ganzen Tag lang über dem Tal gehangen und wir haben keine Sonne gesehen.

Weil meine Tochter für ein Projekt in ihrer Modeschule Fotos für einen Katalog braucht, in welchem sie mit verschiedene Herbstjacken zu sehen sein soll, und weil die Fotos herbstlich aussehen sollen, bin ich mit ihr auf einen Berg in der Nähe gefahren, wo ich eigentlich etwas Sonne vermutet habe. Leider war dort aber auch relativ dichter Nebel und die Herbstfarben hatten sich schon ziemlich verabschiedet.

Eigentlich fotografiere ich ja keine Menschen, aber für John Lennon und für meine Tochter mache ich natürlich Ausnahmen - @qwerrie kann das bestätigen ;)

Glücklicherweise sind einige der Fotos ganz nett geworden und mein Töchterchen ist zufrieden.
| | |
| --- | --- |
| I've posted some other photos of this bumblebee this summer, and I thought it could be a Common Carder Bee (Bombus pascuorum) or an Apple Bumblebee (Bombus pomorum). Unfortunately, I have not been able to find out yet. | Ich habe von dieser Hummel bereits im Sommer ein paar andere Fotos gepostet, wo ich meinte, dass es sich um eine Ackerhummel (Bombus pascuorum) oder um eine Obsthummel (Bombus pomorum) handeln könnte. Leider habe ich bis jetzt auch nicht mehr herausfinden können. |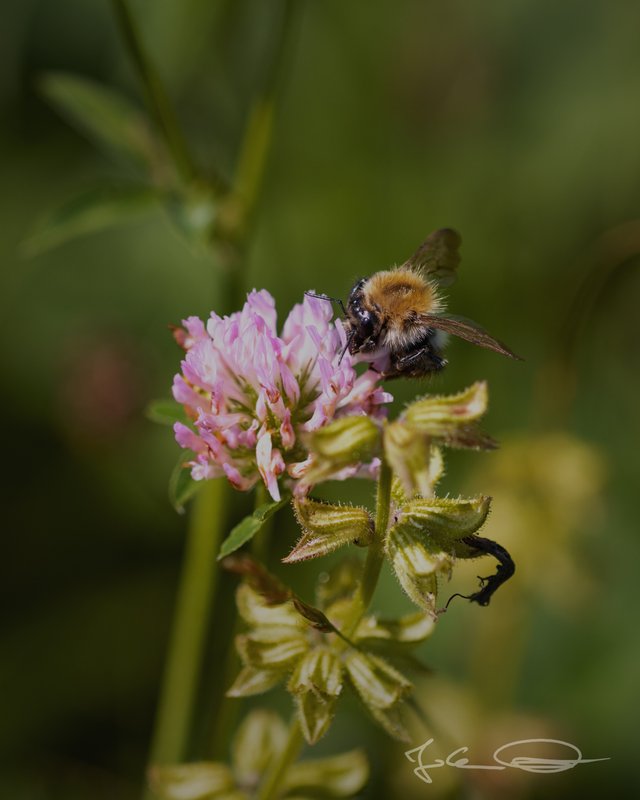 ❖ click the image for fullsize view ❖
Canon EOS R | SIGMA 105mm 1:2,8 DG MACRO HSM
Information
All photos were shot with the Canon EOS R and one of these lenses: Canon RF 24-105mm f/4 L IS USM, Canon EF 70-200mm f/4 L IS II USM, Canon EF 16-35mm 1:4L IS USM, SIGMA 105mm 1:2,8 DG MACRO HSM, SIGMA 150-600mm F5-6.3 DG OS HSM C
---
If you like my photos I would appreciate an upvote, nice comment or a resteem 😊 ... and maybe you would like to follow me, so you do not miss a post from me anymore.
Thank you for visiting my blog,
have a nice evening,



Photos and Text: Johann Piber | All rights reserved - do not use without my permission
#originalcontent #originalworks