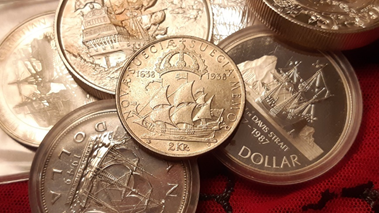 1

P
"Blackbirds tend to like shiny objects" ~ The Bloody Raven
The name of the ship on this coin is the Calamare Nyckel (Kalmar Nyckel , translated: Key of Colmar) the ship symbolizing the founding of the New World settlement of New Sweden in Delaware on March 1638.
But first to the silver coin!
1938 – 1638 2 Krona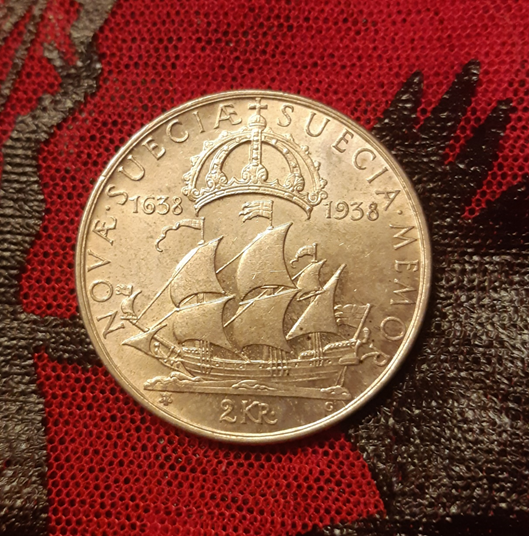 1
Reverse: Crown and The Ship Kalmar Nyckel
0.800 Silver, 15.0g
31mm Diameter
NOVÆ·SUECIÆ SUECIA·MEMOR meaning: Sweden remembers New Sweden
Launched in 1625 the Kalmar Nyckel is a sailing ship class described as full-rigged Pinnace of light construction, narrow in cross section than other vessel types, and suitable in exploring, trading, and light naval duty.
In 1629 the ship was acquired by the Swedish Navy when Sweden made plans to establish a trade colony in the new world and thus avoid the English and French middle man on North American goods.
Jacob Hogg 1922 Painting of the Kalmar Nyckel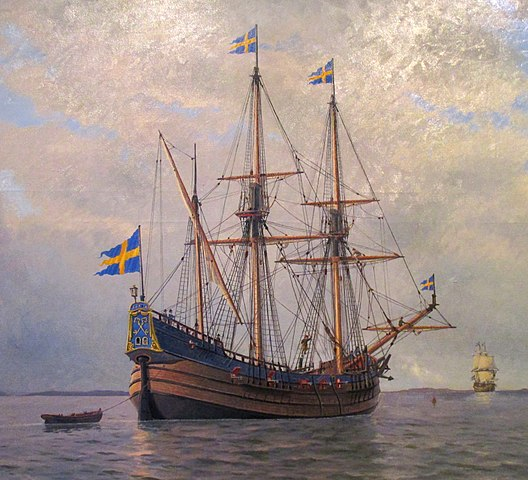 W
Artist Jacob Hogg 1922 Photo By:W.Carter UnderPublic Domain
The first voyage began from Gottenberg in December 1637. The journey continued from the Netherlands in New Year's 1938 following unexpected repairs. The ship arrives in March 1638 and the building Fort Christina at present day Wilmington Delaware.
The ship made four voyages from Sweden to North America successfully in addition to Naval transport and courier service.
In 1651 the ship was sold into the merchant service to protect Dutch fishing vessels but was sunk off the coast of Scotland by the British navy in July 12 1652.
Some Details of the Kalmar Nyckel:
Built in 1625 Amsterdam
Type Dutch Pinnace
Crew of 40
Soldiers 28
Armament 12 Six pound Cannon
Armament 2 Swivel Guns
1938 – 1638 2 Krona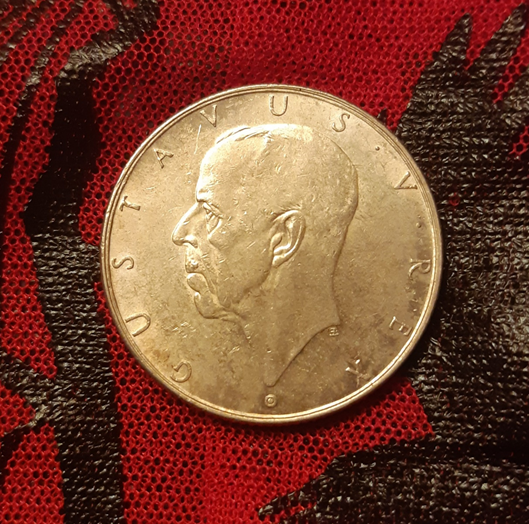 1
Obverse: G U S T A V U S • V • R E X Left facing
Engraver: Erik Lindberg
The Modern Kalmar Nyckel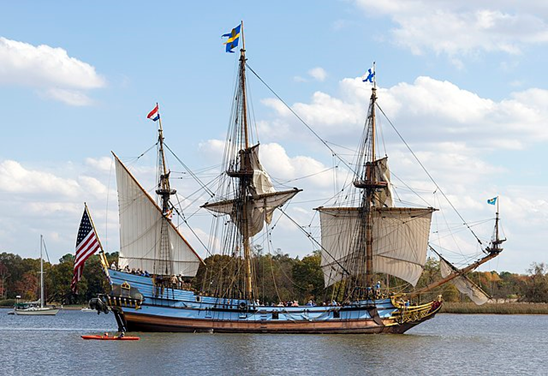 W
Kalmar Nyckel By Acroterion Under CCO 3.0
In 1986 an American committee was created to establish a foundation in building a working Replica of the Kalmar Nyckel. The modern Kalmar Nyckel was built at a local shipyard in Wilmington near the original site of Fort Christina and was launched on September 28, 1997
The ship currently serves as an Ambassador as the State of Delaware's Official Tall Ship functioning in roles of education, historical awareness, and serving in special events.
The modern Kalmar Nyckel and The Copeland Marine Center are open to the public for reservations for;
Movie shoots
Volunteer crew sailing classes
Private bookings like Wedding Receptions and Pirate Parties
Public Sails and field trips
Tour packages, may include Cannon Firing. (I'm sold on the Cannon Firing!)
The Website of the Kalmar Nyckel: Tall Ship with a Broad Reach
Basic Specs on the Modern Kalmar Nyckel:
Lead Architects: Thomas Gillmer and Iver Franzen
Total length 141 ft sparred
Displacement 298 tons
Beam width 25 ft
Draft 12.5 ft
Sail area: 7600 sqft.
Engines: 2 Caterpillar 3208 @180 hp each
Speed under power: 9.25 knots
Builder: Allen C Rawl, Inc.
Crew 24
Passenger capacity 49
---
Oh but there's more!
If you are unaware as I was the US Mint also commemorated the New Sweden Tercentenary with it's own half dollar issue. Oddly, dated 1936, Minted in 1937, then Issued in 1938.
So remember this could be one tough FINAL JEOPARDY ANSWER.
The 1936 Delaware Swedish tercentenary Half Dollar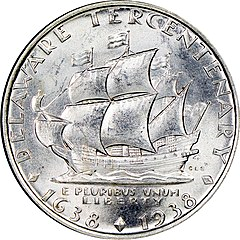 W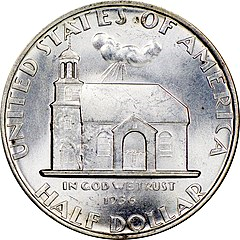 Commemorative Reverse Commemorative ObverseImage source under Public Domain
0.900 Silver, 12.5g
Reference KM#179
Engraver: Carl L. Schmitz
Mintage 25,000 less approx.4,000 melted down
And if you're thinking like I did of acquiring this US version coin as to make a nice matched set, think again. With no more than 21,000 minted and the remaining 4,000 melted down it will be an expensive endeavor. Numista estimates $267 USD and I haven't seen many on Ebay.
The Match Game
Match the most appropriate Silver Stacking Pirate Captain of #ladiesofssg4eva of the Swedish Silver 2 Krona Kalmar/Calamare Nyckel Vessel coin. 🙄 Hint: Think Swedish…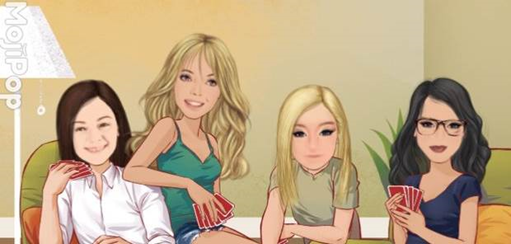 SS
American Captain @dfinney ,American Captain @silversaver888, or Swedish Captain @saffisara! And leave the Canadian out.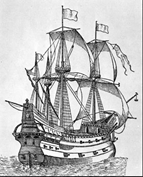 P
References
1. My own pictures shot with a Samsung SM-A530W
P. Image under Pixabay
R. Clip art from 123RF
W. Wiki Commons
The Website of the Kalmar Nyckel: Tall Ship with a Broad Reach
Wiki: The Sailing ship Kalmar Nyckel
The 1936 Delaware Swedish tercentenary Half Dollar
The Modern Kalmar Nyckel

R
"Et lux in tenebris to serve laboro, sum sicarius" "I work in the shadows to serve the Light, I am an Assassin"