There are a lot of tribes that were formed since their introduction earlier in 2019. Most have done very little while a few have started offering features that could make an impact down the road.
However, my question is what will be the most successful tribe in the coming year?
While the term success is a relative one, it is something that we can leave open-ended for our philosophical discussion.
One tribe that I want to put into the ring for discussion is the POINT token.
Here is a comment that was placed on Discord the other day.

To me, this is a statement that stands out. Thus far, I feel that Steemleo is one of the more successful tribes that was formed. We are seeing a lot of wonderful features added to their platform which is likely to yield dividends in the future. The next exciting feature to go live is the Leostore which will enable people to sell products and services on LEO using the token.
The advantage to mirroring Steemleo is they did a lot of things right. They did not see a massive sell-off of their except for the initial burst after the airdrop. Instead, they witnessed a solid footing established for the token with one of the highest staking rates I have seen. In other words, there is a group of people who really want to hold this token.
Some of them are involved in the POINT project.
So why does this have the potential to be the most successful tribe?
Simply because combining the lessons from the early days of Steemleo coupled with the potential market could be a major winner. The field of politics and current events is enormous. It actually dwarfs that of finance in terms of people who pay attention.
At the same time, we see a passionate bunch. Ask most who would use a site like that what they think of Donald Trump and you will get a pretty passionate answer. The same holds true for Brexit. In other words, these people are very interested parties.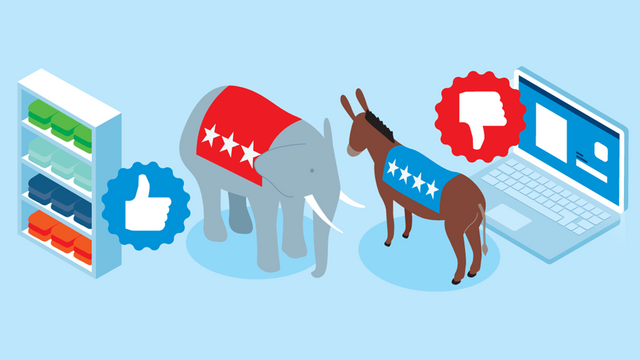 Source
This is something that the POINT project can tap into. On of the biggest drawbacks to blockchain and cryptocurrency so far is engagement. Well, these people are engaged. This is something that could be leveraged to grow the user base.
We could also see the success magnified if the team behind the project instills a number of use cases for the token to help keep the price strong. As we saw with a few tribes, there are a number of tokens that people receive yet immediately dump. The price has continued downward without an end in sight.
Another factor in this is there is already a solid base of politics/government followers on Steem. I see a number of posts by a few known individuals in the "alt-media" world already. Having these people adding the POINT tag to their posts is simply a matter of education.
Going back to the comment, I focused in on the part about "making it worth holding". Many are looking for the 100x token. Which one will have a massive run in the future?
When a project sets out to ensure the token price is supported, it stands a much better chance of success. Of course, the ultimate variable will be the people who end up using the network. Unless we see an influx of users to make these projects grow, the token price will, eventually, reflect that.
This is the challenge the entire cryptocurrency world faces.
That could be changing a bit. I believe 2020 is going to be a pivotal year for this industry. Great strides were made in development meaning that there are options available which are fairly user friendly. While there is still a bit of a curve, we can see how much easier it is today compared to a few years ago.
All this bodes well for the projects that are already running. They say the time to innovate, accumulate, and develop is when the bear is on a tear. This means those projects (or individuals) who put in the efforts during the dark days will really benefit upon the reversal.
Most who are active on Steem already understand that point.
Tribes offer another option for people to grow their holdings. Many are not going to perform very well. There are going to be, however, a few that are golden nuggets.
So tell us, which tribe do you think will be the raging success of 2020?
If you are interested in politics or current events, head over to the site.
---
If you found this article informative, please give an upvote and resteem.
---
Posted via Steemleo | A Decentralized Community for Investors