Mogę w końcu powiedzieć, że przeżyłem ten męczący miesiąc, dziś był ostatni dzień na zastępstwo, od jutra trzy dni wolnego, a w sobotę zaczynam swoje normalne zmianki. Będę już miał trochę więcej czasu, bo ostatnio na nic mi go nie starczało.
Zgodnie z wczorajszą zapowiedzią dziś zrobiłem lekki trening biegowy, plan zakładał 4,83 km w tempie OBW1, czyli w tempie konwersacyjnym i tak w zasadzie było, bieganiem się w zasadzie nie zmęczyłem tak bardzo jak upałem, grzało nie miłosiernie więc, gdy było to tylko możliwe to chętnie chowałem się w cieniu drzew. Nieco ponad pół kilometra biegania sprawiło, że mogłem wyżymać koszulkę i spodenki jak po praniu, woda lała się ciurkiem. Czasami robię taki eksperyment, że przed wyjściem na trening i po powrocie warzę się, w dni tak gorące jak dziś w ciągu około 45 minut wypacam około 1,5-2 kg wody, oczywiście po powrocie do domu to uzupełniam.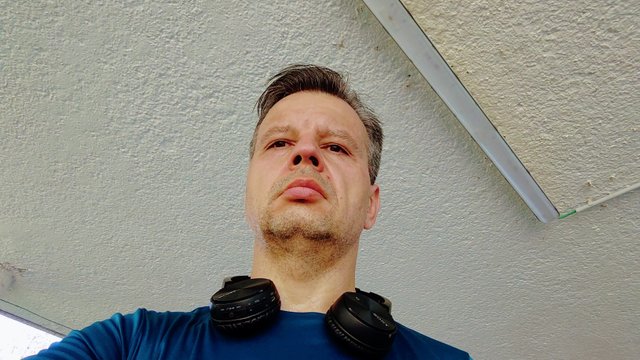 Na jutro znowu mam zaplanowane bieganie, tym razem będzie bardziej urozmaicony trening, po około 1,5 km spokojnego biegu, nastąpi właściwy trening według poniższego planu: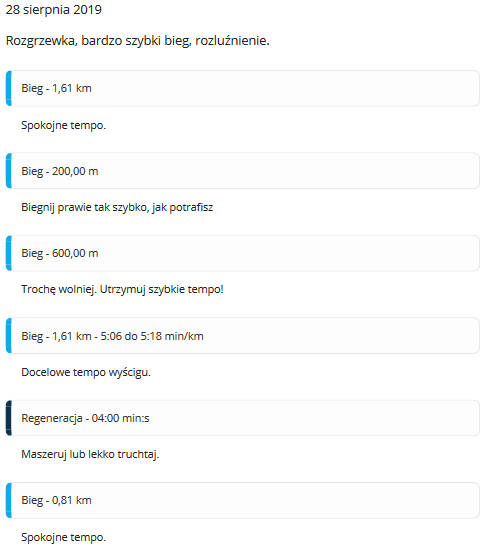 Polecam korzystanie z Discorda społeczności Actifit https://discord.gg/BFk3NV, gdzie codziennie w nieregularnych porach organizowane są konkursy, które polegają na poświadczeniu zakupu w czasie trwania konkursu (zwykle około 20 min) 100 tokenów AFIT oraz posiadania co najmniej 1 AFITX, gdy spełni się te dwa warunki, pod postem o konkursie umieszcza się screeny poświadczające i link do ostatniego swojego postu z aplikacji Actifit. Jeżeli warunki zostały spełnione to post ten zostanie 'podbity' 100% głosu z konta actifit.reward, wartość głosu to około 0,30$, więc warto się schylić i podnieść :) A co zrobić z kupionymi tokenami AFIT? Ja natychmiast odsprzedaję te tokeny, czasami jeszcze w czasie trwania konkursu, po zrobieniu screenów z zakupu, w tym czasie zdarza się, że cena idzie w górę, więc można jeszcze na tym zyskać.
My 2019 stats: total distance 4368,71 km (+ 13,40 km)
Sport
Distance
Difference
Walking
1801,16 km
(+ 6,81 km)
Cycling
2019,42 km
Running
496,45 km
(+ 6,59 km)
Rowing
30,72 km
Elliptical
20,96 km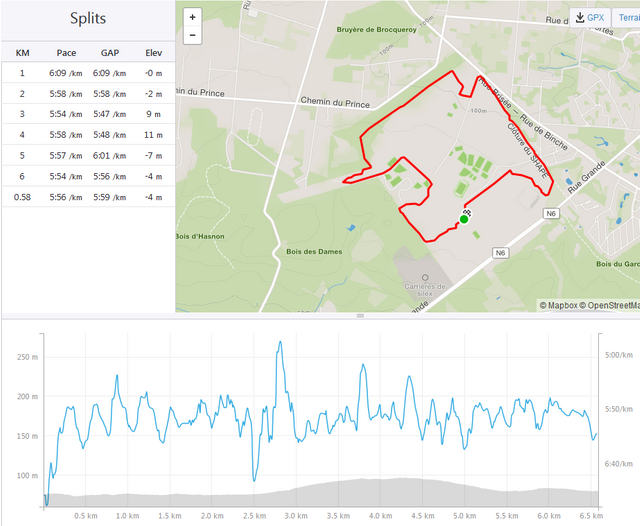 ***
| Current Actifit User Rank: | 55.00 (+1.01) |
| --- | --- |
| | |
| Current AFIT Balance: | 63048,122 |
| Current AFITX Balance: | 10,1 |
| | |
Don't stop me now! Keep going!
Link do postu "Actifit dla Bystrzaków" w którym opisuję krok po kroku jak zacząć aktywne życie z aplikacją @actifit, polecam lekturę zainteresowanym.


12617

Daily Activity, Jogging, Running, Walking