Nie znam nic lepszego na odprężenie po ciężkim dniu niż udany trening cardio, bez znaczenia czy to trening biegowy czy kolarski. Dziś wypadło akurat na rower. Niemal cały dzień spędziłem pomagając żonie w sprzątaniu mieszkania, rano okazało się, że jest okno w pokoju córki wymaga mycia, gdyż jest całe zakurzone. Zaczęło się na tym jednym małym oknie a skończyło na wszystkich oknach w mieszkaniu. Belgijscy sąsiedzi obserwowali to z lekkim politowaniem, bo u nich okna brudzą się zdecydowanie mniej, wystarcza jedno mycie w roku.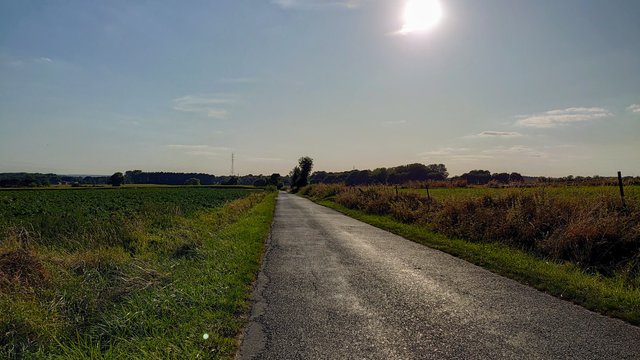 Co prawda to nie ja myłem te okna, ale asystowałem w zdejmowaniu, praniu, prasowaniu i wieszaniu firan, więc mogłem trochę się zmęczyć. Po wszystkim byłem wykończony, myślałem nawet, żeby odpuścić sobie dzisiejszy trening, ale po chwili ociągania wyszedłem pojeździć na rowerze.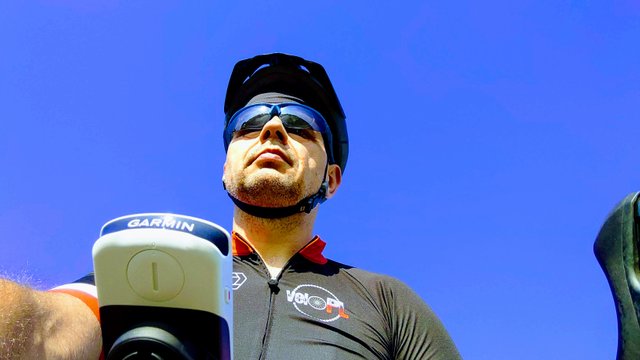 Już po paru kilometrach utwierdziłem się w przekonaniu, że to była dobra decyzja, z każdym kolejnym kilometrem wcześniejsze zmęczenie ustępowało zadowoleniu i radości z jazdy. Miałem w głowie plan trasy dzisiejszej jazdy, ale szybko zmieniłem plany z uwagi na dość silny wiatr, który co prawda pomagałby mi w pierwszej części treningu, ale powrót mógłby się okazać bardzo trudny. Dlatego też kilka razy zmieniałem kierunek jazdy.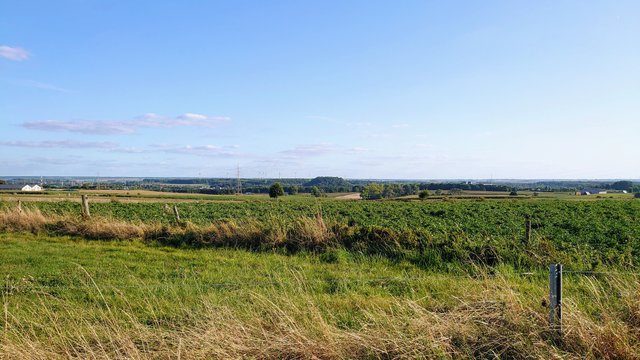 Pomimo, że dzisiejsza jazda miała być tylko odreagowaniem ciężkiego dnia, nie zakładałem sobie, żadnych celów, ani nie miałem w głowie bicie własnych rekordów na segmentach STRAVY, kilka ulubionych świadomie nawet odpuściłem, tylko w przypadku segmentu "rue de la Reine" postanowiłem powalczyć o rekord i to się udało, poprawiłem poprzedni wynik o 6 sekundy, ale do KOMa wciąż daleko.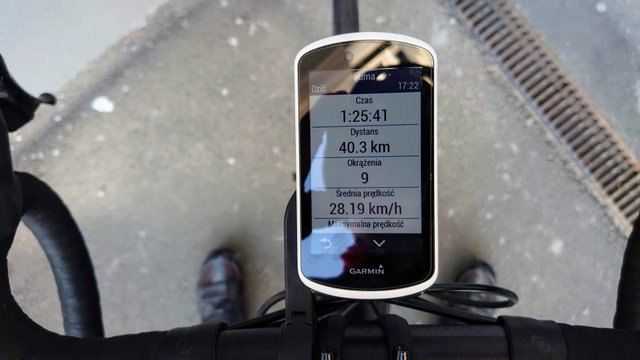 My 2019 stats: total distance 4429,71 km (+ 45,00 km)
Sport
Distance
Difference
Walking
1816,36 km
(+ 4,75 km)
Cycling
2059,67 km
(+ 40,25 km)
Running
502,00 km
Rowing
30,72 km
Elliptical
20,96 km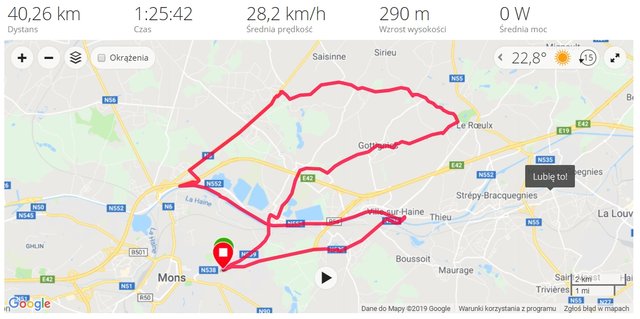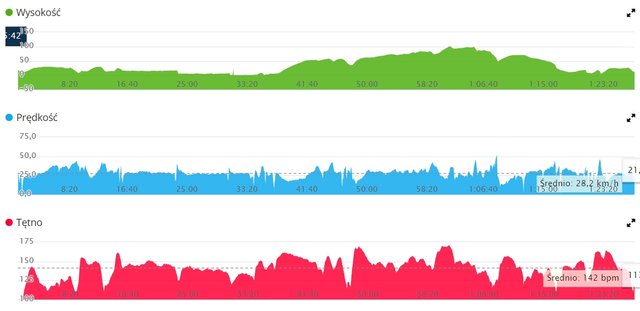 ***
| Current Actifit User Rank: | 55.00 (+1.01) |
| --- | --- |
| | |
| Current AFIT Balance: | 63401,783 |
| Current AFITX Balance: | 10,1 |
| | |
Don't stop me now! Keep going!
Link do postu "Actifit dla Bystrzaków" w którym opisuję krok po kroku jak zacząć aktywne życie z aplikacją @actifit, polecam lekturę zainteresowanym.
Polecam korzystanie z Discorda społeczności Actifit https://discord.gg/BFk3NV, gdzie codziennie w nieregularnych porach organizowane są konkursy, które polegają na poświadczeniu zakupu w czasie trwania konkursu (zwykle około 20 min) 100 tokenów AFIT oraz posiadania co najmniej 1 AFITX, gdy spełni się te dwa warunki, pod postem o konkursie umieszcza się screeny poświadczające i link do ostatniego swojego postu z aplikacji Actifit. Jeżeli warunki zostały spełnione to post ten zostanie 'podbity' 100% głosu z konta actifit.reward, wartość głosu to około 0,30$, więc warto się schylić i podnieść :) A co zrobić z kupionymi tokenami AFIT? Ja natychmiast odsprzedaję te tokeny, czasami jeszcze w czasie trwania konkursu, po zrobieniu screenów z zakupu, w tym czasie zdarza się, że cena idzie w górę, więc można jeszcze na tym zyskać.


20373

Cycling, Daily Activity, House Chores, Walking