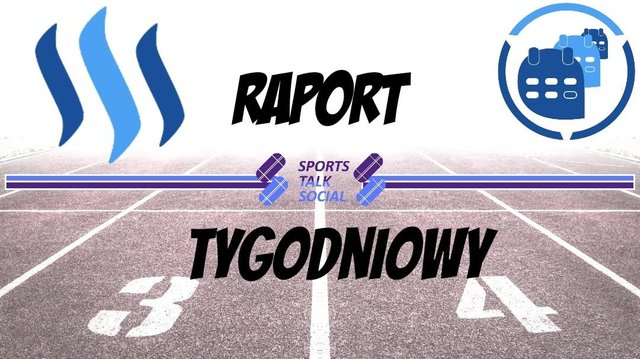 Witam wszystkich bardzo serdecznie w kolejnym (dziewiątym) tygodniowym raporcie Codziennika, który wspiera autorów używających tagi #polish oraz #sportstalk
Eksperymentalny tydzień, w którym to wysyłałem codziennie 1000 tokenów Sports do konta @null dobiegł końca. Wnioski wysuwają się same. W punkcie IX. możecie zobaczyć ile tokenów otrzymał @codziennik po codziennym paleniu tokenów. Dzięki temu pod względem ilości tokenów Sports do rozdania dla wylosowanych w tygodniu osób, jest to najlepszy tydzień od początku działalności sportowej Codziennika.
Oplaca się (na obecną chwilę) wysyłać tokeny do @null, bo można jeszcze więcej ich otrzymać, oczywiście wszystko zależy od ilości osób i ilości tokenów wysłanych do @null w danym dniu. W każdym razie w tym tygodniu będę kontynuował palenie Sports.
Natomiast, cały tydzień zastanawiałem się, czy kupować i Stake'ować tokeny Sports, nawet za inne tokeny na Steem-Engine tak jak zaproponował @sk1920, ale stwierdziłem, że póki co wstrzymam się od jakiegokolwiek kupna Sports.
I jeszcze jedna sprawa. Jak mogła część z Was zobaczyć, zwycięzki post otrzymuje DERANGED token. Zawsze to kilka centów, czy też jeden token więcej dla Was. Z kursem tego tokenu też jest różnie, ale warty jest o wiele więcej niż Sports. Jeśli nie wiecie co z nim zrobić, możecie go sprzedać i wymienić na Steem lub zbierać i wynagradzać inne osoby. Wystarczy posiadać 5 tokenów DERANGED aby móc raz dziennie dać komuś jeden taki token. Uwaga! Nie trzeba ich Stake'ować 😉
Łącznie w tym tygodniu zostało zebranych i rozdanych aż 20 909 Sports, więc było co wysyłać. Niestety kurs tokenów nadal nie kwapi się, żeby pójść w górę, ale najważniejsze, że nagrody pną się wysoko.
Poniżej znajduje się lista wszystkich ważniejszych informacji na temat konta @codziennik oraz wsparcia autorów (kwoty w nawiasie przedstawiają dane z poprzedniego tygodnia):
I. Całkowita liczba postów przedstawionych przez Codziennik :
43 (28)
II. Liczba autorów publikujacych na tagach #polish i #sportstalk :
7 (8)
III. Łączna suma nagród w tokenakch Sports :
20 909, 815 = 2.31$ (7 359,042= 0.85$)
IV. Posty wynagrodzone tokenami Sports:
Otrzymane tokeny możecie sprawdzić na www.sportstalksocial.com lub www.steem-engine.com
V. Delegacje:
VI. Wpłaty: 0
VII. Łączna liczba Sports Power :
196 986,897 (196 986,897)
VIII. Steem Power Codziennika :
63.585 (51.746)
__IX. Tokeny wysłane do @null i otrzymana suma tokenów od @sportspromo:
Niedziela - 1000 Sports - > 1200.240
Poniedziałek - 1000 Sports - > 839.507
Wtorek - 1000 Sports - > 1646.261
Środa - 1000 Sports - > 1288.319
Czwartek - 1000 Sports - > 6630.738
Piątek - 1000 Sports - >2772.624
Sobota - 1000 Sports - > 681.482
---
Dziekuję za każdy upvote, resteem i komentarz. Zachęcam do używania tagów #polish oraz #sportstalk!
Pozdrawiam
@baro89
---