Moi Drodzy, to nie żarty.
Pogoda jest tak wspaniała, że grzechem byłoby nie iść na spacer i nie wysprzątać chodników i ścieżek z liści, które potem można spiąć w piękny, jesienny bukiet. Następnie z tym bukietem trzeba lub nie (wedle upodobań obywatelskich) przemaszerować przez lokal wyborczy i wrócić do domu, by wysmarować piękny pościk konkursowy.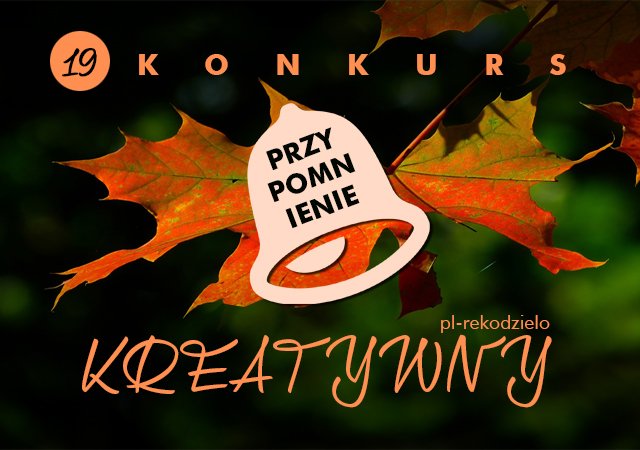 Gorąco zachęcam do udziału w konkursie, jest jeszcze tydzień czasu - do następnej niedzieli.
Przypomnienie tematu:
Jesienne kompozycje.
Rudowłosa królowa na dobre rozpoczęła swe rządy. Piękna i kapryśna, rozgrzewa oczy ciepłem barw ale i duszę zasnuwa melancholią deszczu... Czyż to nie wspaniały czas na spacery i trofea pod postacią bujnych, złotych bukietów i kieszeni wypchanych kasztanami? Co jeszcze przynosicie z jesiennego lasu albo ogrodu? Jaki macie na to pomysł? Robicie bukiety, wieńce, a może ludziki z kasztanów? Wieszacie na oknie girlandy z liści? Zasypujecie parapet w kuchni barwną mozaiką? Pochwalcie się!
---
Pod tym linkiem znajdziecie pełny post z ogłoszeniem konkursu i zasadami:
https://steemit.com/pl-rekodzielo/@pl-rekodzielo/konkurs-kreatywny-19-start
---
Pozdrawiam ciepło wszystkich!