Every year Eden Farms, who deliver my weekly organic fruit and vegetable box, celebrates Purple Love Week, a nationwide celebration of independent food suppliers, to remind consumers that they are the backbone of the economy, not the big multinationals that whisk your hard-earned cash into the pockets of distant shareholders.
According to the New Economics Foundation, every five pounds spent at a locally owned business circulates five times before it leaves the local economy, and, in this way, is actually worth £25. On this basis, if two million people take part [in Purple Love Week], that's a £50m cash injection for Britain's independent food shops. (The Guardian, 2009)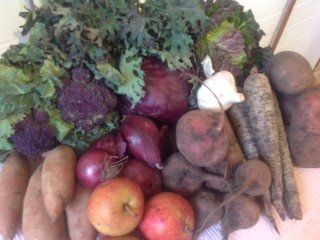 Purple Love Box from Eden Farms with purple sprouting broccoli, Russian kale, red cabbage, January King cabbage, sweet potatoes, red onions, Chioggia beetroot, purple garlic, purple carrots and red potatoes.
Valentine's Day was always a bit of a trial as a teenager. There was a strange custom of sending anonymous valentine cards (what was the point of that)? Popular, pretty girls, old before their time and destined for early marriage, received many and enjoyed showing them off.
That was all romantic love, of course, courtly medieval myths playing into 20th century retail opportunity. In later years, I came to understand it as a celebration of mature married love, however you might be married, endorsed by state or church or not.
I don't know if the tensions are still there, whether it's a chance to remind couples and polyamorous families, amid the grind of daily life, why they are together. Perhaps a chance to heal rifts, to build something more enriching, that would struggle to find the opportunity if there wasn't a date on the calendar to provide the catalyst.
If you're lucky, mature married love, in all its forms, is celebrated throughout the year, without intervention from florists, chocolatiers, perfumiers, jewellers and restauranteurs, and regardless of your wealth.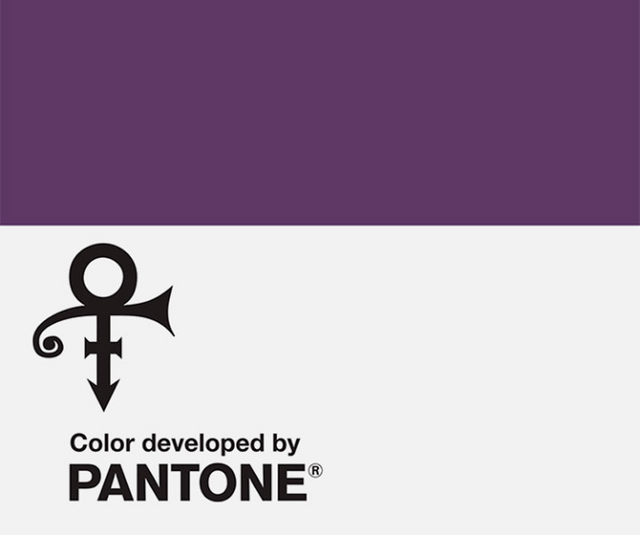 Source Mind you, you had to know there would be a consumption influence in there somewhere. Pantone's Love Symbol No 2 Purple, created in honour of Prince and Purple Rain.
Enjoy the day, whatever and wherever your loved ones.