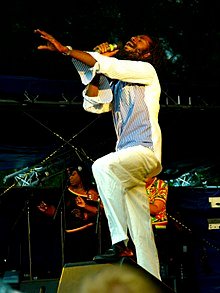 Image and ref source
Mark Anthony Myrie is his birth name and he was born on 15 July 1973 in the capital and popular city of Jamaica called KINGSTON. He is also called Gargamel.
He is a Deejay, songwriter and musician. He is a foremost raggae legend and he is know to infuse dancehall and rock into reggae.
His stage name or music name is BUJU BANTON. His 2010 album Before the Dawn won Best Reggae Album at the 53rd annual Grammy Awards
He is know to putting so much energy on the stage. He has signed to so many record label like penthouse records, vp records, tommy boy entertainment and finally his own record label known as Gargamel records.
Some of his songs are still everygreen as they are been jahmed in the club and even on the street both in Jamaica and all over the world.
Raggae lovers will never forget this raggae artist and I know it will be on the raggae list of even disc Jockies.
Raggae is not just a music genre but its a culture that cut across race, nations, continents, language. Raggae is also a lifestyle.
No matter what happens, raggae lives on.
Welldone Buju Benton for your contribution to the raggae dynasty.
One love
Keep jahming.