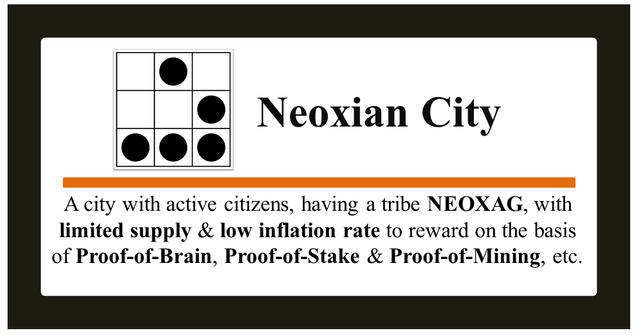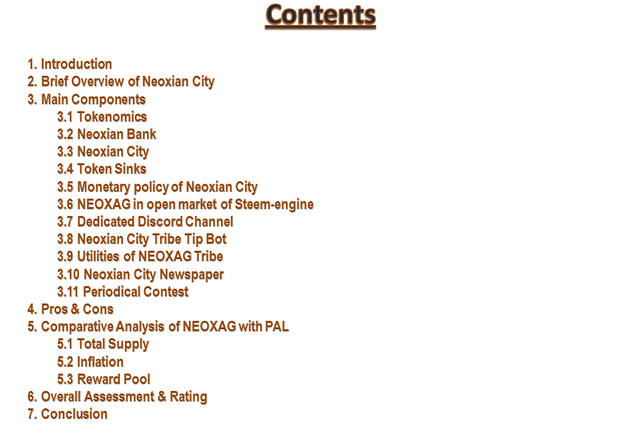 The Steem blockchain started its journey as a social blogging platform with reward concept like Proof-of-Brain. Over the last one and half year, this ecosystem has really grown into a dApp ecosystem where we have so many different types of dApps with different and specific use cases. Some of the dApps have really added tremendous value to the ecosystem in terms of activity and engagement. But over the few months, the real talk of the town is mostly the "tribes".
The tribe culture has really evolved on the top of Steem blockchain and pacing up slowly and steadily. The decentralized social blogging in Steem blockchain has been reshaped through this tribe culture and it has become possible with Steem-engine and its scotbot. The different use-cases, the tokenization, the curation, the area of specialization, the specific interest of bloggers have become more precise and the second layer economy has given us a redefined opportunity to the various types of social bloggers, curators available in this community.
There are some major tribes like Palnet(PAL), Steemleo(LEO), Neoxian City(NEOXAG), Sportstalksocial(SPORTS), Realityhubs(RHB), etc and many more. These different tribes have been magnifying their specific use-cases on the top of Steem blockchain. In some form or the other, they all have been trying to give a new home to the authors, curators, readers relevant to their specified use-case.
This article is a review of Neoxian City which is a general category tribe and later it will be compared with Palnet which is another general category tribe.

With the essence of second layer economy in Steem blockchain, Neoxian City has been evolved as a second layer economy on the top of Steem blockchain which aims to offer a new home for the general category authors, curators, readers, etc. The citizens of Neoxian city can discuss and post about anything which is not plagiarized/spammed/abusive in nature. @neoxian is the founder of Neoxian.city and he is a witness also in Steem blockchain. He has got a high reputation as a trustworthy person and one of the active Steemian.
The curators can curate quality content with their staked NEOXAG power in a decentralized environment. One can be conversant with the other bloggers in many ways through Neoxian.city and earn NEOXAG token. Anyone having a Steem account can gain access to Neoxian.city.
The bloggers can either use the front end of Neoxian.city or can use #neoxian in their post, in case they post from a frontend other than Neoxian.city.

Tokenomics
Total Supply- 6.19 Million
Inflation- The initial target inflation in NEOXAG starts from 5% & decreases at the rate of 0.5% per year. That if this year the inflation is 5%, next year it will be 4.75%, then 4.51%, then 4.28% and so on. 60% of the inflation is for proof-of-brain, 10% is for proof-of-stake & 30% for mining. That implies for PoB inflation is 3%, 0.5% for staking NEOXAG and for mining, inflation is 1.5%.
Author curve- 1.2
Curation curve- 0.5
Mining token- NEOXAGM
Payout window- 7 days
Reward token- NEOXAG
NEOXAG is the token which is required to stake and curate the posts in Neoxian City's forum. Both NEOXAG and NEOXAGM are available to trade in the decentralized open market of Steem-engine.
Author/Curation Reward is 50%/50%. Each 50% is again split into equal parts for liquid and staked rewards. For example, if the payout value of a post is 20 NEOXAG at the end of 7 days, then 10 NEOXAG will be for the author and 10 NEOXAG will be for the curator. The 10 NEOXAG is further split into two equal parts of liquid and staked reward. That implies the author will get 5 liquid NEOXAG and 5 staked NEOXAG and similarly, the curator will also receive 5 liquid NEOXAG and 5 staked NEOXAG.

Neoxian Bank
Neoxian Bank is a branch of Neoxian City which offers lending services as well as deposits. The deposit rate is 6.25 APR and the lending rate varies from 5% to 20%. It is the only Bank which offers loan to the users of Steem with their Steem account & Steem-engine tribes as collateral. However, Neoxian Bank also supports other crypto-assets and offers loans. I have already written a detailed article on Neoxian Bank and therefore I am not going into the details of it. So for further details click here.
Neoxian City
Neoxian city is a new home for the general category bloggers. So anyone can use the tag of #neoxian as long as it is their original content and the city has zero-tolerance against spam, plagiarism, offensive (child porn, not safe for life, etc), threats of physical violence, or scams contents, etc.
Token Sinks
Neoxian Bank seriously looks upon the demand token and the demand of the token by large is defined by its token sinks and that is also essential for the long term token stability in terms of its price. In a bid to enhance this objective, it has the following token sinks:-
Staking it for 50% curation, more powerful votes and better visibility of votes and comments (the usual stuff)
Burn it to make your posts visible in trending
Spend it to receive a vote from our vote bid bot.
A low card game in which a participant can participate by depositing NEOXAG and can play the game. In the game, the top card puller wins the round whereas the low card puller gets out.
Note- Neoxiancity account burns its own NEOXAG earning and that helps to remove some of the tokens out of circulation and ultimately help supply/demand ratio in favor of NEOXAG.
Neoxian city has a bid bot called @neoxiancityvb which accepts bids in NEOXAG, not in STEEM and it upvotes in STEEM, it has nothing to do with the trending page of Neoxian city.
The delegators to @neoxiancityvb receive their rewards NEOXAG tokens in proportion to their delegated SP.
Bidding window- 2.4 hours
Acceptable Bids- NEOXAG
Upvotes- With STEEM POWER only
ROI- 0 to 20%(No negative ROI)
Profit Share to delegators- 100% (Whatever NEOXAG bids received, are distributed to the delegators in proportion to their delegated SP)
Min/Max Bid- 0.01/400NEOXAG
Min/Max Age- 0 mins/3.5 days
Monetary policy of Neoxian City
From time to time Neoxian city assesses the economic situation of the city and as & when needed it adjusts its policy to achieve the highest objective of the city and brings stability to the token's price. The recent monetary policy adjustment is effective since 09/09/2019, which is as follows:-
60%: Proof of Brain: the forum
10%: Proof of Stake: earning from your staked Neoxag
30%: Proof of Mining: NEOXAG miner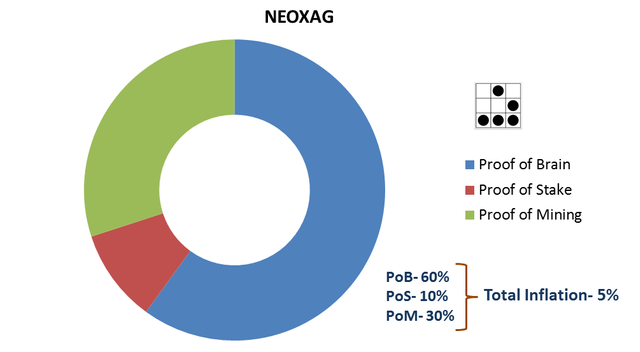 Earlier it was 50% for PoB and 50% for mining. With the recent monetary policy adjustment, PoS is allocated within the existing inflation pool and the total inflation remains the same.
This adjustment was brought to encourage users to stake more NEOXAG and earn more NEOXAG rewards which will not only make healthy engagement in curation but also will help to bring more demand to the price of NEOXAG as more people will be encouraged by this policy adjustment to stake their NEOXAG. The result is also evident from the Steem-engine market as suddenly after this policy announcement the price of NEOXAG shoots above 0.045 STEEM per NEOXAG(earlier it was trading around 0.024 STEEM per NEOXAG).
NEOXAG open market in Steem-engine
NEOXAG is a very well known tribe in the decentralized open market of Steem-engine. It is very stable in its price, unlike other tribes. The characteristic of a good tribe by large is defined by its stable price action. That holds good for NEOXAG as it a well-known tribe having firm stability in its value.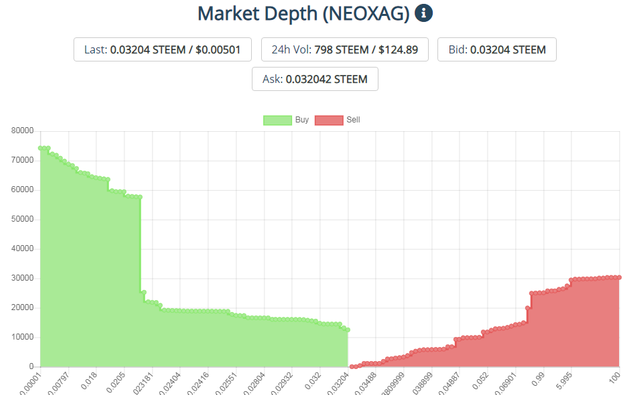 One can trade (buy& sell) NEOXAG and NEOXAGM in Steem-engine. One can also stake it transfer it or delegate in Steem-engine. It is equally an opportunity for the investors(who are not using forum to post or curate) to trade NEOXAG in Steem-engine. So the decentralized open market is fairly an opportunity for both investors as well as for the authors and curators.
Dedicated discord channel
Neoxian city has a dedicated discord channel and provably the most active discord channel as compared to other tribes. As it also rewards the valuable engagement of the citizens in the discord server, most of the time, the users love to chat with each other in discord channel and discuss a variety of things there.
Neoxian City Tribe Tip Bot
Neixian city is the first-ever tribe in Steem-engine to offer the service of tip bot which is absolutely free of cost to use. The general use-case of this tip bot is that we usually come across so many quality articles, but sometimes we really fall in love with a particular content and we want to tip that person with a certain amount of tokens. To cater such a use-case the service of @neoxian-tip can be used. However, the tip is generally sent to the beneficiary in the form of staked NEOXAG. That implies that the beneficiary will get the tip in the form of NEOXAG power.
To use this tip bot, the user first needs to send liquid NEOXAG to @neoxian-tip and then it can tip to the beneficiary in a post/comment by using the command !neoxag amount. For example. !neoxag 50 or !neoxag 100 like that.
Utilities of NEOXAG tribe
One can use NEOXAG token to bid for STEEM upvotes using @neoxiancityvb bid-bot.
One can tip the author of the quality content with staked NEOXAG using tip bot @neoxian-tip.
The curators can stake their NEOXAG & engage in curation & earn curation rewards and PoS rewards.
The traders & investors can trade NEOXAG in the decentralized open market of Steem-engine.
One can play the low card game by depositing NEOXAG.
Neoxian City Newspaper
Neoxian city always tries to encourage the quality content creators and it takes all measures to support the valuable stuff published by the author in the city's forum. This also aligns with the highest objective of decentralized blogging and rewarding on the top of Steem blockchain. In order to achieve this objective, it has set up of 6 curators who curate 2 posts each(that means 12 in total) on a weekly basis. The content creators who put genuine effort to publish high quality & interesting article aided with creativity & innovative approach are selected & reward with worthy upvote from @neoxiancity account. The articles must be the original work of the author.
Periodical contest
Neoxian city also announces contests from time to time and the contests are not always with a higher threshold as it understands that there are general & average category bloggers and in order to bring enthusiasm among them to stay active in the engagement, it organizes contest periodically. Anyone can participate and definitely earn at least something with average effort. However, the best effort is always more rewarding than others.

Pros
Being a general category tribe it supports a wide variety of authors.
Introducing 10% PoS(proof-of-stake) encourages the NEOXAG holders to stake more and more NEOXAG to earn 10% of the inflation pool. That ultimately makes the token more demanding.
The @neoxiancityvb bid bot receives the bid only in NEOXAG which otherwise creates demand for NEOXAG token as the bidders will buy NEOXAG to use the bid bot of @neoxiancityvb.
It has the most active discord channel.
It is the first-ever tribe to introduce tip bot which is absolutely free of cost to use.
It has zero-tolerance against spam and plagiarism.
It curates 12 high-quality posts every week with heavy upvotes, therefore the good authors will always feel encouraged to engage in Neoxian city's forum.
The time to time economic assessment and subsequent policy adjustment by Neoxian city helps to bring more demand for NEOXAG tribe.
NEOXAG token is one of the most stable token in Steem-engine. Since its inception, it has either appreciated in its value or remained resilient to downward pressure by large.
Both in terms of total supply & inflation, its approach is to make the token scarce and more demanding.
Cons
Although the official tribe theme is of silver(AG) color, the actual glowing silver theme is not being reproduced in its site. The existing theme is of light grey color.
The city should try to find ways to bring the utility of NEOXAG outside of Steem blockchain which can really help to bring mass adoption to Steem blockchain, if new people can join Steem blockchain through the gateway of Neoxian city.
Neoxian city should also focus on the marketing part.

Both NEOXAG & PAL are general category tribes. So let's analyze & compare both the tribes on the basis of their fundamental parameters.
Total Supply
PAL- 15.46 Million
NEOXAG- 6.19 Million
There is a distinct difference between the total supply of NEOXAG & PAL tokens. The total supply of NEOXAG is at an advantageous position as compared to PAL. Whenever the supply/demand ratio will be effected upon both the tokens, then NEOXAG token will certainly be benefited more in terms of price action as compared to PAL.
Inflation
PAL- The initial target inflation in PAL starts from 10% & decreases at the rate of 1% per year until it reaches 4%.
NEOXAG- The initial target inflation in PAL starts from 10% & decreases at the rate of 0.5% per year.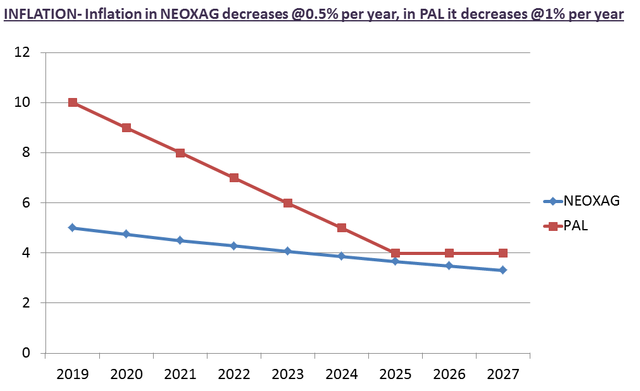 So if we plot a graph and project the inflation over the next 5-10 years, then we can see that inflation in NEOXAG is always below PAL. Over the next 10 years or so, the PAL will become stagnant at 4% inflation whereas the inflation in NEOXAG will decrease every year by 0.5%(it will approach zero in the long term, however, will not become zero in reality) so down the line it is going to be more & more scarce. Not to forget that the total supply of PAL(15.46 Million) is significantly higher as compared to NEOXAG(6.19 Million). That implies that NEOXAG is better as a scarce token both in terms of total supply and inflation. So limited supply means it will have better demand and the supply/demand ratio can benefit more to NEOXAG, because of its limited supply & low inflation rate.
Reward pool
PAL- 75% of the reward pool is distributed for "Proof of Brain"(Content creators & Curators). 10% of the reward pool is distributed for "Proof of Interaction"(msp-active and awarded to the members who actively engage in discussions over discord channel). 5% of the reward pool is distributed for "Proof of Moderation"(msp-finance for administrative task & management). 10% of the reward pool is distributed for "Proof of Mining"(PALM & PALMM miners).

NEOXAG- 60% of the reward pool is distributed for "Proof of Brain"(Content creators & Curators). 10% of the reward pool is distributed for "Proof of Stake"(staking NEOXAG). 30% of the reward pool is distributed for "Proof of Mining"(NEOXAGM miners).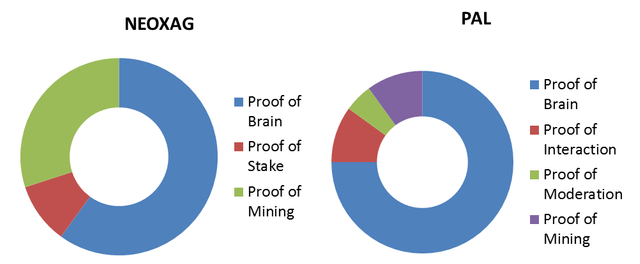 When it is about Proof-of-Brain, both NEOXAG & PAL rewards content creators on-chain. However, PAL has Proof-of-Interaction in addition to PoB. I think PAL has considered the practical use-case of social interaction outside Steem blockchain. It is no wonder that majority of the Steemians interact over discord and this interaction is casual & significant, therefore encouraging this individual behavior through a concept like Proof-of-Interaction is one of the most unique ways of PAL.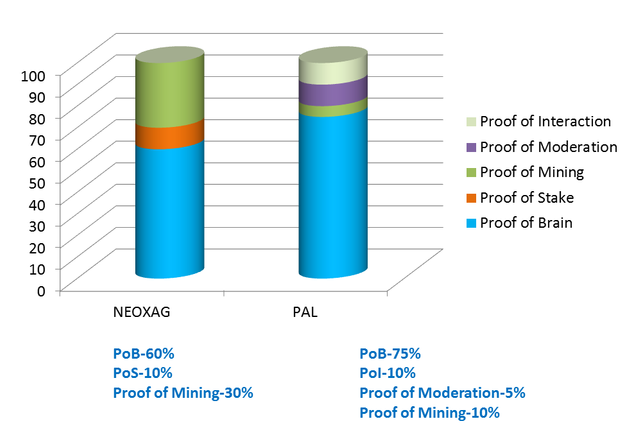 On the other hand, NEOXAG also supports the social interaction in discord and from time to time, it tips the active users in the channel. Additionally, it has introduced PoS concept in its reward pool and allocated 10% of total inflation which will definitely encourage more users to stake their NEOXAG and earn rewards for staking their token. This can certainly create more demand for NEOXAG. Further, the mining reward in case of NEOXAG is more as compared to PAL.
Note- The above comparative analysis should not be viewed as if one is a rivalry to the other.

Introducing a new tribe or token through scot bot of Steem-engine may not be a big thing. Anyone can bring a new tribe to this ecosystem. The real challenge comes thereafter. If a tribe does not have specific use-case, a roadmap, and a dedicated backend team to look after the development then it is certainly going to be a shit token. The token sink is another important aspect to bring more utilities to the token. The price stability of a token will further remain always in the locus of investors.
If Neoxian city will be assessed in terms of price stability, token sinks and consistency in its forum then I think this will provably be the number one tribe at the moment in Steem-engine. The price stability of NEOXAG is really impressive. It is very resilient to the downward pressure which most of the other tribes over the last couple of month could not resist and succumbed to it. NEOXAG since inception has either appreciated in its value or remained resilient to downward pressure by large. The total token supply and inflation are also on the lower side.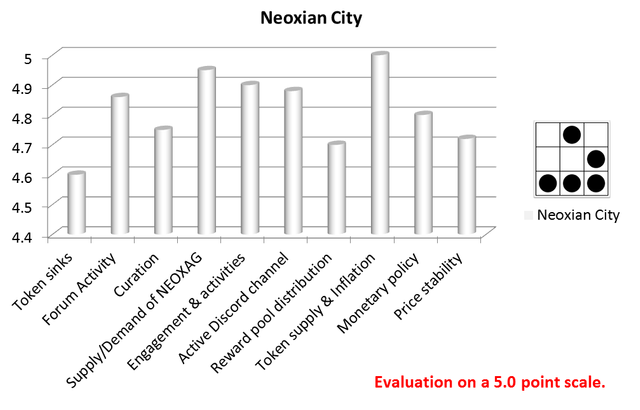 I would like to give a rating of 4.8 star out of 5 stars to Neoxian city and its tribe NEOXAG.

Creating a new tribe as a second layer economy in Steem blockchain & setting up a goal, yet aligning that goal with the highest objective of Steem blockchain is not an easy task. As it requires patience(for the tribe to go through the process of evolution to become a well-known brand), persistence(continuously working on day to day basis and from time to time assessing the economic situation & making due adjustment despite facing challenges) & determination(sticking with the roadmap and the objective)-- Neoxian city has so far stood tall in all these parameters and the baby is slowly growing and is focused on its objective. The price stability, consistent development and active community of Neoxian city is a glimpse of what a social tokenized blogging community should be. I must say Neoxian city has arrived.
More information & Resources
---
The logos and images are taken from the official website of Neoxian city & the graphical analysis & illustrations are my own original works.
---
This article has been written in response to the contest invited by @knowledges. To know more about the contest click here